WASHINGTON — Since early September, the Twitter account @75RRegiment has amassed more than 30,000 followers by sending out photos of soldiers posing with babies, challenging ISIS, and fist bumping over beer pong.
The only problem? It's a fake account.
"Holy cow," said a spokeswoman for the 75th Ranger Regiment, also known as the Army Rangers, when informed about the account by BuzzFeed News. She said they were unaware of the account until BuzzFeed News called to ask about it.
The Rangers are one of the most elite special operations units in the U.S. military.
The account borders on the absurd with tweets like "You can't outrun my bullets ISIS," but also tweets in a way that sounds similar to those run by real government accounts.
"Very very cool to hear @AdamBaldwin interview with the @75RRegiment we wish him luck in the new season of the @TheLastShipTNT this summer!" one tweet reads.
It's not unheard of for various government agencies to run these types of social media accounts. The State Department has a Facebook and Twitter account dedicated to trolling terrorists.
But the Rangers spokeswoman said the account was definitely a fake.
"We would never ever do something like that," she said. "Definitely not an official Twitter."
The spokeswoman said she would make some calls to see if they can get the account shut down.
The account gets hundreds, and sometimes thousands, of retweets for tweets such as these: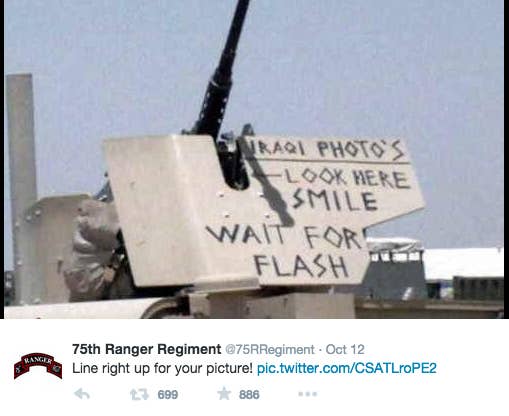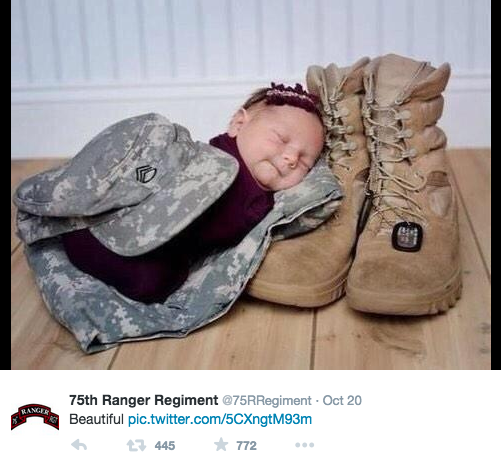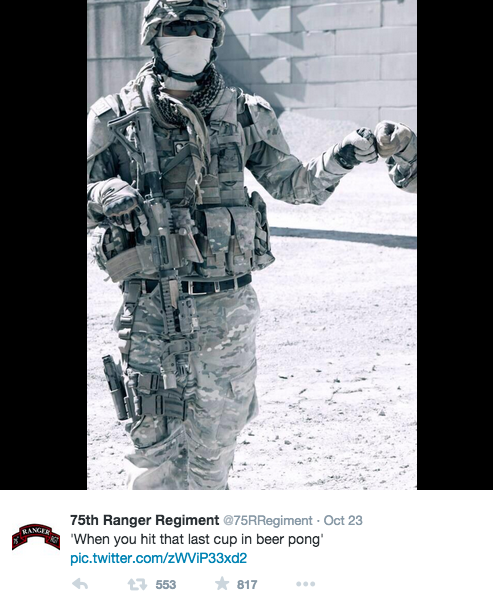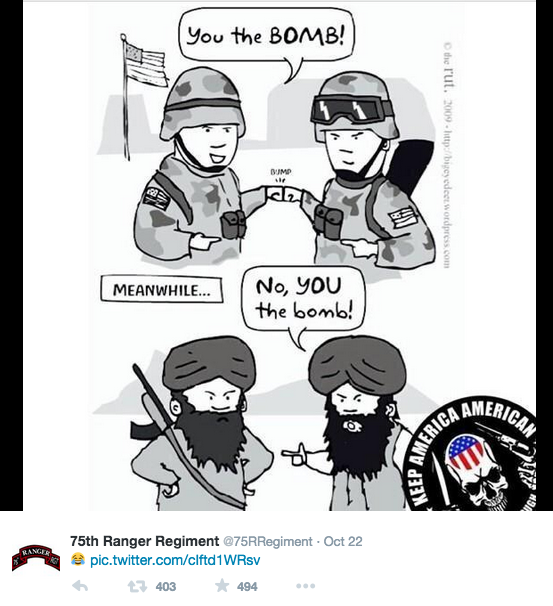 And people appear to believe the tweets are really coming from the elite Army unit:
The @75RRegiment account appears to have deleted all its tweets and is down to four followers. Its profile picture is now an egg but the original banner is still up.
Captain Tony Mayne, public affairs officer for the Rangers, told BuzzFeed News that they contacted Twitter about the account and asked for it to be taken down. Mayne stressed the fact they have no control over what happens to the account.
BuzzFeed News reached out to Twitter for more information.