Anthony Weiner Denies Knowing About Hillary Clinton's Potential Presidential Campaign
After a debate with other mayoral candidates, Weiner walked back statements implying he knew intimate details about Hillary Clinton's widely speculated presidential run. "I have no insights into 2016," he said.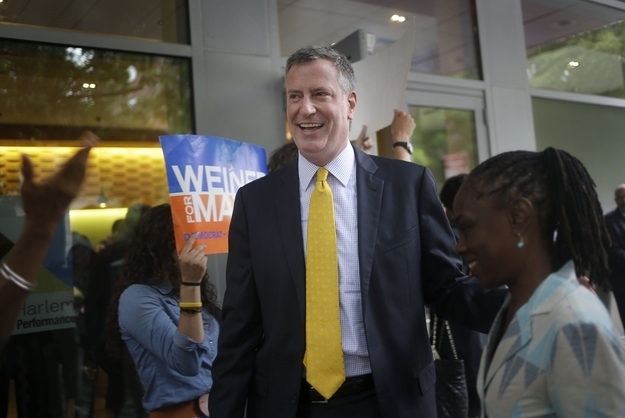 Just hours after a new poll named Bill de Blasio the frontrunner of the New York City mayoral race and Anthony Weiner well behind in fourth, the top five Democratic candidates squared off in the race's first official debate.
In the debate were de Blasio, Weiner, City Council Speaker Christine Quinn, Comptroller John Liu, and former Comptroller Bill Thompson.
The candidates rolled through their talking points. De Blasio touted himself as the true progressive candidate, Christine Quinn pointed to legislation she passed as the City Council's speaker, Weiner positioned himself as the outsider who doesn't need endorsements to win, Liu and Thompson championed successes as handlers of the city's pension fund.
But it was after the debate where news was made. Weiner was asked by a reporter to revisit the comments he made the night before to BuzzFeed's editor-in-chief Ben Smith at an event in New York City. Weiner had said he knew what his wife Huma Abedin's roll in Hillary Clinton's widely speculated — but unconfirmed — 2016 presidential run would be.
Weiner tried to play it off as a joke.
"I have no insights into 2016," he told reporters after the debate. "I'm struggling right here with 2013."
The Quinnipiac poll released Tuesday showed de Blasio leading the way with 30% support. Quinn trailed in second with 24%, then Thompson nearby with 22%. Weiner, who at one point led the polls, now lags behind at 10 percent.
Weiner's first words of the debate were "I've made mistakes," possibly preparing himself for personal attacks from his opponents.
But the candidates, even when provoked by the moderator, for the most part steered clear of attacking Weiner's character. Some said he should quit the race, but others said they wanted to focus on issues. When asked about Weiner's conduct, former city Comptroller Bill Thompson dismissed the question entirely. "That's not why I'm here tonight," he said. John Liu, the current comptroller, also didn't want to talk about Weiner. "Please don't ask me any more questions about him," he told the moderator.
Instead, it was Quinn who received the brunt of direct attacks from the candidates, mostly over allowing Mayor Michael Bloomberg to serve an unprecedented third term in City Hall.
"You can't just say whenever the going gets tough you are gonna fold and let someone else take over," Weiner said.
"Anthony Weiner is in no position to comment on my position or anyone else's," Quinn responded. She added that the candidates were attacking her directly because they didn't want to look at their own records. She was the only candidate to directly use Weiner's sexting history against him during the debate.
Weiner's scandal isn't the only one in the race. Two of City Comptroller John Liu's former campaign staffers were convicted of fraud in may for funneling straw donations to the campaign. Though Liu wasn't implicated in the scandal, it led the campaign finance board to deny his campaign millions of dollars in matching funds. When questioned about it Liu said he'd moved passed it and would continue to speak directly to voters in their communities.
"I'm very proud of the ethical standards I've held up in my office," he said. "At the end of the day, they can keep their money because my campaign is not about the money."
Though contentious, the debate was also substantive. Candidates outlined their positions on everything from negotiating union contracts to fixing the city's economy. Also discussed was the NYPD's implementation of stop-and-frisk, which was ruled unconstitutional this week by a federal judge. Quinn was asked directly why she didn't challenge the program for the majority of her eight years as speaker.
"When I'm mayor, unconstitutional stops will end," she said. She added that next week the City Council will override Bloomberg's veto of a bill to create an inspector general to oversee the NYPD and its use of stop-and-frisk. The judge who had ruled the policy unconstitutional ordered a federal monitor for the department.
The debate did end on a lighter note. The moderator asked the candidates to tell voters something about themselves they didn't already know. Former Comptroller Bill Thompson said he's very competitive in sports, Quinn said she's not a natural redhead. De Blasio lamented that though he went to high school with Patrick Ewing, he wasn't the one who ended up in the NBA.
Weiner's admission?
"After midnight on Monday nights I play ice hockey," Weiner said. "I'm probably the only 130-pound Jewish kid in the city that does that."