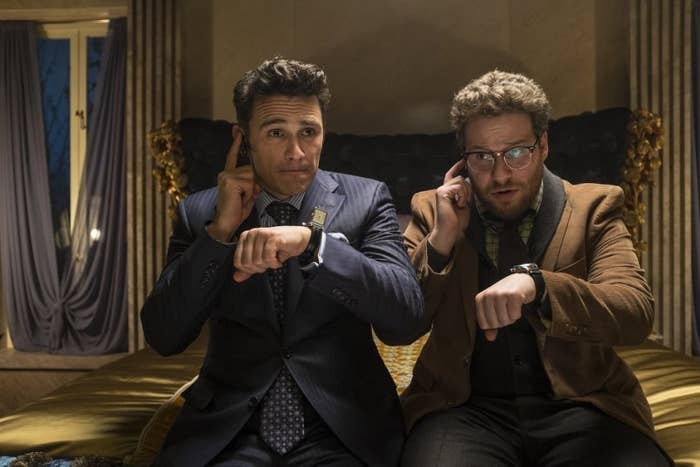 Following the most recent message released by the "Guardians of Peace," the group claiming responsibility for the Sony hack, which threatened attacks on theaters showing The Interview, the film's stars, Seth Rogen and James Franco, have withdrawn from all media appearances in the lead-up to the Christmas Day release of the film, BuzzFeed News has learned.
A representative for Franco did not immediately return a request for comment. When reached via email, Rogen's rep had no comment.
The duo was slated to appear later today at BuzzFeed Brews in New York to discuss the controversial film, the Sony hack, and other topics. BuzzFeed News has confirmed that Rogen and Franco also pulled out of their commitments to appear on Watch What Happens Live, Late Night With Seth Meyers, and The Tonight Show With Jimmy Fallon, as well as canceling an interview with Yahoo.
News of Rogen and Franco pulling out of all press appearances happened hours after a new message was released by the "Guardians of Peace," which included threats against theaters showing The Interview: "We will clearly show it to you at the very time and places The Interview be shown, including the premiere, how bitter fate those who seek fun in terror should be doomed to. Soon all the world will see what an awful movie Sony Pictures Entertainment has made."
The Wall Street Journal reported Tuesday evening that Sony Pictures has indicated to movie exhibitors that the studio would not object if they pulled The Interview from their theaters. At least one exhibitor has told Variety, however, that they still plan on showing the film.
Carmike Cinemas, a Columbus, Georgia-based movie theater chain with theaters in 41 states, has elected not to show The Interview, according to The Hollywood Reporter. A rep for the chain did not immediately respond to a request for comment from BuzzFeed News.
The Interview movie premiere scheduled for Thursday in New York City has been cancelled, according to Deadline.
The premiere was set to take place at Landmark Theatres' Sunshine Cinema in Manhattan's Lower East Side.
ArcLight Cinemas, an upscale movie theater chain based in Hollywood, will not screen The Interview due to hacker threats, an employee told Deadline late Tuesday.
ArcLight has five movie theater locations across Southern California, and one in Bethesda, Maryland.
ArcLight later said no decision had been made on screening the film.
According to Variety, Bow Tie Cinemas, which has 55 locations across the country and approximately 350 screens, has also decided not to show The Interview in the wake of the Guardians of Peace's 9/11-like threats. A representative for Bow Tie Cinemas did not immediately return BuzzFeed News' request for confirmation.
Jarett Wieselman, Adam B. Vary, Jon Passantino, and Jaimie Etkin contributed to this story.