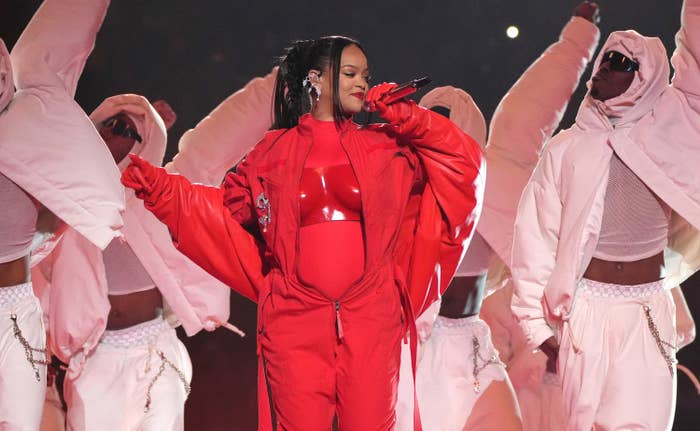 I watched Rihanna's Super Bowl halftime show at a Buffalo Wild Wings in Turlock, California, a small city in the Central Valley that sits nestled against state Route 99. I was road-tripping back to LA after a weekend away, and witnessing Rihanna's first live performance in five years seemed like a good way to break up the drive.
I wasn't expecting much. I like Rihanna, but I'm a casual fan. I don't seek out her music; I have no opinions about when she should release her next album. I'd heard plenty of the hype, good and bad, that preceded her performance. I knew her decision to perform was a sharp reversal from 2019, when she confirmed to Vogue that she turned down the chance to perform at the halftime show because: "There's things within that organization that I do not agree with at all, and I was not about to go and be of service to them in any way." I knew she was doing it for free. I knew she had 14 No. 1 songs but just 13 minutes of stage time, and I knew that — before all the fuss about her long-awaited album — "she used to be an emblem of … relentless productivity," releasing seven albums in eight years from 2005 to 2012.
Theoretically, I understood how big a deal Rihanna's performance would be, how vast and beloved her discography is. But her level of superstardom can be difficult to compute. I didn't fully realize how influential she has been on the last two decades of pop music until I was sitting in a room full of strangers, hearing hit after hit after hit. I didn't realize I was mouthing along to every song until I heard the people next to me belting "We Found Love." Who knew I knew so many Rihanna songs? But everyone else lit up with the same delighted surprise. People who had spent the last minutes of the second quarter facing away from the screens, chatting and drinking in their Kaepernick jerseys, turned to cheer Rihanna on. The bartenders disappeared from behind the bar and stood among us, watching and dancing. The roar of the onscreen crowd merged with our own whoops and whistles.
When a musician becomes an institution the way Rihanna has — "America's youngest self-made billionaire," who can launch a thousand clickable links with a single glimpse of her baby bump — it can be easy to forget how they came up. Rihanna has long been integral to the fabric of pop culture, a de facto presence on every red carpet slideshow and a household name even your most studiously out-of-touch relative will recognize. But, paradoxically, this stratospheric fame can sometimes make her fade into the background. In a culture relentlessly hunting for the next big thing, stars as well established as Rihanna can get lost in the ambient buzz of celebrity, the constant churn we ordinary people tune in and out of just to make it through the day. Yesterday's performance was a startling reminder that she's not just another pop star. She's made more hits than you can think of, but you've no doubt heard them all. No matter where you are in this country, you've probably absorbed Rihanna's influence as though out of thin air.
In a culture relentlessly hunting for the next big thing, stars as well established as Rihanna can get lost in the ambient buzz of celebrity.
I left Turlock at sunset and started up Spotify's "This Is Rihanna" playlist. I figured I'd just listen to the full-length versions of her halftime show highlight reel. Two hours later, I'd run through 20 tracks with no skips.
With every song came a new memory, a patchwork history of the different eras of music listening that have defined my life. I remembered "SOS" from visiting my cousins when I was young, crammed in the backseat of my aunt's car, singing along to Now That's What I Call Music! 22. I remembered pirating "Take a Bow" to make it my ringtone on my first phone and looking up an iMovie lyric video on YouTube so I could sing along. I remembered listening to "Love the Way You Lie" on a local radio station at the summer camp where I learned how to sew. Every time a song came on that I'd completely forgotten, I screamed and pounded on the steering wheel. Years of my life came back through specific tracks; I remembered singing "Disturbia" at fourth-grade recess as clearly as I remembered dancing to "Lemon" at parties during my sophomore year of college. I remembered Glee's rain-spattered choreography to "Umbrella" and Pitch Perfect's a cappella rendition of "S&M." I could measure my whole life in songs by Rihanna that I once loved and then forgot about. I could chart global changes to the music industry — the transition from physical CDs to iTunes albums to playlist-heavy streaming services — by recalling where I was when I first heard one of her songs.
Other fans, whether more devoted or more scrutinizing than I, have lots to say about the details of Rihanna's performance. And yes, I think it's hilarious that her dancers looked like "ASAP Rocky's sperm" in their bizarre Michelin Man costumes. I agree that she seemed "a little exhausted," and that her low energy was perfectly reasonable given her pregnancy but sometimes underwhelming to behold.
But my main impression of the show was far less about this specific performance and more about the gravity of reckoning with her extreme fame. How is it possible that her music has formed a steady current underlying my entire life, when — before yesterday — I couldn't remember the last time I listened to it on purpose? How is it possible that we turn ordinary human beings into these towering, culture-powering machines? What does it feel like to know so many millions of eyes and ears are trained on you for decades at a time? So few people will ever know the life Rihanna has lived, estranged as it has been from every ordinary milestone since her early adolescence. But she wears her extraordinary status easily, smirking and swaying, making the astronomical seem possible. It is genuinely mind-boggling, but, again, this kind of revelation can't really be explained. It has to be heard, felt, and remembered. If you haven't yet, go back and listen to Rihanna's last 20 years of hits. Maybe then you'll see what I mean.●