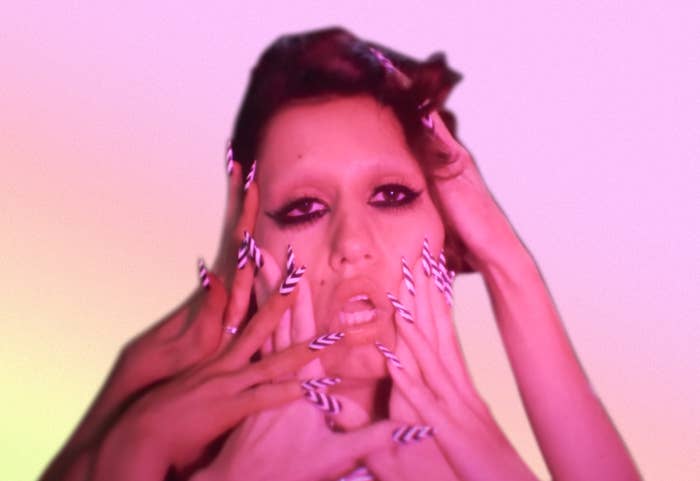 This is an excerpt from BuzzFeed News' culture newsletter, Cleanse the Timeline! You can subscribe here.

In I Like the Sound of That, a staffer goes deep on a song they're currently obsessed with.
I can't stop watching this video of RAYE, the British singer behind the song "Escapism," which reached #1 on the Official UK Singles Chart last week. To celebrate, she posted an eight-second clip of her clutching the award and sobbing. She keeps trying to speak but gets overwhelmed. Eventually, she manages to sputter, "Thanks!" and breaks into a teary laugh. It's adorable.
Her victory is extra sweet because she's spent the last year and a half as an independent artist. In July 2021, she decided to split from her record label, Polydor, and bet on herself.
RAYE's debut album My 21st Century Blues comes out on Feb. 3. I'm probably a little more excited for her than I have any right to be, but as a Cancer sun AND Cancer moon, I feel automatic kinship with any girl who cries in public. And if "Escapism" is any sign of what's to come, we're in for a major treat.
In 2021, after RAYE quit drinking, she promised that her new music would address her relationship with alcohol. In "Escapism," she embodies a heartbroken woman self-medicating at the club, flitting from false confidence to crooning vulnerability to raw desperation. In the rumbly, contagious chorus, which you've probably heard on one of the million TikToks that have used it as a sound, RAYE declares, "Just a heart-broke bitch, high heels, 6-inch / In the back of the nightclub, sippin' champagne." Then she shrugs, "I don't trust any of these bitches I'm with / In the back of the taxi, sniffin' cocaine." First of all, this is the best possible way to rhyme "champagne" with "cocaine." It's vivid. It's petty. It's a complete story in four lines.
But then RAYE slips into a confessional, and her raspy voice turns liquid sweet. She sings, "I don't wanna feel how I did last night," like it's a mantra. She asks for mercy, for anything other than the pain of her feelings.
It's rare to find a club anthem that is both ultra-danceable and unflinchingly honest about what kind of solace people look for there. But RAYE has spun a gorgeous track that could well be the only breakup song you'll ever need, whether it's love or drugs that you're leaving behind. —Izzy Ampil ●