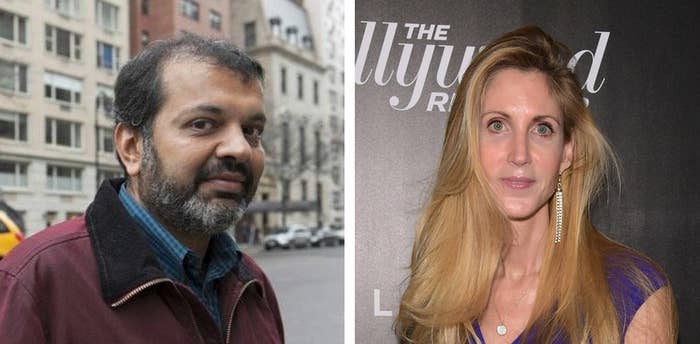 The writer whose magazine article Ann Coulter cited as evidence that immigrant children being separated from their parents at the US border are "child actors" says she misrepresented his writing.
"Either she lied or she's truly illiterate," Suketu Mehta told BuzzFeed News.

On Fox News this Sunday, Coulter disparaged asylum-seekers caught up in the Trump administration's hardline immigration policy as "child actors weeping and crying on all the other networks 24/7 right now." She claimed a New Yorker magazine article had described how "these kids are being coached" and said the children are "given scripts to read by liberals."
After some journalists on Twitter challenged her to produce the New Yorker article that made any such claims, Coulter tweeted a link to Mehta's 2011 profile of an African woman seeking asylum in the United States.
"I was really shocked to see she is using my New Yorker piece, which has no child actors, no liberals toting scripts to be read by child actors," said Mehta, a New York University professor and author of an upcoming book about immigration.
"I don't know if she knows how to read, but she clearly hasn't read my New Yorker article."

In the article, Mehta followed a woman he called "Celine" as she went through the process of claiming asylum. Celine came from a Central African country where her parents' support of an opposition leader led to government soldiers ransacking the family's home and beating her siblings. But while she had real fears of persecution if she returned to her home country, Celine was encouraged to exaggerate her story to include claims of being raped to help her case.
Mehta said the point of the article had been to highlight the problems inherent in a "broken asylum system [that] demands a certain kind of narrative" of people seeking asylum in the United States.
"It's a very nuanced, complicated piece — and 'nuance' and 'Ann Coulter' do not belong in the same sentence," Mehta said.
He said he found the Trump administration's policy of separating children from their parents, as well as Coulter's defense of it, "despicable."

Coulter's representative did not immediately return BuzzFeed News' request for comment.

On Twitter, Coulter has continued to defend her remarks on immigration, though she has yet to produce any evidence for her specific claim about liberals coaching children.
The president's son, Donald Trump Jr., appeared to endorse Coulter's unsubstantiated remarks when he liked a tweet quoting her Fox News appearance.
Mehta, whose upcoming book This Land Is Their Land argues for more immigration, said he has a warning for the Trump family or anyone else who feels tempted to cite his work in support of the government's policy: "Learn to read."