In early August, after months of heightened tension in the region, Israel carried out airstrikes in the Gaza Strip in retaliation for rocket and mortar attacks launched by the militant group Hamas. Meanwhile, another battle was just starting on social media.

On the Facebook page of the New York Times, under an article about the latest outbreak of violence, a user named Nancy Saada wrote that "over 150 missiles and mortar shells were fired at Israeli civilians and towns injuring 11 Israelis and sending over 1 million Israelis running to bomb shelters!" She said Israel had a right to defend itself against Hamas and appended the hashtags #FreeGazaFromHamas and #IsraelUnderFire.
The same user left almost identical comments on the Facebook pages of CNN International, Canada's Global News, Iran's PressTV, and Nigeria's Channels Television. Hers were among the most-liked comments on all five news organizations' Facebook posts. While the engagement appeared organic to those on Facebook, the comments and resulting likes were in fact part of a coordinated campaign to flood social media with talking points defending Israel's actions in Gaza.
The campaign, which targeted dozens of prominent international outlets, was organized through Act.IL, a smartphone app and website developed by former Israeli intelligence officers in collaboration with the Israeli government, and with financial backing from conservative American casino billionaire Sheldon Adelson.
Act.IL is a tool in the information war being waged over public perceptions of the Israeli-Palestinian conflict. While Facebook, Twitter, and other tech companies have become increasingly alert to manipulation campaigns on their platforms, Act.IL has managed to fly under the radar thanks to an army of thousands of volunteers who post comments and images, and follow commands to like or criticize other online content.
"This is a unique case of advanced digital political astroturfing," said Katie Joseff, research manager of the Digital Intelligence Laboratory at the Institute for the Future, a think tank that studies the social impact of technology.
"This is a unique case of advanced digital political astroturfing."
Astroturfing refers to the practice of engineering online support for an issue, while obscuring the coordinated aspect of the messaging and who's behind it.
Joseff said the app's reliance on human users, as opposed to bots, lends "credibility and nuance" to Act.IL's influence campaigns and makes them harder to detect. She said governments in Ecuador, Russia, Turkey, and the Philippines have used similar methods to spread propaganda.
"The basic idea is that governments develop infiltration strategies and content, and then use patriotic citizens and the bandwagon effect to disseminate information," Joseff said.
Anyone can join Act.IL, and the platform is available on the web and as a smartphone app in the Apple and Google app stores. While it's unclear how many active users there are, an affiliated Facebook group has more than 3,000 members worldwide. Once logged in to Act.IL, users are presented with a series of active "missions" they can take part in. Users earn participation points that can be redeemed to "get cool prizes," according to an introductory video.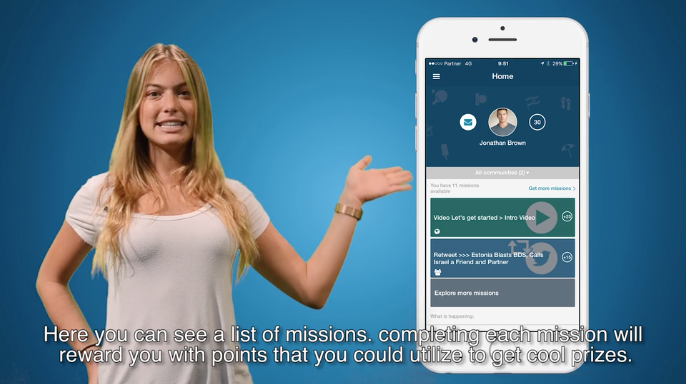 Many of the missions ask users to report offensive content on social media that appears to endorse violence, such as a YouTube video that shows Hamas militant training exercises. Others are more reactive to the news cycle. After Lana Del Rey said she would perform in Israel despite objections from Palestinian activists, Act.IL users were directed to tweet supportive messages at the singer and praise her for being "on the right side of history." When she changed her mind a month later and pulled out of the performance, however, a new mission encouraged users to like a Facebook comment that expressed disappointment that the performance had been politicized.
The mission following the August airstrikes on Gaza was especially ambitious. It asked users to "take action for Israel" by liking comments on the Facebook pages of 24 international news outlets. The instructions said the goal was to make them top comments, "the first ones that readers see!" Nancy Saada, who had the top comment on the New York Times page, as well as several others whose comments were highlighted for promotion, are listed on LinkedIn as current employees of Act.IL, making them effectively paid activists.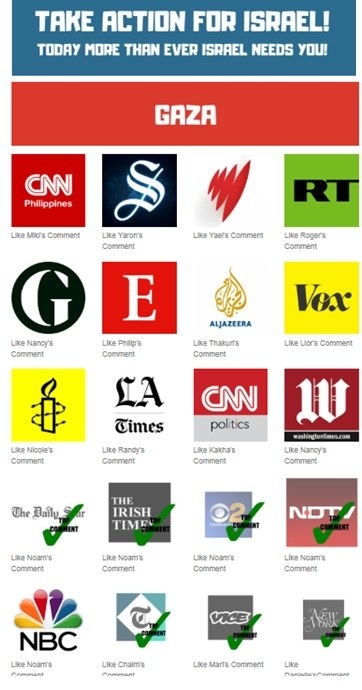 Act.IL was developed as part of an effort during Operation Protective Edge, Israel's 2014 war against Hamas in Gaza. Hundreds of Israeli university students joined a digital "war room" to post pro-Israel content on social media in order to combat a wave of international outrage over the lopsided death toll. (According to a United Nations report, 2,251 Palestinians died in the conflict, including 1,462 civilians; 67 Israeli soldiers and six civilians in Israel also died.) The experience sowed the seeds of what eventually became Act.IL, which was unveiled at a festival celebrating Israel in New York in June 2017 by Gilad Erdan, Israel's minister of strategic affairs.
But just how involved the Israeli government is with Act.IL is unclear. The app was developed by the Interdisciplinary Centre in Herzliya, the Israeli university that hosted the "war room" in 2014, as well as by two American non-profits, the Israeli-American Council and the Maccabee Task Force. All three are supported financially by Adelson, the billionaire GOP mega-donor and close ally of Israeli Prime Minister Benjamin Netanyahu. Act.IL has been promoted by the Israeli government, including on a website run by the Ministry of Strategic Affairs, the government department tasked with burnishing Israel's image abroad and fighting the international BDS campaign to boycott, sanction, and divest from Israel over its treatment of Palestinians.
The founder and CEO of Act.IL, Yarden Ben Yosef, is a former army intelligence officer who told the Forward last year that he is in regular contact with the country's military and security establishment over the app's content, and that Act.IL is largely staffed by former intelligence officers.
Despite these links, however, both Act.IL and the Israeli government deny any formal relationship.
"Act.IL is a people-driven, grassroots initiative supported by several non-profits in Israel and the US, who are dedicated to fight anti-Semitism and incitement to terrorism and violence, and to share our love and pride for the United States and the State of Israel," the app makers said in an unsigned email response to questions from BuzzFeed News. "Act.IL is not supported or backed by any government agencies."
A spokesperson for the Ministry of Strategic Affairs called Act.IL "an independent and student-developed mobile app whose purpose is to defend against anti-Israel bias online." The spokesperson said the app has never received government funding.
In addition to astroturfing campaigns, Act.IL has also taken part in activities that one activist likens to online harassment. Michael Bueckert is a Canadian graduate student who monitors the app and shares ongoing missions on Twitter through the account @AntiBDSApp.

In July, after the Israeli parliament passed a controversial "nation-state" law that was criticized as racist, a Palestinian-American student at Stanford posted an angry Facebook status in which he threatened to "physically fight Zionists on campus" who praised Israel. The student, Hamzeh Daoud, subsequently edited his comment and apologized, but his original remarks soon ricocheted around the internet, with many calling for him to be removed from his position as a resident assistant. The effort was encouraged by Act.IL, which provided shareable images to post online and form letters to send to university leaders to get the student fired, as Bueckert documented at the time.
In another instance earlier in the year, the app joined an effort against student leaders at George Washington University who had voted in favor of a non-binding resolution that called on the university to divest from several companies that do business in Israel. The vote had used a secret ballot, but according to Bueckert, the app directed people to a Facebook page that shared the names of students who had voted in favor of the resolution, potentially opening them up to harassment.

Bueckert said he found such campaigns more troubling than the astroturfing efforts because they use "the weight of this infrastructure that has the endorsement of the state" against individuals who advocate for Palestinian rights.

"It's verging on cyberbullying and harassment, in my opinion, that this app is engaged in," Bueckert said.
When asked about the campaigns highlighted by Bueckert, Act.IL requested 10 days to respond, citing Jewish holidays. After 1o days, it did not provide a comment. (The app continued to launch new missions during this period, which the CEO and other employees took part in, according to their user profiles.)
The activities of pro-Israel groups in the United States have come under scrutiny in recent weeks after portions of an unaired Al Jazeera documentary filmed in 2016 were leaked to other outlets. The documentary includes undercover reporting and hidden-camera footage that is said to reveal how Israel's government and sympathetic advocacy groups influence public perceptions of the Israeli-Palestinian conflict, often using underhanded tactics. The head of Al Jazeera's investigative unit has suggested the film is being suppressed due to international pressure on Qatar, which funds Al Jazeera.
The Electronic Intifada news site reported, based on a leaked portion of the film, that the Washington, DC-based group The Israel Project regularly inserted pro-Israel messages into a number of popular Facebook pages it controls that are ostensibly about feminism, environmentalism, and other causes not directly related to Israel. ProPublica reported that the Israel On Campus Coalition — an organization with links to the Israeli government — secretly funded ads on Facebook targeting a Palestinian poet and activist as a promoter of "hate" during his tour of American universities in 2016. Facebook subsequently removed the ads for violating the company's policies on misrepresentation.
For now, Act.IL appears to have avoided censure for its activities on social media.

"Our platform fully complies with all social media policies, and fosters safer online communities," the app makers said.
Facebook did not respond to multiple requests for comment about Act.IL's activities. The company has been under intense scrutiny for allowing bad actors to run rampant on the platform, and recently removed hundreds of pages, groups, and accounts for what it called "coordinated inauthentic behavior" originating in Iran.
A Twitter spokesperson told BuzzFeed News the company monitors manipulation of its platform and that it has "expanded" its approach to policing such behavior.
"I'm afraid — for obvious reasons — I don't have more to share here," the spokesperson said.