On May 12, 1959, Studs Terkel interviewed the newly famous Lorraine Hansberry at her mother's apartment for his radio program. In the midst of the interview Terkel asked Lorraine what she thought about the scene of contemporary young black writers. She responded by saying there wasn't much happening. Not much at all except for a young exile who had come back, along with some other writers, from places like Paris and Rome. From what she'd read of this young man, she said he was "undoubtedly one of the most talented American writers walking around. ... If he can wed his particular gifts, which are just way beyond most of us trying to write on many levels — with material of substance, we have the potential of a great American writer."
He was James Arthur Baldwin. Jimmy, as she called him.
Lorraine never hesitated as a critic, despite her youth, to make assessments of promise and possibility. She also hoped to steer his promise.

The friendship that grew between Lorraine and Jimmy is storied. It was both an intellectual and a soulful partnership. Jimmy first saw Lorraine in 1958 at the Actors Studio in Manhattan. She was there to see a theatrical workshop production of his novel Giovanni's Room. She sat in the bleachers. But when the lights came up and luminaries of American theater expressed how much they disliked the play, little and unknown Lorraine argued with them intensely. Jimmy was grateful. "She seemed to speak for me, and afterward she talked to me with a gentleness and generosity never to be forgotten. A small, shy, determined person, with that strength dictated by absolutely impersonal ambition: She was not trying to 'make it' — she was trying to keep the faith."
Lorraine's advocacy for Jimmy's play was likely born of a number of feelings. The kinship of queerness, though silent, was undoubtedly one element. This work, she knew, was important. And then she shared his persistent questioning of the rules of patriarchy and religion. After all, the character most like her in Raisin in the Sun is famously slapped in the face for questioning the existence of God. There was also the matter of Lorraine's constant racial solidarity. She took up for black folks, as it were, and often felt herself to be at battle against the racism they experienced at the hands of white critics who frequently pointed fingers at them without introspection. She'd also already seen the potential in Jimmy. And Lorraine never hesitated as a critic, despite her youth, to make assessments of promise and possibility. Not only that, she also hoped to steer his promise.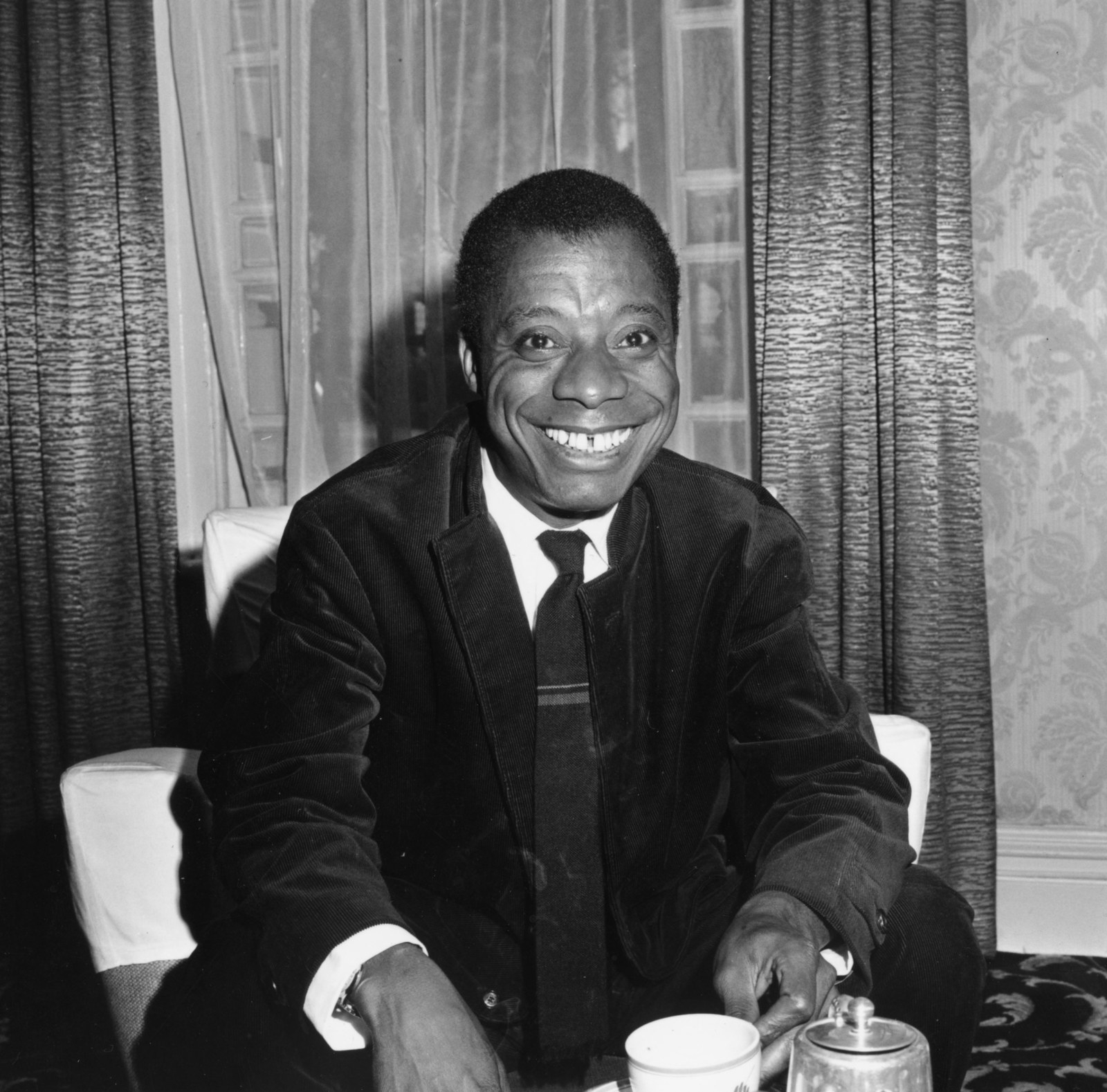 Jimmy wasn't completely correct in his assessment of her, however. Lorraine did want fame, she wrote as much in her diaries. But he was right, she wanted to produce meaningful art far more than fame, and wasn't willing to compromise.
Lorraine and Jimmy met again when A Raisin in the Sun was in tryouts in New Haven and he came to see it. That was when their friendship really began. About a month before their reencounter he'd had a dream "in which he was joined by a beautiful, very young black woman who, after performing a song and cakewalk with him, seemed to merge with him 'her breasts digging against my shoulder-blades.'" Jimmy prophesied Lorraine.
Jimmy would refer to her as Sweet Lorraine. Sometimes her mother did, too, in letters. "Sweet" is a lesser-known archetype of black American culture. White Americans generally know sassiness and chops-busting Sapphire. They do not know sweet. Sweet is not, as it might seem if one attends only to the mainstream rules of American gendering, a diminishing word. Among black Americans it describes a welcoming and caring disposition and a way of being cherished. Those women who are called sweet can be and often are steely and strong. This was how Jimmy saw Lorraine. Plus he was passionate about music. And I believe she called to mind the pop standard "Sweet Lorraine," probably the Nat King Cole version, in which he sings about her beauty, her brilliance, and leading her "down the aisle."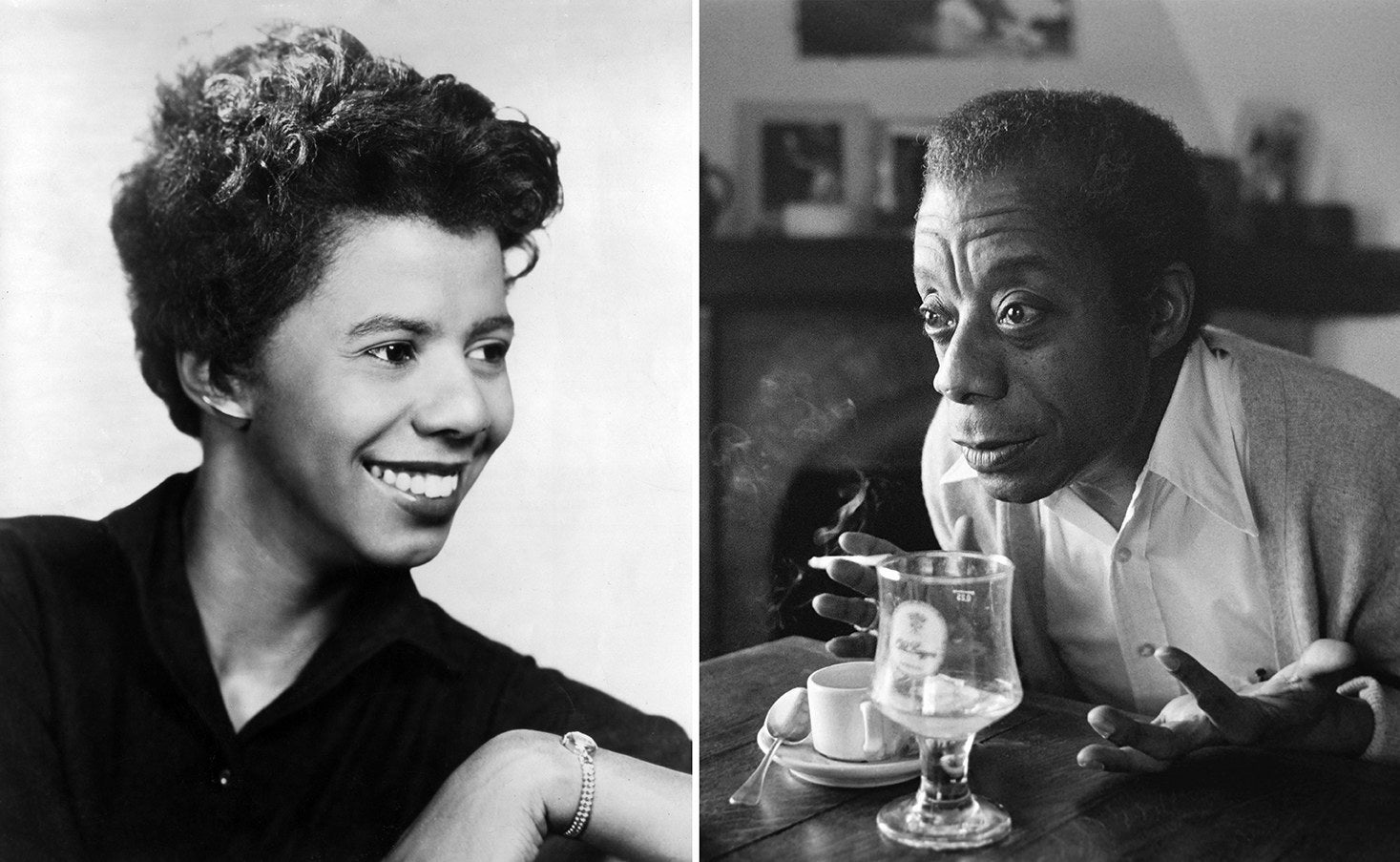 Jimmy wasn't going to marry Lorraine. But he did lead her down an aisle of sorts. And she did the same for him. He was already famous when they met. His semiautobiographical novel Go Tell It on the Mountain had been published in 1953 and Giovanni's Room in 1956. The latter had stirred up quite a bit of controversy because it portrayed a tender and tragic love affair between two men. Lorraine was six years his junior and new to fame. And yet he treated her as an intellectual peer, a confidant, and at times a friend whom he implored for help. In the spring of 1959 he wrote her a letter asking for assistance with his play The Amen Corner. Jimmy wrote:
Out here on a sand bar, working and taking walks by the ocean, which seems to be my particular brand of therapy ... back at the end of the month. This is a begging letter. I wish you'd make a point of giving Lloyd Richards the script of Amen as soon as possible. ... I think I'd like to try to explain to him that my reluctance — or something — about handing him the script had only to do with a certain, treacherous shyness, and with my reservations about my script.
He was vulnerable and playful at once. "Begging," that simple word, has a particular black vernacular ring. It is often issued as a complaint about somebody who asks for too much. He wrote this word, and writing was of such importance for the two of them, and it cued their common ground, the soulfulness in these highbrow thinkers. Both Lorraine and Jimmy tended toward the speech affectations that public figures routinely adopted in those days. They enunciated and sounded almost haughty in public. Yet the rhythm of everyday black speech is there in their private communication. She answered on her birthday, May 19, teasing him:
Jimmie Dear — Got your "begging" note yesterday. Been out of form myself for a week. Here is Lloyd's address. ... Have fun on your sand bar and work very hard. I shall try to get the manuscript to Lloyd — though I ordinarily see him seldom. Haven't read it myself yet — haven't even read a newspaper since I last saw you. Love, Lorraine.
It wasn't the only time Jimmy would ask her to help him with his nervousness about writing. But most of the time their interaction was simply that of a raucously good friendship. As the writer Gene Smith described, "She and James Baldwin were great friends, although at times a passerby might believe that they were about to slug it out at a party or at his place or hers. They yelled at each other, ranted and raved, drank. They also laughed."
Jimmy would, in several places, try to describe their bond. There were other figures, like Medgar Evers or Martin Luther King Jr. or Malcolm X, about whom he also wrote retrospectively, and loved, but that was always quite different from his memories of Lorraine. It might have had to do with her gender. When he wrote about the assassinations of these other friends, men, he tried and charged the nation. He also autopsied it, exposed its festering innards. But about Lorraine he wrote intimately, though he also insisted upon her genius, power, and righteousness. In describing her as "Sweet Lorraine," Jimmy said:
That's the way I always felt about her, and so I won't apologize for calling her that now. She understood it: in that far too brief a time when we walked and talked and laughed and drank together, sometimes in the streets and bars and restaurants of the Village, sometimes at her house, gracelessly fleeing the houses of others; and sometimes seeming, for anyone who didn't know us, to be having a knock-down-drag-out battle. We spent a lot of time arguing about history and tremendously related subjects in her Bleecker Street, and later Waverly Place, flats. And often, just when I was certain that she was about to throw me out as being altogether too rowdy a type, she would stand up, her hands on her hips (for these down-home sessions she always wore slacks), and pick up my empty glass as though she intended to throw it at me. Then she would walk into the kitchen, saying, with a haughty toss of her head, "Really, Jimmy. You ain't right, child!" With which stern put-down she would hand me another drink and launch into a brilliant analysis of just why I wasn't "right." I would often stagger down her stairs as the sun came up, usually in the middle of a paragraph and always in the middle of a laugh. That marvelous laugh. That marvelous face. I loved her, she was my sister and my comrade.
Full of drink and mirth, he left her place enchanted by her marvelous face and laugh. And they shared something profound: loneliness. He wrote, "Her going did not so much make me lonely as make me realize how lonely we were. We had that respect for each other which is perhaps only felt by people on the same side of the barricades, listening to the accumulating hooves of horses and the heads of tanks."
Their retreat into "down home" talk, the echo of the South in both of these second-generation migrants in apartments and bars in the Village, was essential. It beat back loneliness of a personal sort, which both of them carried everywhere. It also must have been a relief to cast off the burdens of being in the public eye. And yet, when they were in the public eye, together, they could function like a marvelous tag team, their ideas bouncing back and forth, rapid-fire. They both participated in a roundtable titled "Liberalism and the Negro," hosted by Commentary magazine, a publication that vaulted the literati of the 1950s and 1960s into the sphere of public intellectualism. This discussion consisted of a group of writers: Langston Hughes (Lorraine's mentor and Jimmy's sometime nemesis), Alfred Kazin, Nat Hentoff, Emile Capouya, and Lorraine and Jimmy. At one point, Jimmy responded to a question from Hentoff, who wondered whether black writers had sufficiently questioned the value of assimilation.
Baldwin: I feel that there's been far too little.
Hentoff: In other words, equal for what?
Baldwin: Equal for what, yes. You know, there's always been a very great question in my mind of why in the world — after all I'm living in this society and I've had a good look at it — what makes you think I want to be accepted?
Then Lorraine jumped in:
Hansberry: Into this.
Baldwin: Into this.
Hansberry: Maybe something else.
Baldwin: It's not a matter of acceptance or tolerance. We've got to sit down and rebuild this house.
Hansberry: Yes, quickly.
Baldwin: Very quickly, and we have to do it together. ... You know, in order to be a writer you have to demand the impossible, and I know I'm demanding the impossible. It has to be— But I also know it has to be done. You see what I mean?
In the same discussion, they echoed each other another time, this time with Jimmy responding to Lorraine's calls. In considering the failures of Southern white writers Carson McCullers and William Faulkner when it came to racial matters, Lorraine said:
William Faulkner has never in his life sat in on a discussion in a Negro home where there were all Negroes. It is physically impossible. He has never heard the nuances of hatred, of total contempt from his most devoted servant and his most beloved friend, although she means every word when she's talking to him and will tell him profoundly intimate things. But he has never heard the truth of it. ... The employer doesn't go to the maid's house. You see, people get this confused. They think that the alienation is equal on both sides. It isn't. We've been washing everybody's underwear for 300 years. We know when you're not clean.
And then Jimmy said Lorraine's point was very important, and remarked that Carson McCullers's treatment of black people "doesn't reveal anything about the truth of Negro life, but a great deal about the state of mind of the white Southern woman who wrote it."
That said, Lorraine's and Jimmy's politics were different. He wasn't ever going to call himself a Marxist, communist, or nationalist. He was just committed to honesty, ideology be damned. Lorraine was insistently though creatively ideological. Lorraine leaned more toward social theorist, and Jimmy was to his core a critic, truth teller, and doer. And Jimmy didn't refer to himself as gay, he just happened to "fall in love with a boy" a number of times, whereas Lorraine, though closeted, embraced the words lesbian and homosexual to define herself.

However, the spirit of their work was always mutually sympathetic. Jimmy called A Raisin in the Sun a play in which Lorraine served as a witness to black America. He did too. In perhaps his most famous book, the 1963 epistolary text The Fire Next Time, he answered Walter Lee's climactic action. In Raisin, standing before his son, Walter Lee insists upon moving into the white neighborhood and rejects the offer of a lot of cash in exchange for maintaining segregation and abdicating his dignity. In The Fire Next Time, Baldwin testifies to his nephew about his late father. Jimmy wants his nephew to see how his father (like their father before him) had been crushed by the forces of white supremacy in his life. He issues an appeal to his nephew's generation to make use of their righteous anger rather than be distorted by it. Jimmy, a former child preacher, preaches to the Walter Lees of the world and to the others. He makes plain the wages of white supremacy.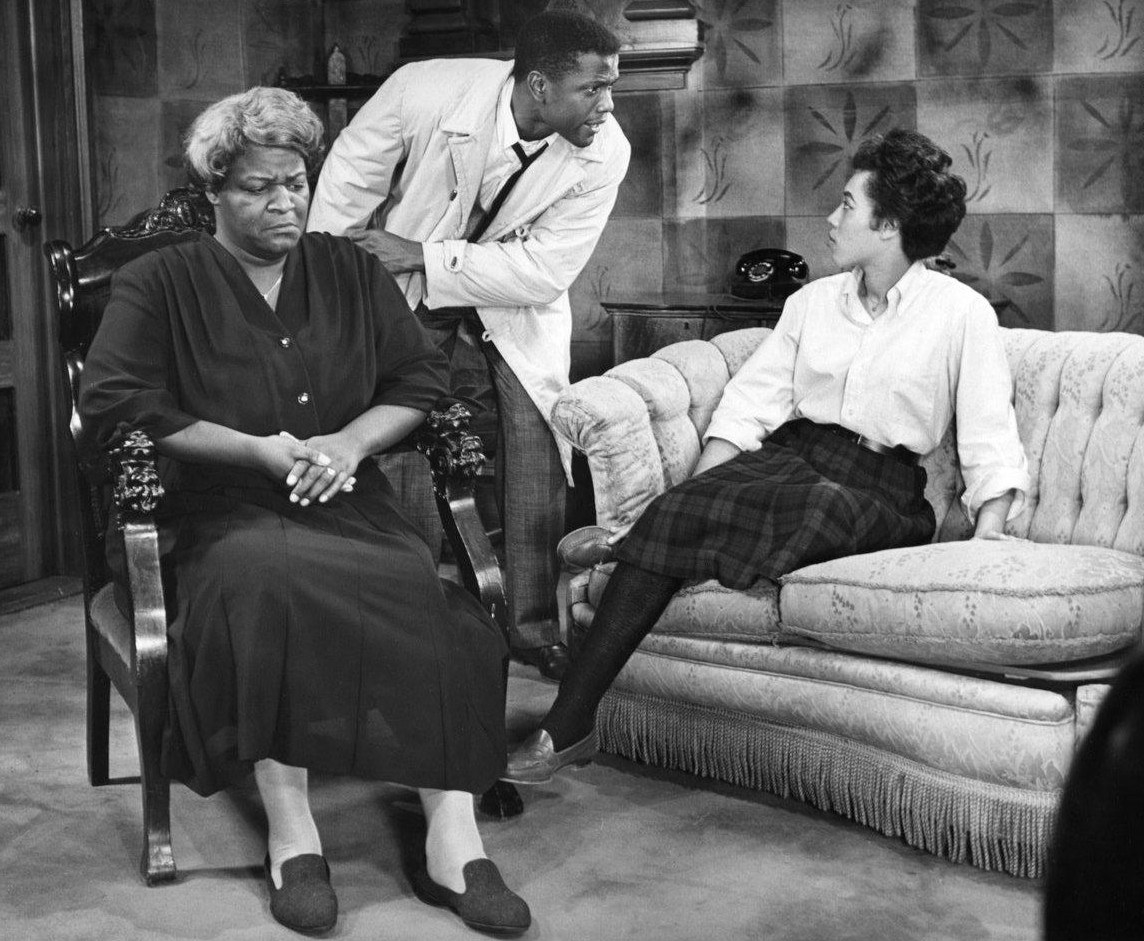 In the second essay of the slim book, Jimmy echoes Beneatha, the character in Raisin whom Lorraine based upon herself. Beneatha, headstrong and sophomoric, questions Christianity and the existence of God. Mrs. Younger responds by slapping her across the face. As long as she is in Lena Younger's house, Beneatha learns, she is required to believe. Jimmy, too, questions American Christianity and the way in which it inures people, black and white, to a vile order. Instead, he says, Americans ought to move beyond the status quo of their fears, beliefs, and oppressions. That was precisely what the young Beneatha, sometimes in a silly way, was trying to do. And what Lorraine and Jimmy tried to do in their lives also.
The literary dialogue between Lorraine and Jimmy continued in their other work. James Baldwin's play Blues for Mr. Charlie, which was completed in 1964, and Lorraine Hansberry's Les Blancs, which she worked on for years, were a sort of call and response. They both referenced "white folks" in the title. "Mr. Charlie" was a general term for a white man, and Les Blancs ("The Whites") was Lorraine's play on Jean Genet's The Blacks. Lorraine's play takes place in a fictional African country at the dawn of its independence movement, and Jimmy's is set in the heat of the Southern freedom movement. They both explore interracial intimacy, even love, and how it coexisted with violence and racial domination. They both confronted the question of whether violent resistance to white supremacy was a necessary course for black people to take. In Jimmy's play, a white man is put on trial for the murder of a black man. This is the second black man he has murdered (the first being the husband of a black woman he loved). The killer is found not guilty, and the play concludes with a protest march joined by the only white man who has cast his lot with the Negroes in town. Though the people are despondent, their protest is the resolution and hope of the play. In contrast, Lorraine's play puts the colonizers on trial, as it were, and issues them a death sentence for the cause of emancipation, even those for whom the Africans feel affection. Madame Nielsen, a British transplant who understands the African cause, is killed in crossfire at the conclusion.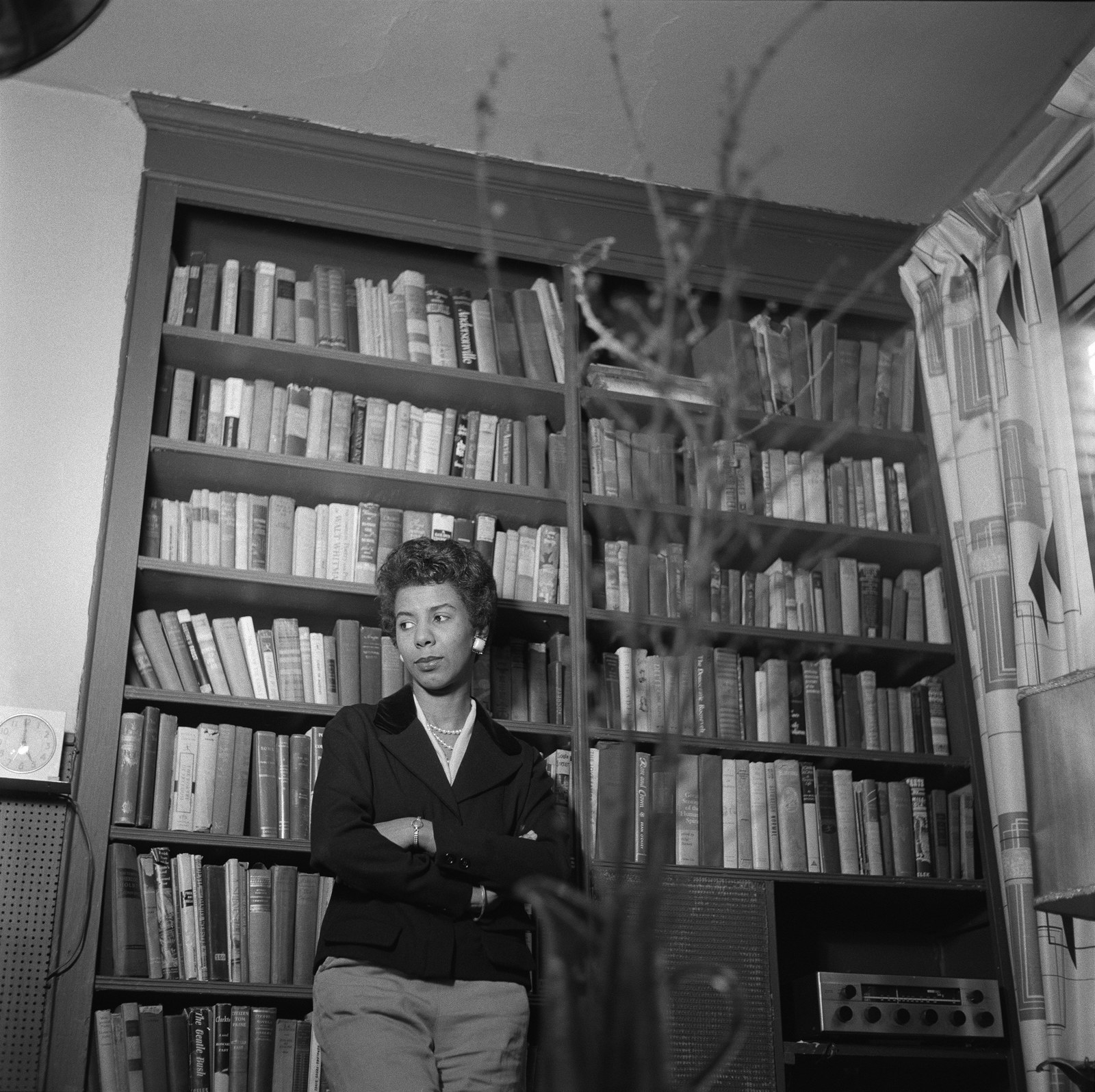 Lorraine was not only more ideologically driven than Jimmy. She was also more militant. But they weren't really at odds in these literary conversations. As though theirs was a dialectical union, they looked at the matters from different angles: It was a waltz or, better yet, like the twist, rocking back and forth and side to side. Jimmy tended to focus upon what Americans must do in order to confront white supremacy inside oneself. He sought an exorcism and challenged Americans to become otherwise. Lorraine tended to focus upon social relations and the injustice of the political order and what that suggested about who people must be for one another. Neither of these descriptions is absolute, but they mostly hold. Lorraine was an ensemble thinker; Jimmy was a soul-centered one.
In 1963, Jimmy wrote to Lorraine in a bit of a tizzy about his novel Another Country:
My dear Lorraine: a very particular favor but please don't do it if you don't want to. Some people can be read to and others can't, so I'll understand.

But I am finally really reaching the end of this monstrous opus of mine. And I am so weary and have already received such dire warnings as to my probable fate when it is published — and even I can see that it's not a very pretty novel — that my mind and soul might be somewhat steadied if I could read a couple chapters from it — from the beginning, from the end. I pick on you. I'm afraid, because I respect you as a writer and value you as a friend and because, as a Negro, you can call me if I have — as I certainly pray I have not — falsified my grim interracial drama — which is also something more than that.

He proposed that the group reading include Lorraine and whomever she might want to bring, his brother, and "the girl to whom the book is dedicated, Mary Painter." Mary was a dear friend of Jimmy's, a white American economist, famous for working on the Marshall Plan, who lived in Paris. He continued in his appeal to Lorraine, "This note is probably more symptomatic of panic, that panic which always attacks me near the end of any long endeavor, than of anything else."

I do not know if Lorraine heard him read from Another Country, but I know she heard him. They both were at once fearful and truly courageous. Like Lorraine, Jimmy was afraid of heights, bridges, elevators, and planes. They both were afraid that their writing might not be good. Published in 1962, Another Country was, characteristic of Baldwin, a courageous book. It treated the counterculture of Greenwich Village that they both often occupied. Its protagonist, Rufus Scott, is a jazz musician who has a romantic relationship with a Southern white woman. As the novel progresses, their relationship grows violent, and ultimately Rufus commits suicide. In the aftermath of his suicide, the novel follows the people who surrounded Rufus. His friend Vivaldo, who is white, has a romance with Rufus's sister, then also has an affair with Eric, who had been Rufus's lover. These are just two of a series of partnerings among the grief-stricken and conflict- and guilt-ridden group trying to make sense of the death of Rufus.
Intellectual partners read together and write together. They also, and this is really my point, can swim in each other's imaginations.
Another Country was controversial. Between the interracial and same-gender sexuality and the partner sharing, the novel alarmed the public. Jimmy finished it while living in Istanbul, perhaps because it was one of those works that was easier to get into without the puritanical American landscape surrounding him. And even though it was a Village novel, and the Village had become a recognized center of the cultural vanguard, in depicting it, Jimmy nevertheless pushed readers to the very edge of America's willingness to see itself.
An intellectual friendship can take many forms. It can consist of long conversations into the night about books, arguments, and art. Intellectual partners read together and write together. They also, and this is really my point, can swim in each other's imaginations. Neither one imitating the other, but after bathing in the other's words they return back to the shore, to the work, shaped by the beloved's waters. That is what I see, what was so special, about these friends.
Lorraine responded to Another Country with The Sign in Sidney Brustein's Window. Her play also treated the Village counterculture, queer sexuality, interracial intimacy, and a suicide. But in her play, it is a white woman in love with a black man who commits suicide, rather than a black man in love with a white woman. Though Lorraine received mixed reviews for her play, it is, according to my own critical judgment, a more effective work of art than Baldwin's novel. Lorraine worshiped at the altar of clarity and organization in her writing. She didn't care for obscurity or cluttered storylines and found Jimmy's fiction, generally speaking, not nearly as good as his essays, which she considered among the best in the history of American writing. But the point is that the consistent thread between these two works of theirs — how the politics of race, gender, and sexuality are always at work, even in the closest of relationships — placed each of them well ahead of their time. Neither saw the struggle for freedom as limited to fights for laws and full citizenship. Freedom dreams led to complex questions about humanity and existence, about who we are and might become. They asked and tried to answer them. ●

Excerpted from Looking for Lorraine: The Radiant and Radical Life of Lorraine Hansberry by Imani Perry. Copyright 2018. Excerpted with permission by Beacon Press.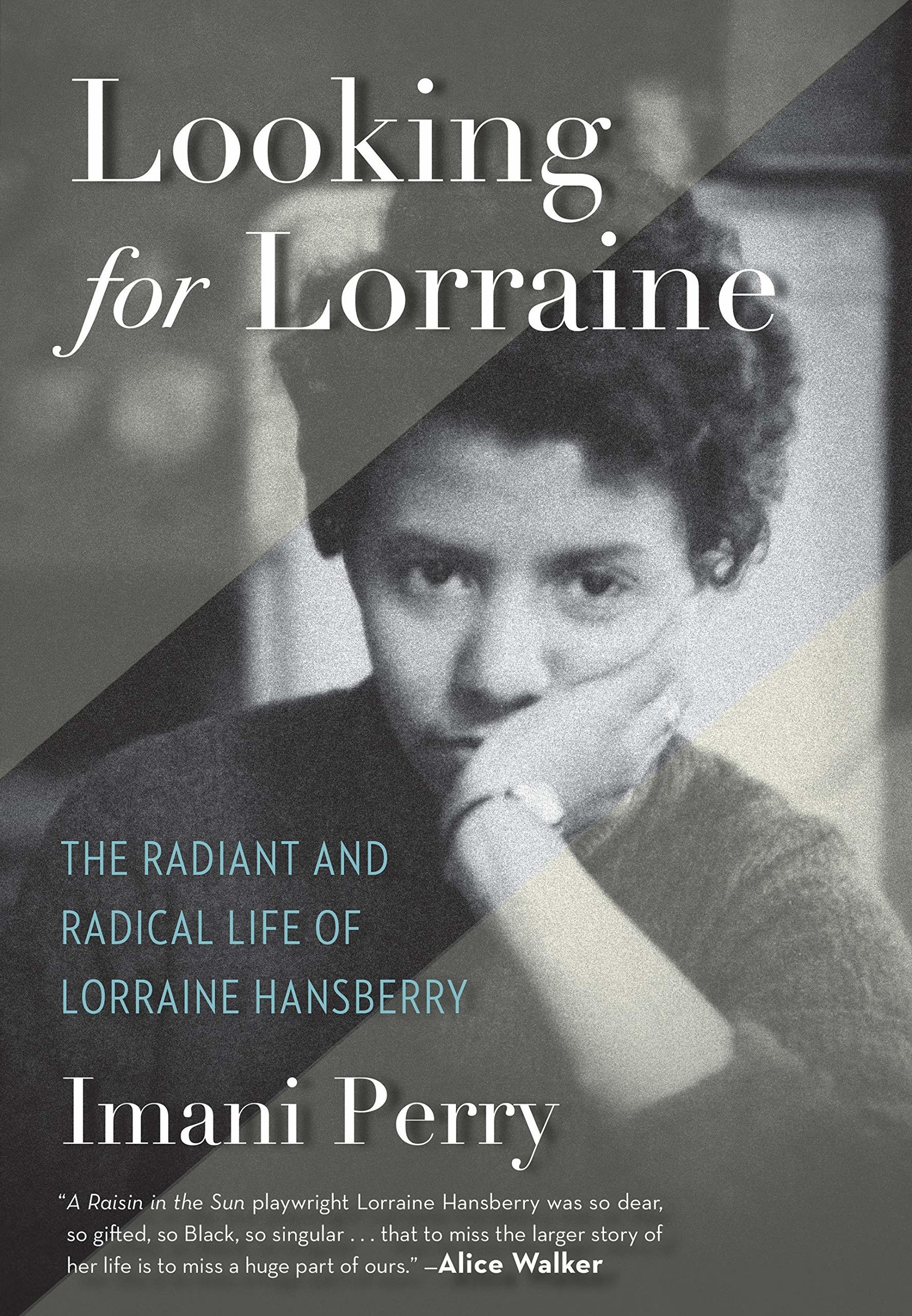 Imani Perry is the Hughes-Rogers Professor of African American studies at Princeton University, where she is also affiliated with the Programs in Gender and Sexuality Studies and Law and Public Affairs. Perry is the author of five books and numerous scholarly articles. Her fields of inquiry include legal history, cultural studies, literary studies, and music. She holds a PhD from Harvard in American studies, a JD from Harvard Law School, an LLM from Georgetown University Law Center, and a BA from Yale College. She is also a creative nonfiction essayist and a book reviewer. A native of Birmingham, Alabama, Perry spent most of her childhood in Massachusetts, as well as time in Chicago. Perry currently lives in the Philadelphia area with her two sons.

Looking for Lorraine: The Radiant and Radical Life of Lorraine Hansberry is out Sept. 18.