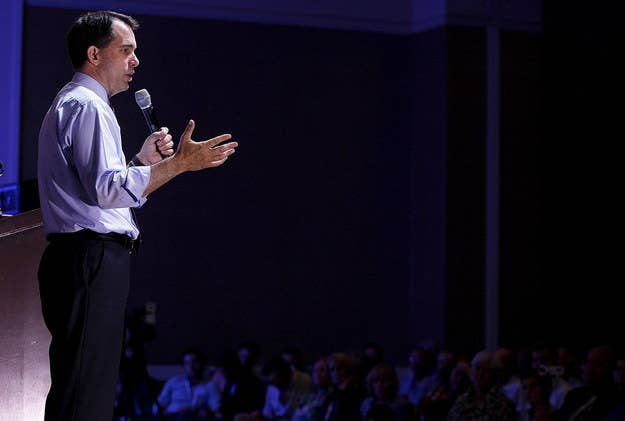 In July, Scott Walker signed a bill banning abortions after 20 weeks in Wisconsin with only one exception: when the mother is undergoing a medical emergency.
The new law is similar to those passed in other states in recent years, but for Walker this was the culmination of decades of political activism. The Republican presidential candidate's public union busting may have made him a hero to conservatives and a villain to organized labor. But the driving position of his career — even back in college — has been something else entirely: restricting abortion.
"I'm pro-life, I've always been pro-life, and I've got a position that I think is consistent with many Americans out there," Walker told Megyn Kelly in the first Republican debate, "in that I believe that that is an unborn child that's in need of protection out there. And I've said many a time that that unborn child can be protected, and there are many other alternatives that can also protect the life of that mother."
And in interviews with 20 lawmakers, friends, and advocates on either side of the issue in the state of Wisconsin, people told BuzzFeed News the same thing: Walker's opposition to abortion has been unwavering and intense.
It even got him elected in the first place.
"Support of abortion opponents is credited in Walker's victory," read the Milwaukee Journal headline in 1993 after he successfully secured the Republican nomination in a contentious five-way primary to fill a vacant state assembly seat.
An outspoken opponent of abortion rights might be a risky bet in some parts of Wisconsin — but in the conservative Wauwatosa, there was ample opportunity to fill the seat with the staunchest ally pro-life groups could find, and they did, in Walker.
Mary Jo Baas, the only pro-choice Republican in that race, called Walker's position "an essential issue for him" — something that set him apart in a crowded Republican field, and left him poised to capitalize on the support of a pro-life movement eager to maximize its power and influence.
"When everybody is Republican, and everybody wants lower taxes, and everybody wants school choice, and everybody wants economic development," Baas told BuzzFeed News, "it was an issue where he had — he was knowledgeable, he was active, he felt passionate about it, and it was at a time when the pro-life organizations could make a huge difference in the campaign."
Baas and another opponent in that race, Barbara Kraetsch, cited abortion and Walker's position as the decisive issue. "That hasn't changed for him," Kraetsch said. "I don't know that he has necessarily modified that position in any way." Kraetsch noted that Walker in particular benefited from the campaign work of Wisconsin Right to Life, the group which Walker had first encountered during his time at Marquette University where he'd served as the Students for Life campus president.
"He was always — he's very, very sincerely in favor of life, and in favor of protection of unborn children, in favor of assisting their mothers," recounted Barbara Lyons who retired last year after 27 years as the executive director of Wisconsin Right to Life. She identified herself as "a personal friend" to both Walker and his wife, though declined to speak as a representative of Wisconsin Right to Life.
In the legislature, Walker certainly made good on his promise. From 1995 — the first year for which complete records are readily available — until the time he left Madison in 2002, Walker leant his name as either sponsor or co-sponsor to nearly every piece of legislation aiming to restrict abortion in the Assembly's records.
Aside from a smattering of bills from when Walker was running for Milwaukee County Executive — many of which he had supported in the past – there are only three abortion-restricting bills from those years that do not bear Walker's name.
"There are some people who just vote pro-life, and some who are out in front on the issues," Rep. Glenn Grothman, who was vice-chair of the Republican caucus in the Wisconsin State Assembly, told BuzzFeed News. "He was out in front on that issue."
The legislation that Walker sponsored or co-sponsored in the Assembly sought to curtail abortion in a wide variety of ways, although most of it was never signed into law. Aside from the now-enjoined partial-birth abortion ban, the only other major piece of Walker-backed legislation explicitly about abortion that became law while Walker was in the Assembly was a 1995 bill that broadened Wisconsin's "informed consent" requirements.
The bill required that a woman seeking an abortion be told, among other things, "[t]he details of the medical or surgical method that will be used in performing or inducing the abortion," and "[t]hat the state encourages the woman to view an ultrasonic image and hear the heartbeat of her unborn child before she decides to have an abortion." The bill also instituted a 24-hour waiting period between when a woman was told the requisite information, and when the abortion could be performed.
On its way to passage, the state senate amended the bill to allow for waivers of the waiting period in cases when the pregnancy at issue was the result of rape or incest. When the bill was returned to the Assembly, Walker and three other lawmakers offered another amendment, restricting such waivers to cases in which the rape or incest has been reported to "law enforcement authorities," and "the physician who is to perform or induce the abortion, a qualified person assisting the physician or another qualified physician" receives confirmation from those authorities that such a report has been made.
In such cases, the amendment allowed for the waiting period to be waived for pregnancies resulting from rape, and "reduced to at least two hours" for pregnancies resulting from incest. The amendment was included in the version of the bill that was signed into law.
"Gov. Walker was very instrumental in trying to get legislation passed to protect all life," former Rep. Bonnie Ladwig told BuzzFeed News. She worked with Walker on a 1997 bill to make the performance of a partial-birth abortion a Class A felony — subjecting violators to life imprisonment. While the ban that they worked on was signed into law, its enforcement is currently enjoined — because it made exception only for abortions necessary to protect the life, and not the health, of the mother.
Most of the bills Walker backed, however, never made it out of the legislature.
Among these were multiple bills that would have shielded from civil liability physicians who failed to inform prospective parents of fetal abnormalities that may have led the parents to choose to abort.
A Walker-backed bill that would have barred providers that engage in "abortion-related activity" from participating in Wisconsin's "volunteer health care provider program," also failed to pass, as did several bills Walker co-sponsored that would have tightened the restrictions on public funding of organizations that perform "abortion-related activities," or affiliate with organizations that do so.
Walker also supported an ill-fated bill that would have modified the state's "parental consent" law. That bill would have eliminated the right of adult family members other than parents and legal guardians to sign the form granting consent for an un-emancipated minor to have an abortion, and would have required the parent's signature to be notarized. The bill also curtailed the ability of members of the clergy to assist a minor in receiving a waiver of the parental consent requirement. Finally, the bill would have done away with an existing exception to the consent requirements, for cases when "a psychiatrist or psychologist states in writing that he or she believes that the minor is likely to commit suicide rather than seek consent or a judicial waiver."
In addition to sponsoring or co-sponsoring legislation, Walker was the lead author on two sets of abortion-related bills.
In the 1997-1998 session, Walker introduced a bill that would have placed "prohibitions on the use of public employes [sic] and public property for activities relating to abortion."
The proposed prohibitions would have gone far beyond restricting the use of taxpayer dollars to pay for abortion procedures.
Opponents of the bill alleged that Walker's proposal would prohibit public hospitals from performing abortions to save the life of the mother and would also forbid medical students and residents in the University of Wisconsin system to learn about abortion through performing them at UW hospitals.
A representative of the Wisconsin Section of the American College of Obstetricians and Gynecologists testified that the bill "would severely compromise the ability of Wisconsin women to obtain abortion services for medically indicated second trimester terminations of pregnancy in this state."
"The abortion issue in the United States has been and continues to be one its [sic] most divisive issues," the testimony continues. "This bill, however, crosses the line into legislating what is accepted as well grounded, legitimate, reasonable medical practice."
After the bill was defeated, Walker tried to have its contents incorporated into the annual budget two years later. He told the Associated Press that he was unconcerned about the measure's ramifications for the teaching of medicine in the state.
"To me, there's a parallel with some of the limitations that are put on us as legislators," Walker told the AP. "We can't put campaign literature out of the Capitol with taxpayers' money. This is the same kind of limitation."
It was also in 1997 that Walker introduced for the first of three consecutive sessions a "conscience clause" bill intended to protect medical professionals with religious objections from performing duties that they felt went against the dictates of their faith, including pharmacists who refused to fill a prescription for the morning-after pill. The bill was mainly directed at activities and medications related to abortion and euthanasia, including the morning-after pill.
Walker left the Assembly in 2002, after winning a special election for Milwaukee County Executive, a position that didn't lend itself to the same kind of anti-abortion actions that Walker had taken as a legislator.
In 2006, Walker entered the Republican gubernatorial primary, eventually losing the nomination to Mark Green. Before he dropped out, however, Walker dropped his long-standing opposition to the death penalty, which, according to media reports from that time, was closely tied to his position on abortion.
"Walker's turnabout caught some of his friends by surprise because he had been an ardent death penalty foe, saying that stance was in line with his anti-abortion views," an article in the Milwaukee Journal-Sentinel read.
"The timing certainly doesn't hurt," the article quotes Walker acknowledging. "'You're not going to get me hiding from that."
In a statement released at the time, Walker noted that in the past he had been concerned that innocent people could be put to death, and that's why he believed death-penalty convictions should be based solely on the existence of solid DNA evidence.
"Finally, it is something of a conflict for people like me who have pro-life beliefs and who always to seek to protect innocent life, but the connection to the scientifically pure DNA evidence insures that only the guilty will face the death penalty in this state," Walker said in the statement.
The flip didn't hurt Walker's standing with the right-to-life movement in Wisconsin — when he ran (successfully) for governor again four years later, he was endorsed by both Wisconsin Right to Life and Pro-Life Wisconsin.
After he was elected governor in the 2010 Republican wave, he launched a fight against public-sector unions that brought him into the national spotlight, but also continued to advocate for abortion-limiting measures. Walker signed a mandatory-ultrasound bill, and signed into law measures that prevented state funds from going to Planned Parenthood — which ultimately resulted in the organization closing five health centers in rural areas.
The one exception: an ad that ran during Walker's difficult re-election bid in 2014 — and angered people on both sides of the debate.
In the ad, he defended legislation that put limits on abortion. In the process, he said the final decision rests between "a woman and her doctor."
"Hi, I'm Scott Walker," Walker says, looking directly into the camera. "I'm pro-life, but there's no doubt in my mind the decision of whether or not to end a pregnancy is an agonizing one."
"That's why I support legislation to increase safety and to provide more information for a woman considering her options," he continues. "The bill leaves the final decision to a woman and her doctor."
"Now, reasonable people can disagree on this issue," Walker concludes. "Our priority is to protect the health and safety of all Wisconsin citizens."
The ad, according to spokesperson for Walker's presidential campaign, was specifically about mandatory pre-abortion ultrasounds.
"His point was that requiring it was a safety enhancer. But abortion is still legal and the decision, after the ultrasound, which by law has to be visible to the woman, she and her doctor decide," the spokesperson wrote in an email to BuzzFeed News.
Even a year later, the mere mention of the ad elicits strong reactions from advocates — even though nobody seems to think that it reflects Walker's true feelings on the issue.
"He talks about 'abortion is a difficult issue that should be left between a woman and her doctor,' that's directly from one of Planned Parenthood's — that's our language that we use, right?" said Nicole Safar, policy director at Planned Parenthood of Wisconsin. "He certainly didn't have any qualms with going up on TV and saying that, while at the same time having worked his entire career to make abortion illegal in our state."
"The business of politics is messy," said Julaine Appling, the president of a conservative advocacy group called Wisconsin Family Action. "You know, the governor was making those decisions — whether I liked it or not, those were his decisions to make."
"Does it give me pause as to where the governor himself is?" Appling said. "No."