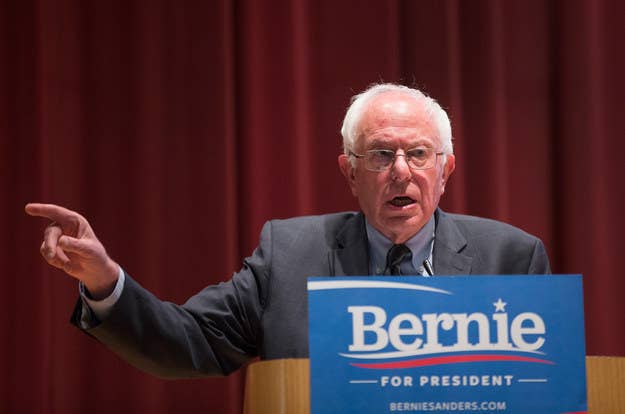 Vermont senator and Democratic presidential candidate Bernie Sanders once said that he was "physically nauseated" by a speech made by President John F. Kennedy when Sanders was a young man, because Kennedy's "hatred for the Cuban Revolution [...] was so strong."
"Kennedy was young and appealing and ostensibly liberal," Sanders reminisced in a 1987 interview with The Gadfly, a student newspaper at the University of Vermont. "But I think at that point, seeing through Kennedy, and what liberalism was, was probably a significant step for me to understand that conventional politics or liberalism was not what was relevant."
In the same interview, he also criticized Jesse Jackson's decision to try and affect change by "working within the Democratic party" and offered some pointed remarks about Walter Mondale.
Sanders told The Gadfly that endorsing the Democratic ticket in 1984 and "campaigning for Mondale [...] was a very difficult thing to do."
"When I'd go around talking about Walter Mondale I would say that if elected president, I felt, Walter Mondale was going to be a pretty bad president," explained Sanders. "Now sometimes you may have to make painful decisions."
"If you go around saying that Mondale would be a great president, you would be a liar and a hypocrite," concluded Sanders. "That is not what I was saying."
Sanders's remarks about Kennedy, Jackson, and Mondale are in keeping with the Independent senator's long history of criticizing the Democratic Party.
In a Rutland Herald article published the following year, Sanders explained the crucial difference between himself and Jesse Jackson: "'Jesse believes that serious social change is possible within the Democratic Party. I don't.'"
And in a 1989 op-ed in the Burlington Free Press, Sanders lambasted "the corporate-controlled Democratic and Republican parties," and praised the National Organization of Women "for supporting the need for a progressive third party in this country."
"Like millions of other Americans, NOW understands that the Democratic and Republican parties are intellectually and morally bankrupt," Sanders wrote.
"We do not have an effective national political movement which is prepared to fight for power," argued Sanders, "and which challenges the basic assumptions and priorities of the corporate-controlled Democratic and Republican parties – two political parties which have no substantive ideological differences and are, in reality, one party – the party of the ruling class."
Here's Sanders's Burlington Free Press op-ed: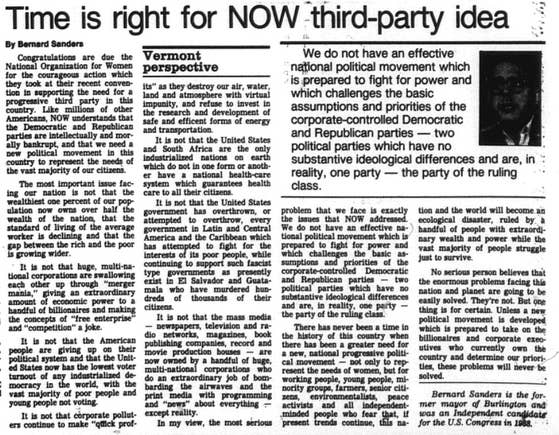 Here's the Rutland Herald story:

And here's the full Gadfly interview: