A group of men described by police as members of the Proud Boys interrupted a Drag Queen Story Hour at a Bay Area library Saturday, and authorities are now investigating the incident as a potential hate crime.
Panda Dulce, the queen leading story hour at the San Lorenzo Library, told BuzzFeed News that just as she was introduced, the men entered the library yelling anti-trans and anti-gay slurs. Video of the incident reviewed by BuzzFeed News shows five men, one of whom wears a T-shirt with an image of an AR-15 and the text "Kill your local pedophile." The video shows the men arguing with adults that the story hour is "sexual" and a threat to children, and several of them are wearing black and yellow, the colors adopted by the Proud Boys.
"The men were described as extremely aggressive with a threatening violent demeanor causing people to fear for their safety," the Alameda County Sheriff's Office said in a press release.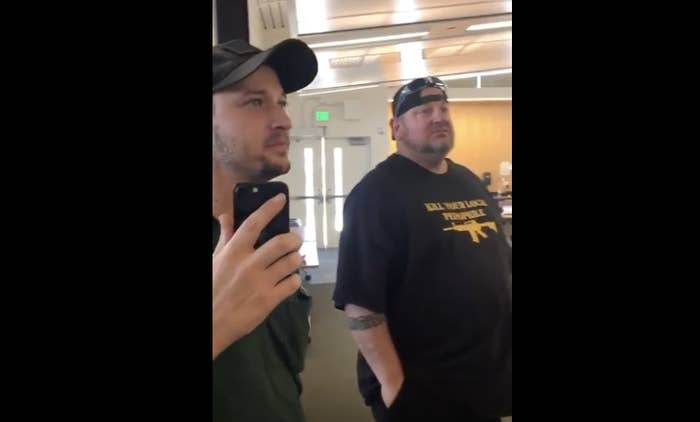 Sheriff's deputies were called to the library, and according to the sheriff's office, they de-escalated the situation. An "active hate crime investigation" is now underway, as well as an investigation into the "annoying and harassing of children."
"We will make sure any future events at the library are safe against hate speech and threats of violence," the sheriff's office said. "As we celebrate Pride Month, we will be swift in our response to any incidents where there are threats to harm members of this community."

Five or six children had shown up to the story hour, part of the library's Pride Month celebrations, along with parents and other community members. Dulce, a founding member of the Drag Queen Story Hour events that now take place at libraries in multiple states, told BuzzFeed News that the librarians and children were singing the "welcome song" together, which is "as wholesome as you can imagine."
When the men began shouting, the library's security guard escorted her out of the room.

"She was amazing, literally my hero," Dulce said.
Despite the chaotic interruption, once the men were gone, Dulce resumed story hour. Outside of drag, her background is in social work with a focus on youth.

"I love teaching but can no longer afford to be a teacher in San Francisco," she said. "Story hour is how I continue my youth work. I look forward to it."
In recent days, right-wing backlash to family-friendly Pride events has reached new heights. The Twitter account Libs of TikTok, which has become key to fueling right-wing outrage, highlighted the San Lorenzo Library story hour as part of a long thread on Twitter of Pride events. Twitter didn't immediately answer questions from BuzzFeed News on whether the thread violated its policies.
Dulce is no stranger to protests or hate mail, and she told BuzzFeed News that the recent discussions online are "harrowing and frankly unsurprising."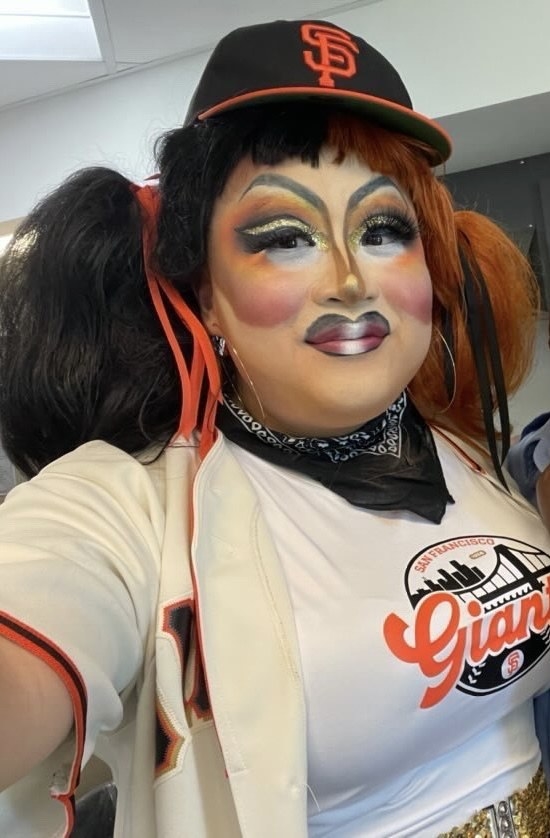 The Alameda County Library, which oversees the San Lorenzo branch, said in a statement it would continue to celebrate Pride Month and offer programming reflective of its diverse community.

"Libraries are open to all and are places that foster inclusion of all our communities. Attempts to intimidate and silence others are not tolerated in libraries," the statement said. "We are grateful to Panda Dulce for showing bravery and resilience and finishing the Storytime event."

The queen has been doing the readings for five years, and she said she won't be stopping.

"I can't describe the spark in a queer kid's (and yes, we can tell) eyes when they see you," she said. "It's like their gender is being acknowledged for the first time."
She added, "These kids deserve programming and role models that is accurately reflective of our diverse world. Not a regurgitated monolith authored by xenophobes because they're too cowardly to accept reality."