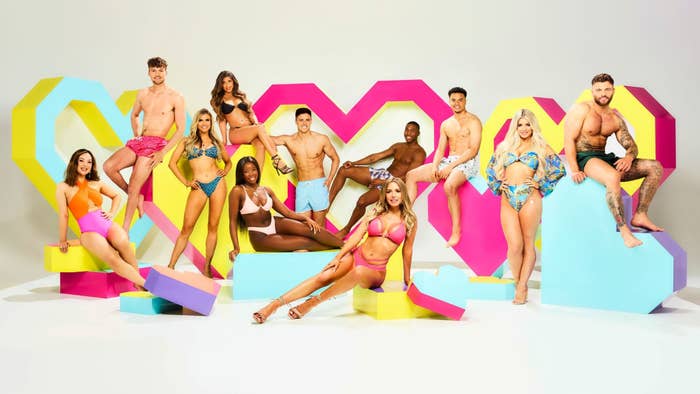 British TikToker Murad Merali, who is well known for his viral Love Island recaps, posted a seven-minute YouTube video on Wednesday morning addressing allegations that he participated in so-called race play–related sex work, and explained that he did this work because he'd been repeatedly raped as a child and was in need of money.
"Some of this information that I'm going to reveal, I did not want to reveal," Merali said. "But I've had no choice now but to reveal this, because I need to reveal it."
In a now-deleted thread, a Twitter user on Tuesday evening posted a series of screenshots of a blog that used racial slurs as a part of "race play," a type of BDSM role play where people engage in racialized sexual situations, and videos that show people engaging in foot fetish sex acts that also included racist language.
Merali's face doesn't appear in the videos but his voice can be heard, both calling people racial slurs and demanding they say them about themselves.
Merali acknowledged that he previously did foot fetish sex work to support himself after surviving horrific sexual assaults in his youth, but he denied writing the racist comments that have been attributed to him by people on Twitter.
"The screenshots associated with these pictures, this vile racist verbiage that has been used, is not written by me. This is not done by me in any capacity," Merali said. "I will stand by that, this is not who I am."
In the gut-wrenching video, Merali revealed how being sexually assaulted impacted his childhood, making him focus on earning money so that he could leave the violent situation.
"I developed these fetishes — that foot fetish, I developed it through what happened to me, and I needed to make money," Merali said. "That was my only goal: to make money."
Merali became well known in the UK for his TikTok account, where he started off posting pop culture analysis videos and has hosted Love Island viewing parties.
He began reviewing Love Island episodes last year, and toward the end of the most recent season, he started interviewing recently departed cast members on his podcast, teasing the interviews on his TikTok account. A video with Coco Lodge reached 3 million views on his TikTok. Merali's audience is primarily women of color.
"Nobody knows about me, because this channel isn't about me. It's about reviewing content," Merali said. "This entire video I've just filmed is very triggering. It's extremely emotional."
BuzzFeed News has reached out to Merali for comment.