What Happens When A New Age Spiritual Guru Becomes A Congressional Candidate
Twenty years ago, Marianne Williamson wrote the first book to be endorsed by Oprah; today, she's running for Congress. Here's a look at how a New Age guru opposed to money's influence in politics plans to raise $2 million for a campaign.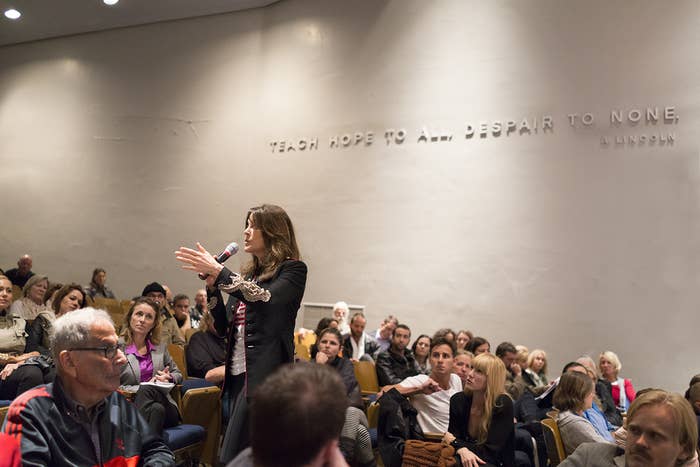 Author Marianne Williamson told BuzzFeed that if everyone who read her books donates $5, she can be competitive in the race to represent California's 33rd Congressional District. She has sold more than 3 million books.
Williamson is the author of four New York Times No. 1 bestsellers, including 1993's A Return To Love: Reflections on the Principles of A Course in Miracles, which Oprah Winfrey has said is her favorite book. Williamson is running for Congress in one of the country's wealthiest districts, which represents towns like Bel-Air, Beverly Hills, Calabasas and Malibu. But first she needs to unseat Rep. Henry Waxman, a 38-year House veteran who's never won an election by less than 61%. In 2008, Waxman didn't even have an opponent.
Williamson has promised an idealistic campaign that focuses on ideas. She even refuses to call Waxman her "opponent," saying they're just two people applying for the same job. Her campaign literature features an American flag with doves instead of stars, with the small type below crediting the artist and noting, "Used by Permission." It's exactly how you'd imagine a spiritual guru would run a campaign.
"The first place democracy is broken isn't in Washington. The first place democracy is broken is in our hearts and minds," Williamson said. "There needs to be an intervention of sorts and it's the American people who have to do it."
But for the 61-year-old, this intervention is less about specifically unseating Waxman than it is about starting a conversation. And Waxman seems willing to chat.
"I'm gratified Ms. Williamson thinks I'm doing a good job and agrees with me on most issues," Waxman said in a statement. "And while some think it would make more sense for her to challenge a Republican and help us regain control of the House, I respect her right to run."
Williamson has a list of issues she rattles off when asked what she's focused on, including NSA surveillance, the use of drones in the United States and the incarceration rate, but her top priority is ending the influence of money in politics.
"The cancer that lies under the cancer is the undue influence of money," she said.
"You can look at all these issues and see they're all derivative of that one poison."
But she also needs $2.5 million to be competitive, she said.
At a campaign event at a Santa Monica middle school Nov. 20, Williamson spoke to a full auditorium that included self-described hippies, a female pro-choice Republican and a woman who was planning to protest President Obama's support of the Trans-Pacific Partnership trade agreement during his trip to the state next week.
She said she receives mostly small donations of $100 or less; the maximum an individual can donate is $2,600.
Several Democratic political friends have said privately they support her candidacy, but aren't able to make any public gestures, she said. And after her speaking engagements, Williamson is sometimes approached to speak at Republican events by attendees impressed by her take on spirituality and morality. But Williamson, who is running as an independent, has described herself as a "lifelong Democrat" and has voted for Waxman herself. Her hope is for her campaign to win support from other independents, progressive Democrats, and moderate Republicans.
"We need more than the audacity of hope. This time we need the audacity of power," Williamson told the audience. "I think we're a generation that wants to have a revolution over white wine and brie."
Changes made under Gov. Arnold Schwarzenegger in how California draws up its legislative boundaries and votes in primaries have made Williamson's candidacy possible, she said. She assured one audience member who worried about "splitting the vote" among progressive candidates that the state's open primary meant a Democratic vote for her wasn't a vote for a Republican challenger. "This is not a Ralph Nader candidacy," she said.
While her campaign will need serious cash to seriously contend for Waxman's seat, Williamson mostly focused on spreading her message while speaking in Santa Monica, asking attendees to plan house parties and use social media to talk about her campaign.
"We need to make you famous!" said one female attendee. If only people know what Williamson stands for, she said, they'll vote for her.
If that's all it takes, Williamson will have the election in the bag. Her Twitter followers outnumber Waxman's nearly 100 to 1.
But Twitter followers do not an election win, and some are skeptical of Williamson's chances. "I don't think it's going to amount to any kind of serious challenger," said Donna Bojarsky, a Los Angeles consultant.
Williamson knows her odds are long, but after a year of considering a candidacy, the author said she's at a point in her life where if she didn't try now, she knew she never would. "I'm not naive," she said. "I don't expect this to be easy."
Correction: An earlier version of this article misstated the year Henry Waxman ran unopposed.