Top Hollywood Executives Turn Out For Jerry Brown Fundraiser
The California governor spoke to a crowd at the home of the Disney Studios chairman Thursday.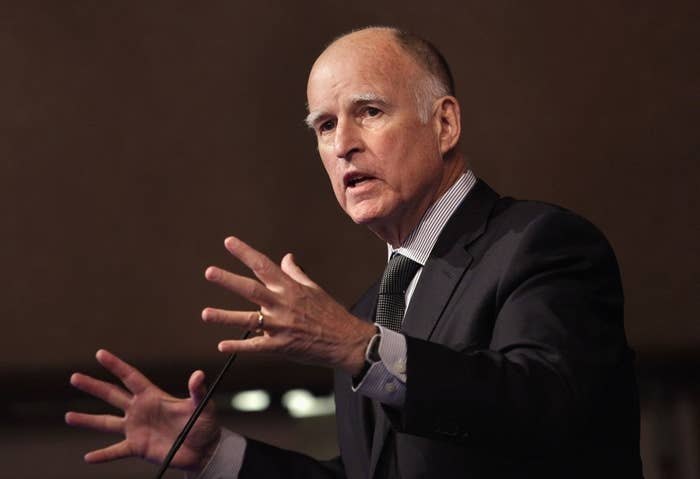 A who's who of Hollywood executives attended a fundraiser for California Gov. Jerry Brown at the Bel Air home of Walt Disney Studios chairman Alan Horn and his wife Cindy Thursday.
Attendees included actor Robert Downey, Jr., filmmaker Steven Spielberg, producer Hilary Armstrong, Motion Picture Association of America president and former Sen. Chris Dodd, record label founder David Geffen, chairman and CEO of Fox Filmed Entertainment Jim Gianopulos, actress Cody Horn, Dreamworks Animation CEO Jeffrey Katzenberg, chairman and CEO of Warner Bros. Barry Meyer, according to a source at the event.
Brown raised $2 million, the Los Angeles Times reported. He has not yet officially announced whether he will run for reelection.
"No good promise can happen without a dream," he told the crowd. Although his speech wasn't tailored specifically to a Hollywood audience, Brown voiced support for the entertainment industry as a job creator.
Tickets for the event started at $5,000. It was closed to the press. Attendees listened to Brown speak in a tent outside the Horn's home and were very appreciative of his work as governor, according to a source at the event.
Hollywood will be a significant cash source for Brown. Co-chairs of the event have already raised $17 million in two accounts, according to The Los Angeles Times. "He's earned the support of people from Hollywood to Humboldt because he's taken California out of the fiscal doldrums and put us back on track to once again create jobs, fund schools, and lead the nation," said Dan Newman, a spokesman for Brown.
Los Angeles leaders are currently working to stop film and television production from leaving the state, but to compete against other states and countries that offer tax incentives to lure production away, California must increase the amount of incentives. Los Angeles Mayor Eric Garcetti said Brown is "skeptical" of such a raise, however. Brown did not specifically mention tax incentives during his remarks.
Brown has a 55% approval rating, the highest since he took office in 2011, according to a USC Dornsife/Los Angeles Times poll. Republican Assemblyman Tim Donnelly has announced a plan to run in 2014, and Republican Neel Kashkari, a former investment-banking executive who oversaw the $700 billion TARP bailout under Presidents George W. Bush and Barack Obama, has said he is considering a run.