The NBA, NFL, And MLB Might Help The Government Sell Obamacare
Representatives from the leagues say the Obama administration has reached out to them.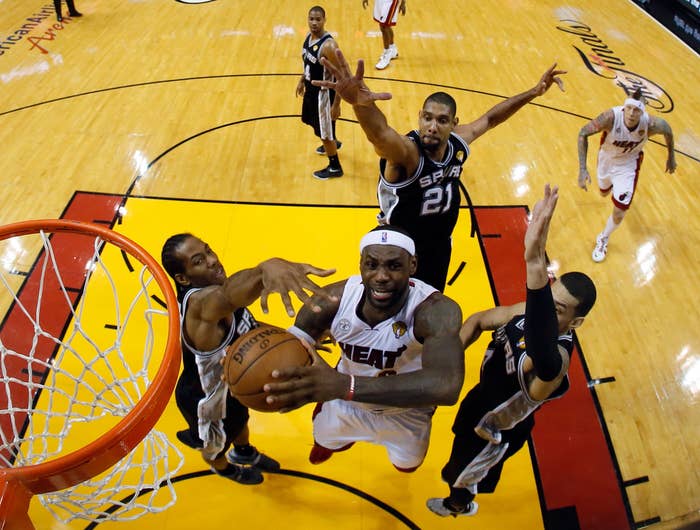 The federal government is in the early stages of exploring possible partnerships with professional sports leagues as a way to promote insurance options under Obamacare.
"The NFL, the NBA, and others were contacted by the administration," a spokesman from the NFL told BuzzFeed in an email. "We have made no commitments nor discussed any details with administration officials. We are in the process of trying to clarify what it is the administration would propose. There is nothing further to report."
An MLB spokesman said the White House also contacted them to schedule a meeting, but the meeting was postponed.
Like universal health care itself, government partnerships with professional sports to promote universal health-care insurance options was pioneered in Massachusetts. The state partnered with the Boston Red Sox in 2007 as a way to reach young, healthy males, a demographic that made up the highest percentage of uninsured Massachusetts residents and was crucial to keep premium costs down. "It depends, frankly and ultimately, on the participation of everyone," Gov. Deval Patrick said at a news conference in 2007.
The state launched a $3 million campaign tied in with the Boston Red Sox that included commercials shot in Fenway Park, informational inserts placed in home game programs and print and radio ads.
Commercials promoting the Massachusetts health-care law filmed in Fenway Park.
A document detailing the lessons learned from Massachusetts' health-care marketing campaign indicated more than half the state's uninsured population was men between the ages of 19 and 45: "This audience is often referred to as 'the invincibles' because it is sometimes assumed that they don't want and don't believe they need insurance."
The "partnership with the Boston Red Sox ... allowed the Connector (the Massachusetts agency that helps residents select insurance options) to reach young, uninsured men — a target population that had proven hard to reach through more traditional advertising," the document read.
Excepts from the "Health Reform Toolkit Series: Resources From The Massachusetts Experience."
The Red Sox partnership also included announcements about the program over the public address system and on the Jumbotron at home games, an education booth at Fenway Park, a themed night at Fenway Park, and use of the Red Sox logo on promotional materials.
Health and Human Services Secretary Kathleen Sebelius said in a statement HHS is speaking with "a wide range of potential partners and organizations" about promoting insurance options.
Massachusetts Gov. Deval Patrick speaking about the state's Red Sox partnership at a press conference at Fenway Park in 2007: