Life Was Hell For The Fox Reporter Who Faced Jail Time For Protecting Sources
Jana Winter spent a year and a half of her life not knowing if she'd be jailed for doing her job.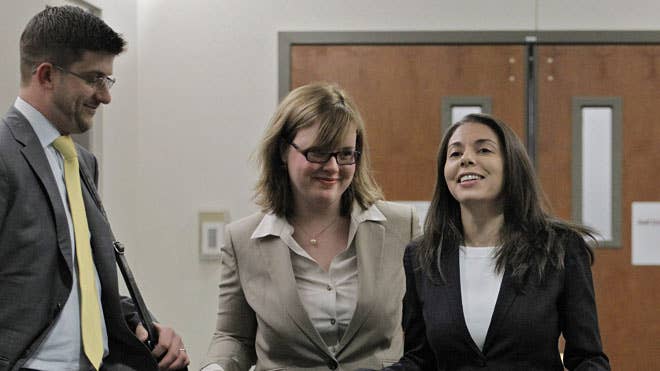 Jana Winter can't hear the word "notebook" without feeling on edge.
The Fox News reporter spent the past year and a half wondering if she'd be jailed for a story she wrote about one. Following the shooting at a movie theater in Aurora, Colo., in July 2012, Winter broke the story about a notebook alleged gunman James Holmes sent to a psychiatrist. In the notebook were details about how he planned to kill and a stick figure drawing of a massacre.
Winter's story, published on FoxNews.com, provided insight into Holmes' state of mind, but according to his attorneys, denied him a fair trial. Whoever gave Winter the information — she cited unnamed law enforcement officials — violated a court-ordered gag order, Holmes' attorneys said.
A Colorado judge issued a subpoena for Winter to testify in court. If she didn't reveal the identity of her sources she could have faced jail time, and she made it clear she wasn't going to name names.
"I think I'm still in shock and traumatized by this past year and a half," Winter told BuzzFeed. "It was really scary."
On Tuesday, New York's State Court of Appeals ruled against Colorado's subpoena, arguing that because Winter lives in New York, she is protected by New York's shield law, which is among the strongest in the country and protects journalists from being forced to reveal their confidential sources.
"Last night was the first night in a year and a half I went to sleep without being worried about going to jail," she said.
The threat of jail time has been toxic for Winter's career. Sources she's cultivated over the years became hesitant or unwilling to talk to her. "You say subpoena and people run away from you," she said. "The chilling effect of a subpoena is no joke." Winter has covered mass shooting since the 2007 attack at Virginia Tech.
"It's our job to go find out why this happened and stop it," she said. "The question is why, and could this have been prevented."
She points to legislation signed by Colorado Gov. John Hickenlooper after the shooting that expanded mental health services as evidence of the importance of journalism following tragedies. "It led to a discussion of mental health laws," she said. "I hope I added to the dialogue."
The case also wreaked havoc on her personal life. Her family received death threats, and because the case extended for as long as it did and in two states, she had no idea if or when she'd be jailed, making any sort of long-term planning impossible.
"Logistically, it's really complicated," she said.
She had to make plans for her bills to be paid and her plants to be watered, she was a bridesmaid in a wedding she didn't know she would be able to attend, and she had to negotiate apartment lease terms for a contract she didn't know she could fulfill. "It's a huge process to go to jail."
Winter said she feels a sense of relief and gratitude since the ruling Tuesday, particularly for Fox News.
"The support from Fox has been unbelievable," she said. "It still kind of gets me teary eyed and I'm not a teary-eyed person."
Fox News threw its full weight behind the case, going "above and beyond," Winter said. "I'm very proud of Fox." Chairman and CEO Roger Ailes, who called the ruling "a major win for all journalists" in a statement Tuesday, had her back from the beginning, she said.
The case has implications for other journalists who live in the media hub of New York, and will be cited by media lawyers in future cases, said Dori Hanswirth, an attorney who represented Winter.
"What it means is that New York based journalists will have the protections of New York's shield laws if they leave the state and gather news elsewhere," she said. "This issue is core to what Fox News does and it's core to what journalism does. If you let stuff like this happen and you don't fight, you're going to lose the freedoms you have."
Winter hopes no other reporter has to go through what she has — it was "hell" she said — and because of the New York ruling, fewer could have to. "I feel so safe and so supported in this state," she said. "A reporter can go to another state and make a promise and mean it."