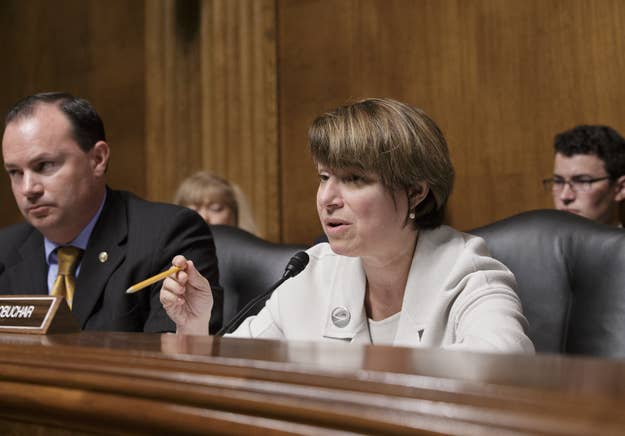 At, fittingly, a lunch held by Cosmopolitan to honor powerful women Monday, Minnesota Sen. Amy Klobuchar said she once submitted an essay to the magazine, which was rejected. "It did not happen, so then I decided to go to law school."
Cosmo's rejection may have been a mistake: New Hampshire Sen. and former Gov. Jeanne Shaheen, speaking immediately after, launched into her remarks by talking about Klobuchar's famous sense of humor. "She really is funnier than Al Franken," Shaheen said. Cosmopolitan's editor-in-chief, Joanna Coles, noted that even President Obama had agreed: At the Gridiron Dinner in March, Obama joked about how one of the original writers for SNL had become the least-funny senator from Minnesota.
Klobuchar knew how to get a laugh out of her (all-female) crowd: "I set the all-time Senate record — I raised $17,000 from ex-boyfriends," she said.
Over the past year, Cosmopolitan has made attempts to become more political: In addition to Shaheen and Klobuchar, Sen. Kirsten Gillibrand, Rep. Debbie Wasserman Schultz, and Rep. Tulsi Gabbard attended the event, as did representatives from Emily's List.
"You have given me a tremendous amount of credibility with my youngest daughter, who is out in Los Angeles starting a clothing company, so she's very impressed that I got to be here today," Shaheen said.
Shaheen also talked about Klobuchar's pioneering work in leading the charge to expand the Senate women's bathroom.
"Amy talked about one of the issues of many that she's working on, but what she didn't tell you is that she, along with Barbara Mikulski, were the committee to build a new expanded ladies' room for the Senate," Shaheen said.
From the audience, someone yelled: "Break the glass ceiling with more stalls!"
"What was so important about this effort is that when the construction manager tried to limit the number of stalls in the ladies' room to three, only one more than we had had before, they insisted that we have four," Shaheen continued. "Because we plan on electing a lot more women."