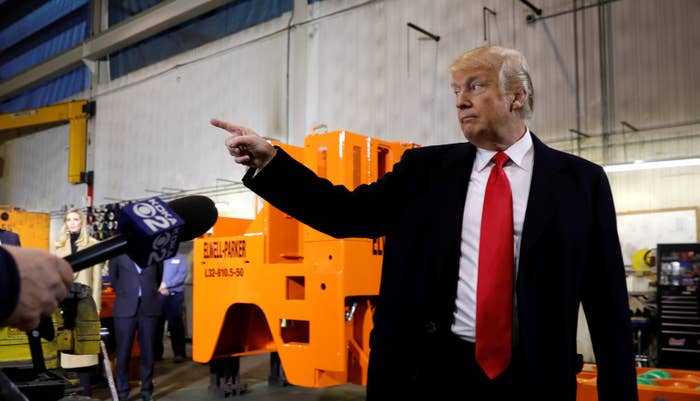 CORAOPOLIS, Pennsylvania — President Trump's Thursday trip to western Pennsylvania was the first test of how helpful he can be to Republicans in a challenging midterm climate.
The results were what you'd expect from any other incumbent president trying to lend his party a hand — which, considering this was Donald Trump, made them somewhat surprising.
Trump delivered the kind of performance many Republicans have said they hope to see from him this year as they fight to keep their majorities in the House and Senate. It was tax cuts, tax cuts, tax cuts, with few of the digressions that typically make headlines after Trump events.
He also gave a lift to Rick Saccone, a local state lawmaker and Republican nominee for the 18th Congressional District seat. That seat is up for grabs in a March 13 special election that will be watched closely for clues about GOP fortunes in 2018. Saccone greeted Trump when Air Force One landed at Pittsburgh International Airport and got a strong shout-out — "a spectacular man" — during Trump's speech at a nearby industrial supplier.
"Rick is a great guy, I think he is going to do very well," Trump said, according to pool reports, after a tour of H&K Equipment, which sells and services lift trucks and other machinery.
Trump also suggested he would "be back" to campaign for Saccone.
The visit to H&K was not the big arena rally that Trump loves. But the White House's characterization of the visit as a more formal affair to promote the recently passed tax bill and talk about the economy clashed with Trump's tweet proclaiming that he was coming to "give my total support for Saccone." In the end — and, clocking in at 25 minutes, it was also uncharacteristically short for a Trump roadshow speech — it was a fusion of both.
Aware that the president often can be a liability, given his low job-approval numbers and his tendency to wander off script, GOP strategists have said Trump would be at his most valuable to the party by simply marketing the tax bill as a big win for voters.
Trump can be unpredictable, so it's always possible he will revert to his combative comfort zone, where he blurts out whatever's on his mind (NFL players protesting during the national anthem, Hillary Clinton, etc.). But, for the most part Thursday, Trump was on message — the traditional GOP's preferred message, at least. There was one brief reference to Clinton, his Democratic rival in 2016. There also was a tip of the cap to her husband, former president Bill Clinton: "It's the economy, stupid," said Trump, repeating the Clinton campaign mantra of 1992. "You ever hear that one?"
And there was an on-stage cameo from Ivanka Trump, the president's daughter and adviser. She plugged the child tax credit she championed. ("It is so amazing to be here in Pennsylvania, to be here with all of you," she said. "We worked so hard on tax cuts and tax reform.")
The 18th District, which hugs the Pittsburgh area, has been solidly Republican for years. Trump won here by nearly 20 points in 2016. Saccone, a 59-year-old Air Force veteran, has styled himself as an unabashed Trump loyalist, or in his words, "Trump before Trump was Trump."
Ordinarily, Saccone would be a shoo-in in the 18th. But the seat is open because scandal chased Rep. Tim Murphy — a conservative who faced allegations that he encouraged a mistress to have an abortion — from office. And Democrats are excited about their candidate: 33-year-old Conor Lamb, a youthful Marine veteran and former assistant US attorney whose family is well known in local political circles.
National Republicans and allied groups are investing significant money and resources in the race. They hope a victory will at least stall if not reverse the momentum Democrats entered the year with after winning gubernatorial races in Virginia and New Jersey, making gains in state legislatures across the country, and picking up a Senate seat in deep-red Alabama. With Trump unpopular in many places, and with midterm dynamics often favoring the party out of power, the GOP faces a tough fight to maintain control of Congress.
Lamb is positioning himself as pragmatic centrist at a time when the Republican playbook calls for linking Democratic congressional candidates to Nancy Pelosi. Lamb said last week that he would not support Pelosi staying on as the House's Democratic leader if he wins.

His campaign debuted a TV ad Thursday to coincide with Trump's visit. The 30-second commercial emphasizes his Catholic school upbringing, military service, and features a photo of him taking target practice as a voiceover says Lamb "still loves to shoot."