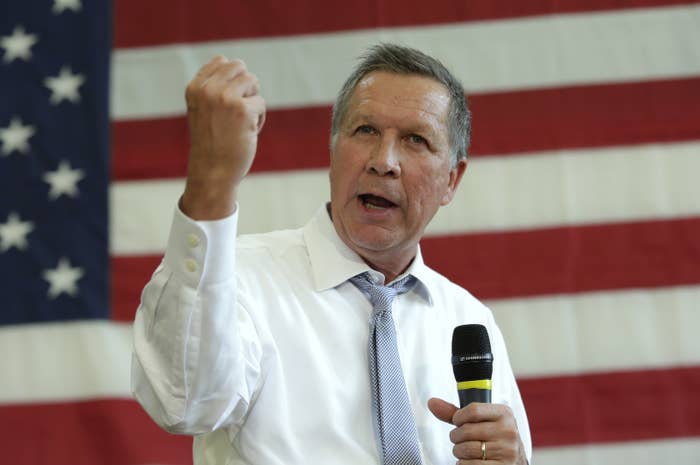 Generous donors are keeping John Kasich's presidential ambitions alive, contributing to two PACs as the Ohio governor openly considers a run against President Donald Trump in 2020.
Combined, these organizations reported $393,000 on hand at the end of June. That's pennies compared to what Trump has. Between his reelection fund and a super PAC that operates with Trump's blessing, he entered July with more than $44 million.
Kasich faces tough odds. But people are betting on him anyway: Silicon Valley executives, financial planners, wealthy retirees, and members of Walmart's influential founding family.
John Weaver, Kasich's chief strategist, told BuzzFeed News that it's unfair to compare Trump's fundraising totals with Kasich's, as Trump has been raising money for reelection since his inauguration. Kasich has yet to make his plans clear. He could challenge Trump in the Republican primaries, run as an independent, or not run at all but maintain a national voice.
There are donors, Weaver said, who have pledged even more money to a Kasich 2020 effort if he runs.
"We're not raising money to purchase media or run a presidential campaign," Weaver added. "This is just something so that an organization can stay in place, and so that he can have a voice in the marketplace. Beyond that, we're pleased and encouraged by the commitments if he does run."
Kasich maintains two groups: Kasich for America, a political action committee he converted out of his 2016 campaign fund, and New Day for America, an allied super PAC, which has been paying the bills for Kasich's top political advisers.
It's not clear what, specifically, has motivated those who already have donated. BuzzFeed News attempted to reach many of the high-dollar contributors. Most declined or did not respond to requests to share their thoughts on the record.
But Kasich has been a prominent Trump critic and has not been shy about the fact that he's weighing another presidential bid. Just this week, in a Kasich for America fundraising email, he blasted Trump for "what is being resoundingly described as a foreign policy and national security disaster" — his meeting with Russian President Vladimir Putin.
"I am just one voice out there encouraging leaders from both parties to end the political attacks and stand up for our country," Kasich wrote. "Your efforts will help us pay to get this message to more and more people."
That message is why Jeffrey Bird, the managing director of a Silicon Valley venture capital firm, continues to support Kasich's political endeavors. After giving $2,000 to the governor's unsuccessful 2016 campaign, Bird contributed $2,500 to KFA this May.
"I support John because he seems to be a spokesman for moderate/centrist and what I see as 'common sense' points of view that I generally support, and he is willing to speak out to a greater degree than many in the GOP at this time," Bird wrote in an email.
Should Kasich challenge Trump in 2020? "I think that he is certainly a good candidate," Bird responded. "How that happens is complicated … and I don't have an opinion on that."
Judith Brachman, who has contributed $15,000 to New Day for America since May 2017, is more direct: "Frankly, yes, I do hope he runs for president," she told BuzzFeed News.
"I think he's also a very important voice, as a constructive answer to a whole wide range of national issues, and having him out there speaking is an important counterpoint to the point of view that's out there," added Brachman, an assistant Housing and Urban Development secretary during the Reagan administration and longtime Republican activist in Ohio who also gave to Kasich in 2016.
Since the beginning of 2017, the Kasich operation has raised about $900,000 — money that has helped pay for travel, consultants, fundraising, and a digital strategy that Kasich hopes will attract young voters.
Among the other top donors:
Greg Penner, chair of the Walmart's board of directors, and his wife, Carrie Walton Penner, granddaughter of Sam Walton, each donated $5,000 to Kasich for America in March. (Greg was a Kasich donor in 2016, too. Carrie gave to Democratic nominee Hillary Clinton.)
Stephen Luczo, the executive chair of the Silicon Valley data storage company Seagate, gave $200,000 last year to New Day, which unlike KFA has no contribution limit.
Gordon Gund, a New Jersey–based venture capitalist and former majority owner of the Cleveland Cavaliers, donated $100,000 to New Day last November.
Harry Sloan, a former Hollywood executive, gave $25,000 to New Day in May.
Brad Martin, the founder of RBM Ventures, chair of the board at Chesapeake Energy, and former Saks CEO, contributed $5,000 to KFA last December.
Greg Wendt, an equity investment analyst with the Capital Group in San Francisco, has contributed $10,000 to KFA since 2017 and made more than $25,000 worth of in-kind donations to New Day that records indicate came via the use of private jets.
Wendt helped bankroll Kasich's 2016 bid and was a big financial booster for the two Republican presidential nominees before Trump: Mitt Romney and John McCain. Wendt and Kasich have been friends for years, and Wendt could be a key fundraising piece to any Kasich 2020 puzzle.
Luczo and Gund each donated to Kasich and Clinton in 2016, as did others who have shown up in the KFA and New Day campaign finance reports in 2017 and 2018. Some also have supported other Republicans who have been critical of Trump, including Arizona Sen. Jeff Flake, who like Kasich is considering a 2020 bid, and Romney, who is running for a Senate seat in Utah. One couple in Washington state, after donating to independent presidential candidate Evan McMullin in 2016, contributed to Kasich in April.
The donor roster also includes prominent civic and business leaders and labor and corporate interests in Ohio, where Kasich is term-limited as governor and will leave office early next year.
Donations to Trump have been rare among Kasich's biggest donors.
Weaver said Kasich will announce a 2020 decision after this year's midterms, likely in 2019.