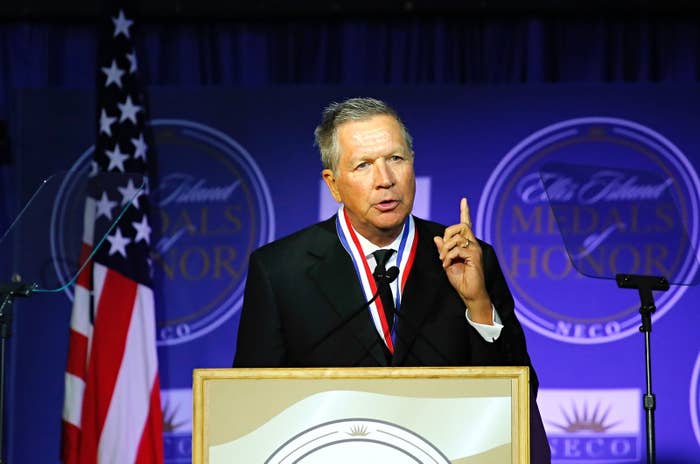 A group invested in Ohio politics is torching outgoing Republican Gov. John Kasich and, by association, the lieutenant governor Kasich has endorsed as his successor.
"We stopped John Kasich short of the White House," reads literature that sources said landed this week in voters' mailboxes. "Now we must stop Mary Taylor short of the governor's office."
According to the mailer, images of which were shown to BuzzFeed News, it's paid advertising from Ohio Conservatives for a Change, a super PAC supporting Mike DeWine, the state's attorney general, over Taylor in the May 8 primary. Kasich is seen backing a toy car away from the White House, with a photo of Taylor's face on the trunk above a "Kasich 16" bumper sticker.
Alongside the car is the message: "Ohio Can't Afford a 3rd Kasich Term."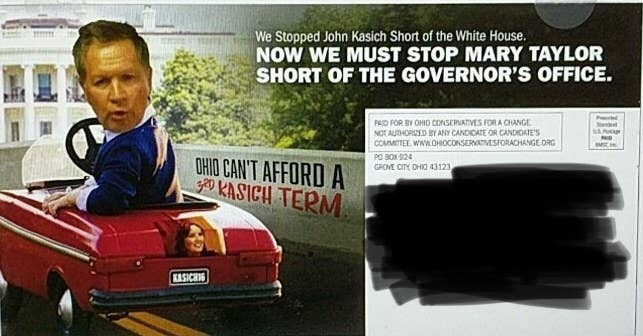 Reached Tuesday night, an official with Ohio Conservatives for a Change deferred questions to a spokesperson. The spokesperson did not immediately respond to requests for comment.
The language is similar to images the PAC has been running on social media this week.
Kasich has a complicated relationship with his party after his unsuccessful campaign for president in 2016 and his subsequent refusal to support eventual nominee Donald Trump. Kasich has remained a prominent Trump critic and is considering challenging him in 2020.

DeWine and Kasich have a cordial relationship, and one of Kasich's former top political aides is managing DeWine's campaign; DeWine also endorsed Kasich's presidential bid during the primary. Members of Kasich's team aren't happy about the mailer.
John Weaver, Kasich's political consultant, questioned whether it was wise for DeWine allies to upset a governor who remains popular in the state and could be a campaign asset in the general election, should DeWine win the primary. (A recent poll showed him far ahead of Taylor.)
"There's a deep blue tsunami coming, so I guess they don't need a life raft," Weaver told BuzzFeed News.
Ryan Stubenrauch, DeWine's spokesperson, said the sentiments in the mailer "obviously don't reflect Mike DeWine's views" and that the campaign can't control what the super PAC does.
"This race isn't about John Kasich or anyone else," Stubenrauch added. "It's about who has a vision for Ohio that will bring more high-paying jobs and an end to the opioid epidemic."
Taylor was an enthusiastic supporter of Kasich's presidential bid, and Kasich in turn was an early supporter of her gubernatorial run. But in recent months she has attempted to downplay Kasich's endorsement and run from certain parts of his record as governor. In a two-way race that has become particularly nasty in the last week — with a pro-Taylor super PAC launching an ad attack and DeWine's campaign hitting back — she is positioning herself as the true conservative, and that means putting distance between herself and Kasich.
"First, Mary Taylor has been very vocal on where she disagrees with John Kasich on policy and his departure from conservative ideals," Michael Duchesne, a spokesperson for Taylor's campaign, said Tuesday night when asked about the mailer. "Second, they need a better vendor. No amount of amateurish photoshopping can hide Mike DeWine's liberal positions."