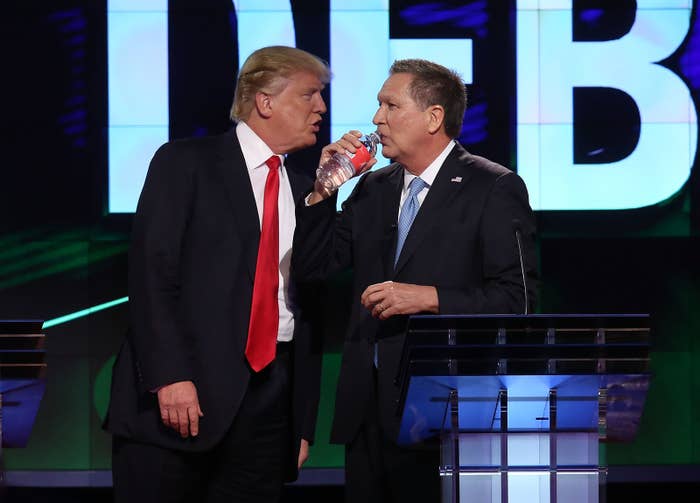 John Kasich — the Republican governor of Ohio, unsuccessful candidate for president, and perpetual Donald Trump scold — is planning another trip to New Hampshire. And that's renewed speculation that he (or another Trump critic, like Sens. Jeff Flake or Ben Sasse) might be eyeing a challenge to the sitting president, something that hasn't seriously happened in decades, and comes with significant hurdles.
Striking a blow to President Trump's reelection chances almost certainly would require an upset victory or better-than-imagined showing — think Eugene McCarthy chasing LBJ in 1968 — in New Hampshire or one of two other key early voting states: Iowa and South Carolina.
But would-be Trump challengers won't find many friendly GOP leaders there. In interviews this week at the Republican National Committee's winter meetings, top party officials from these states pledged allegiance to Trump and questioned why anyone would bother to try to wrestle the nomination from him.
"If and when that would happen, I have confidence that the South Carolina Republican Party would endorse President Trump," said Drew McKissick, that state's GOP chair.
New Hampshire GOP Chair Jeanie Forrester at first seemed puzzled when asked if any Republicans had reached out to her about a possible primary bid. "Against the president?" she replied.
"I'd have to really think about that," she said later when asked if the party would endorse in a contested primary. "My general thought is that he is the president, and I would support him."

The dynamics are a bit different in Iowa. There the state party officially is expected to remain neutral because it oversees the influential first-in-nation caucuses. But former Rep. Jeff Kaufmann, the state chair, has lit into Sasse. And Steve Scheffler, Iowa's RNC national committee member, is on record saying that individual Republican leaders in the state should stand behind Trump.
"You never say never," Scheffler said Thursday when asked about the viability of a primary challenger in Iowa, "but I just don't see it happening."
John Weaver, Kasich's political strategist, told BuzzFeed News in an email that "many respected Republicans, independents, and some disaffected Democrats … including influential opinion leaders in those states with early primaries" have urged Kasich to run in 2020. He said Kasich is focused on finishing his second and last term as governor and has made no decision.
"No one," Weaver added, "decides to run or not run for president based on the views of a few party insiders."
Kasich's 2016 campaign and his refusal to support Trump in the general election remain sore spots for the president, and the 2020 rumblings have accelerated the feud. During a private RNC dinner Thursday evening, Trump blasted Kasich and a former Ohio Republican Party chair who had been a Kasich loyalist and Trump critic, according to sources present.
The mechanics of a primary challenge are messy, even in the most tempting of circumstances and regardless of whether Kasich is the right candidate. (Others seen as potential Republican rivals include Flake, who will soon retire from the Senate, and Sasse, who has spoken at GOP events in Iowa in recent months.)
But Trump is unpopular, unpredictable, and untethered to the old-school GOP. He's flirted with enough disaster in his first year to invite not only doubts about the power of his incumbency, but also speculation about impeachment, resignation, or a decision against standing for a second term. No one knows where the Trump presidency will be in two years, let alone two months. Still, with the exception of Kasich's enduring interest in New Hampshire and Sasse's speeches, there's no evidence that anyone other than Trump is preparing for a primary.
Take next week's off-year caucuses in Iowa. The Trump reelection campaign printed 16-page pamphlets promoting the president and sent them to the Iowa GOP for distribution at caucus sites. An Iowa GOP official told BuzzFeed News that the state party would provide the same service if another presidential contender sent literature, but no one besides Trump has.
In South Carolina, GOP event organizers have struggled in the past year to book speakers — many high-profile Republicans don't want to send the wrong signal, McKissick said. An appearance last year by Sen. Cory Gardner of Colorado merited this line from the Charleston Post and Courier: "South Carolina political party dinners usually attract future presidential hopefuls to gauge their interest in an early primary state." (As McKissick put it to a reporter: "You could come down and speak and people would think you were running.")
Also complicating the path for any Trump challenger: the RNC itself. It's tightly aligned with the White House. And this week's meetings in Washington include another gathering of the Presidential Nominating Process Committee, which is expected to make the 2020 primary a cakewalk for Trump. RNC Co-Chair Bob Paduchik, who developed an adversarial relationship with Kasich while serving as Trump's Ohio campaign director in 2016, is steering the process.
McKissick said no one has sought his advice about a 2020 bid. But if someone did?
"First off, they're on their own," he said. "I'm going to tell them we support the president. … I speak at county party meetings, Republican women's club meetings, and all around — once a week, at least — somewhere around the state. I ain't running into any South Carolina Republicans who are looking to buy anything right now that ain't Donald Trump."
Kasich, with his book last year lamenting what's become of the Republican Party and a national TV lap this week that included Late Night With Seth Meyers and Morning Joe, is the least shy about his interest. His April 3 speech at New England College will be his second visit to New Hampshire in less than a year. Kasich finished second to Trump in the state's 2016 primary, and it was the high point of his campaign. But when he was asked on Morning Joe if someone would challenge Trump for the nomination, he danced around the question. "If you can't raise the money and make a good case, you don't run, unless you just want to do it for the heck of it," he replied.
The governor also has signaled he might be interested in running as an independent: "Why," Weaver wondered in his email to BuzzFeed News, "does everyone assume the only option is running in a GOP primary?"
Forrester acknowledged that Kasich's moves have drawn attention, but like McKissick, she said Kasich and other potential candidates have not asked her for advice.
"I like to think back to when I first decided to run for office," Forrester said. "I had a lot of people telling me to stay out of it. I would never discourage anyone. I would lay out all the hurdles — can you raise enough money? — not as discouragement' just as the facts."
"I couldn't tell [Kasich] what to do," she added. "And if I did, it's not like he'd listen to me."
CORRECTION
Jeff Kaufmann's name was misspelled in an earlier version of this post.