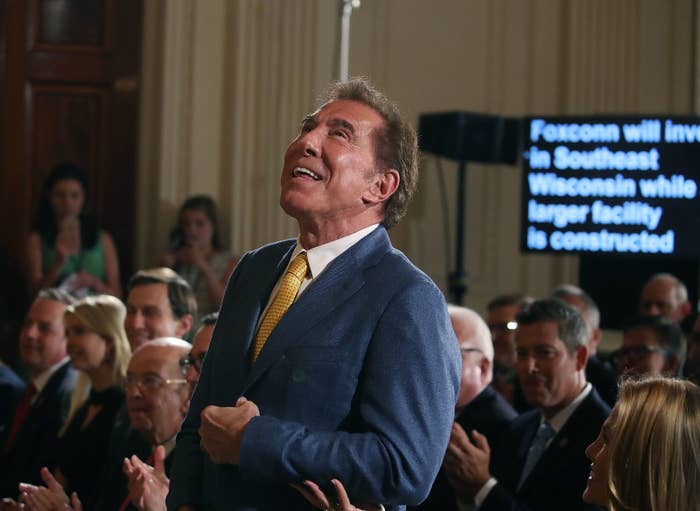 Months ago, Republicans shamed Democrats into returning campaign cash from Harvey Weinstein, the Hollywood mogul facing a barrage of sexual misconduct accusations.
Now they have a problematic donor of their own: casino magnate Steve Wynn.
Wynn is not merely a donor. He's the finance chair — essentially the chief fundraiser — for the Republican National Committee. He was tapped for the post last year, putting to rest whatever rivalries existed with President Donald Trump, a fellow billionaire developer.
On Friday, the Wall Street Journal, citing interviews with dozens of women who worked at Wynn's casinos, reported on "behavior that cumulatively would amount to a decades-long pattern of sexual misconduct." The story includes multiple detailed allegations of misconduct. Wynn told the newspaper in a written statement that it was "preposterous" he "ever would assault any woman," but did not respond to all questions.
The allegations against Weinstein surfaced last October in a New York Times report that included on-the-record accounts from women who said the film producer had made unwanted advances on them. Within hours of the Times story, the RNC was leading the charge against Weinstein-backed Democrats. A statement from the party the same day the story published included an accounting of Weinstein donations to the Democratic National Committee, Hillary Clinton, and others.
"During three-decades worth of sexual harassment allegations, Harvey Weinstein lined the pockets of Democrats to the tune of three quarters of a million dollars," RNC chair Ronna Romney McDaniel said in that statement. "If Democrats and the DNC truly stand up for women like they say they do, then returning this dirty money should be a no brainer."
The RNC kept at it for days, and Democrats began relinquishing their Weinstein money — in many cases making donations in the same amount to charity or other political groups.

According to Federal Election Commission filings, Wynn donated more than $200,000 to Republicans in 2017. About $69,000 of that went to the RNC, including in-kind contributions, such as travel expenses, vendor reimbursements, and catering charges.
Wynn also gave $100,000 to the National Republican Senatorial Committee last year. He donated to the ultimately successful GOP candidates in two of last year's closely watched special House elections: Greg Gianforte in Montana and Karen Handel in Georgia. And he contributed to the campaigns of Arizona Sen. Jeff Flake and Nevada Sen. Dean Heller.
Since 2001, records show, Wynn has given hundreds of thousands of dollars to the RNC, NRSC, and the National Republican Congressional Committee. Through his company, Wynn Resorts, he's also been a generous contributor to the Republican Governors Association, which benefits GOP candidates in state races.
These donations, especially in the last year, are not a full representation of what Wynn means to the party's cash flow. His position as finance chair makes him a key figure in prying contributions loose from other top donors. Last week, to commemorate the one-year anniversary of Trump's inauguration, Wynn and McDaniel cohosted a high-dollar celebration at the president's Mar-a-Lago resort in Florida.
RNC spokespersons did not immediately respond to BuzzFeed News' requests for comment Friday. Nor did spokespersons for the NRSC, Gianforte, Handel, Flake, or Heller.
In a statement Friday, Democratic National Committee spokesperson Sabrina Singh recalled some of the words McDaniel used when pressuring the DNC to return Weinstein money. She also noted the RNC's support of Alabama Senate candidate Roy Moore, even after misconduct accusations involving Moore and teenage girls.
"In the exact words of RNC Chairwoman Ronna McDaniel, 'If you stand for treating women well and you stand for the respect of women, you shouldn't take money from somebody who treated women with the absolute highest level of disrespect,'" Singh said. "Instead, the RNC and Ronna McDaniel have helped fund the campaign of an alleged child molester, blindly supported the GOP's attacks on women's health, supported a President who has been accused of sexual misconduct by over a dozen women — and now they remain silent amid sexual assault allegations involving Steve Wynn, one of their party's most senior officials. "

Politico reported that Vice President Mike Pence was scheduled to visit with RNC staff and make donor calls Friday afternoon. The party holds its winter meetings — a gathering of committee members and GOP donors from across the country — next week in Washington.