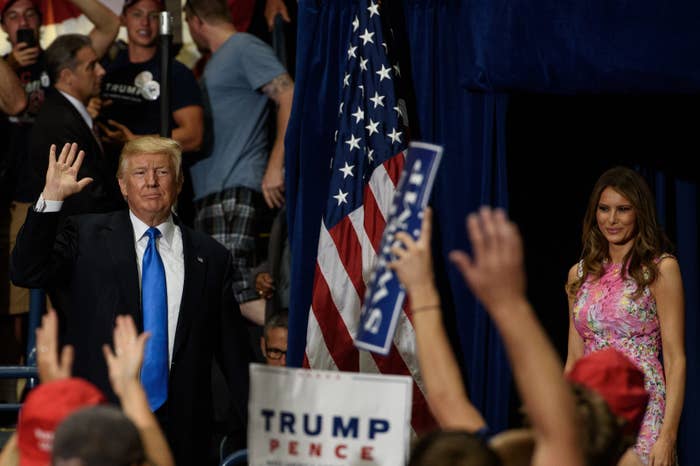 Making America Great, the political nonprofit formed by Republican mega-donor Rebekah Mercer to promote President Donald Trump's agenda, isn't making any noise.
The president is going through a tense policy fight in Washington, the kind that outside groups get involved in to persuade skeptics and give allies cover. But as Trump tries — and, so far, fails — to close a deal with Republicans in Congress to overhaul Obamacare, the group has been absent from television airwaves and Twitter.
Earlier this year, Making America Great launched amid friction at another pro-Trump organization and concerns that outside allies weren't doing enough to amplify the White House message. The new Mercer-backed group quickly spent more than $1 million on ads, including a digital spot that urged senators to back Neil Gorsuch's Supreme Court confirmation, which nearly four months later stands as Trump's biggest achievement.
Since then, the group hasn't provided noticeable backup to Trump.
In early July, a spokesman acknowledged to BuzzFeed News that things were "quiet right now." In recent days, the spokesman has not responded to emails or a telephone call seeking updates.
David Bossie, Making America Great's original chief strategist, also isn't talking. Trump's former deputy campaign manager, who accompanied the president to a rally last week in Ohio, said he was headed to a meeting Friday and too busy to answer questions about the nonprofit when reached by phone. He did not reply to a subsequent voice mail or text message.
In May, when asked about Mercer's political intentions, Bossie said that the health care fight was among the group's top priorities. And a Trump administration adviser told BuzzFeed News this month that Mercer and father, Robert, were "apoplectic" over the inability to pass a bill.
Making America Great operates as a 501(c)(4) nonprofit under IRS code and is not required to disclose its donors.
The silence from the outside ally comes as the Trump White House could use some political support. A recent West Wing shakeup removed chief of staff Reince Priebus and press secretary Sean Spicer, two strong links to the Republican National Committee and GOP establishment at large. (Priebus, the former RNC chairman, is a close ally of House Speaker Paul Ryan.) In recent tweets, Trump has sent mixed signals about whether he's ready to move on from health care. Meanwhile, congressional Republicans are eager to debate new tax laws.
"We don't entirely know what the post-Priebus White House looks like," said Josh Culling, a Republican consultant supportive of Trump. "That dictates what unaffiliated outside groups will do. I hope it gets figured out quickly, though, because right now we have pro-Obamacare Republican governors in Ohio and Nevada filling the communications void on health care. These also happen to be governors who raised taxes, so I hope conservatives are able to mount a strong public campaign for tax reform. That will take leadership from the president and a credible air cover effort."
Trump has yet to see a sustained and effective political boost from his allies. Part of the challenge so far has been figuring out how to bring aboard Republicans who are reluctant to dump Obamacare and end federal funding for Medicaid expansion at the state level.
There have only been short-lived efforts so far: For instance, America First Policies spent money earlier this year to target wavering House Republicans. (America First is the pro-Trump group that Mercer appeared to spurn when she formed Making America Great.) Their effort was peculiar because the TV ads praised lawmakers for standing with Trump on health care — something several of them hadn't actually done at that point.
The strategy turned combative once debate moved to the Senate. America First planned an advertising blitz that compared Nevada Sen. Dean Heller, a Republican who had voiced objections, to House Democratic Leader Nancy Pelosi. The group backed down only after Senate Majority Leader Mitch McConnell fumed and Heller, who might be the most vulnerable Republican up for re-election next year, indicated he would keep an open mind. After retreating, the group did little else of impact on health care.
Heller ultimately voted for the "skinny repeal" bill that failed Friday. But three other GOP senators whom America First spared — Susan Collins of Maine, Lisa Murkowski of Alaska, and John McCain of Arizona — voted against it, dooming what was seen as a last-ditch effort.
"We're obviously disappointed in the outcome from last night, and we will continue to communicate with grassroots supporters about the issues both we and they care about," America First spokeswoman Erin Montgomery told BuzzFeed News last week in an email.
"We have nothing to announce about advertising at this time."
The attempts to build Trump an outside support network have been fractious. Mercer had been involved in discussions leading to the launch of America First. But sources have told BuzzFeed News that there was tension over whether the group would be a vehicle for the Trump movement or a vehicle for the Mercer family, which has broader political interests. (Brad Parscale, the Trump digital specialist who is close with the president's children and son-in-law/senior White House adviser Jared Kushner, is a key figure at America First.)
Other outside groups that have provided varying levels of support for Trump and his message include the 45 Committee, which has been linked to mega-donors Sheldon Adelson and Todd Ricketts, and Great America Alliance, whose board counts Newt Gingrich, the former House speaker and staunch Trump loyalist, as a co-chairman.