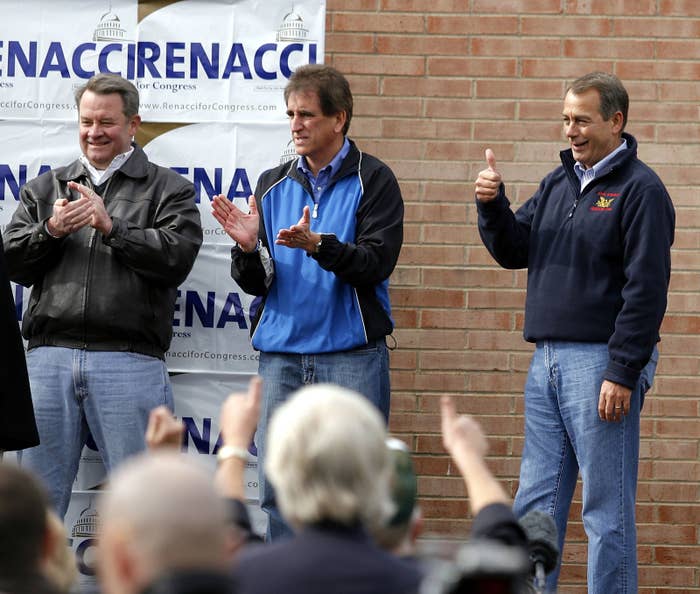 The Trump movement will face a big test next year in Ohio.
US Rep. Jim Renacci, angling to stand out in a crowded field of Republicans who want to be the state's next governor, will collect endorsements Saturday from two grassroots organizations supportive of the president: Citizens for Trump and Bikers for Trump's Ohio chapter.
On its website, Citizens for Trump describes its membership as a mix of Tea Party, Christian conservative, pro-Second Amendment and anti-Common Core groups. Bikers for Trump has participated in Trump rallies across the country. (Politico reported last month that members were involved in physical altercations at a Trump event in Pennsylvania.)
The groups are not particularly known for fundraising dominance or political heft. But their seals of approval could boost Renacci as he positions himself as the Trump-friendliest candidate.
"I could not be more honored to receive this endorsement from Bikers for Trump and Citizens for Trump — not simply because we share a common patriotism or passion for motorcycles, but because they represent the power of what's possible when fearless, hardworking Americans mobilize to take their government back," Renacci said in a statement his campaign emailed to BuzzFeed News. "My opponents may have the establishment in their pocket, but with Ohioans like these on my flank, I'm confident this is a fight that we can and will win."
The endorsements will come at an Ohio Bike Week event in Sandusky.
Renacci has the lowest statewide name-recognition of the four likely GOP gubernatorial hopefuls. Secretary of State Jon Husted and Lt. Gov. Mary Taylor already have declared their candidacies, and Attorney General Mike DeWine is expected to announce his bid soon.
But Renacci is the only one who enthusiastically campaigned for Trump last fall. When he jumped into the race in March, with a video featuring him riding a motorcycle, Renacci brought an "Ohio First" slogan and website that echoed Trump's "America First" message.
Like Trump, Renacci — an accountant by trade and one of the wealthiest members of Congress — emphasizes his background in business and presents himself as a political outsider, though he's in his fourth term in the House and was mayor of Wadsworth, near Akron.
Trump has not indicated a preference, but Renacci has attracted support from other allies of the president. One of his senior campaign advisers, Rob Scott, helped run Trump's Ohio operation. And in a not-so-subtle move Friday, Renacci tweeted a photo of himself standing between Jane Timken and Ronna Romney McDaniel, Trump's handpicked chairwomen of the Ohio GOP and Republican National Committee, respectively. (Timken has pledged to remain neutral in the primary.)
Renacci's strategy has merit: Trump won Ohio by 8 points. But the Republican Party in the state is fractured, split between those loyal to the president and those loyal to term-limited Gov. John Kasich, who lost to Trump in the 2016 primaries and refused to endorse him. Kasich has said he intends to support Taylor, and some of his allies are expected to back DeWine.
The gubernatorial primary on the Democratic side could be just as crowded — maybe more so. Already running are Connie Pillich, a former state lawmaker; state Sen. Joe Schiavoni; former US Rep. Betty Sutton, who lost her seat to Renacci; and Dayton Mayor Nan Whaley.