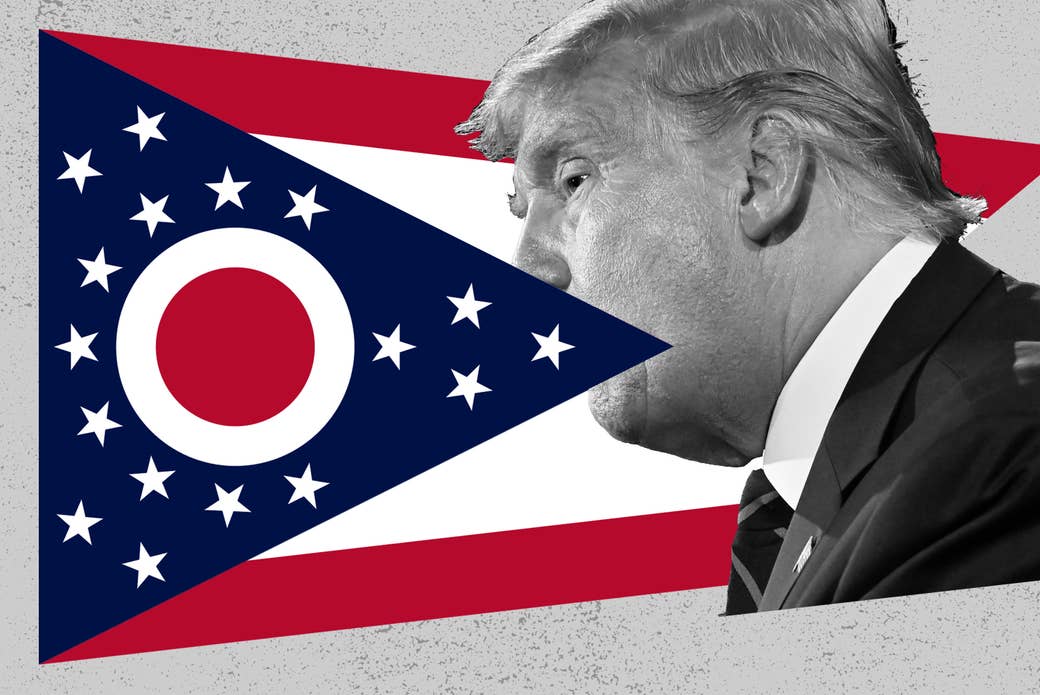 COLUMBUS, Ohio — It wasn't supposed to be like this in Ohio until suddenly it was: both presidential campaigns in the state this week, showering voters with the attention and flattery they were told not to expect in 2020.

Democratic presidential nominee Joe Biden huddled with union workers in Toledo and Cincinnati, calling the latter the "starting gate" to victory. Vice President Mike Pence campaigned for the Republican ticket in Columbus, leading a daytime crowd in the Ohio State Buckeyes' rally chant (O-H!) as food trucks served a very Midwestern lunch of deep-fried cheese curds and potatoes. National political reporters, meanwhile, wondered if the state might deliver Biden a quick and decisive victory on election night.
"It's on, Ohio," Pence told supporters gathered outside a local concrete and construction firm. "Ohio always looms large in a presidential election, all throughout our history, and that's just as true today."
Months ago, no one in either party could say such a thing with confidence. Donald Trump beat Hillary Clinton here by 8 points in 2016. Two years later, Republicans won all but one partisan statewide office, prompting national Democrats to write Ohio off as a lost cause. As swing states go, it was starting to look a lot like Missouri, a once-reliable bellwether that swung right in 2000 and never swung back.
Here and now, though, Trump is in real trouble in a place it's hard to imagine him winning reelection without. Polls show a tight race. His reelection campaign keeps canceling reservations for TV ads, while Biden rushes to fill the air with his own. And down-ballot Republicans are distancing themselves from a president who is losing ground with several constituencies — older adults, suburbanites, white voters with a college education — that helped carry him in Ohio four years ago.
"There are a lot of Republicans out there who are not happy with what's happening on the national scale and looking for someone who can be a uniter on the state level," Mehek Cooke, a Republican trying to flip an Ohio House district anchored in the Columbus suburbs, said in an interview with BuzzFeed News.
Cooke, a lawyer who worked in former governor John Kasich's administration, pitches herself as an ally to both the police and the Black Lives Matter movement that Trump often disparages. "I can't change the national," she said. "I've been able to reach across party lines and talk about unity."
Ohio's clear reemergence as a battleground crystallized in recent weeks and has coincided with Trump's coronavirus diagnosis, which followed the discordant and dysfunctional first presidential debate in Cleveland. It was another reminder of how Trump, 74, constantly downplays a pandemic that has killed more than 215,000 Americans — from his refusal to consistently wear a mask in public to insisting, even after his brief hospitalization, that people should not be afraid of the virus.
Some Republicans wonder if it's already too late for Trump in Ohio. Voters here began casting early ballots last week and — like those in other states worried about the coronavirus pandemic, slow mail delivery, and long lines at polling sites — have been doing so at a record pace.
"So much of the cake is baked," Nicholas Everhart, who runs an Ohio-based Republican advertising firm, said in an interview. "When and how does he stop that bleeding and trajectory? The opportunity for a late October surprise … has less of an impact with so much of the hay already in the barn."
Even faithful supporters don't feel great about Trump's quick return to the campaign trail and aren't sure it's wise for him to come back to Ohio any time soon. Linda Delbert, a fan of the president's, cringed at the question Monday in Columbus while waiting for Pence, the fabric of her Trump mask sucked inward as she considered a reply. (She was one of the few in the crowd to wear her mask firmly over her nose and mouth.)
"That's a hard thing to say," Delbert, 70, answered after about five seconds. "You know, the doctors know what's best. I think he's just a really high-energy person. He's a workaholic."
A Quinnipiac University poll released Wednesday found a statistical tie between the candidates in Ohio: Biden at 48%, Trump at 47%. Among those 65 and older, Biden led, 52% to 44%. Other recent polls in the state have shown Biden tied or ahead with seniors and leading with other groups that favored Trump four years ago. Fox News, for example, measured Biden last month with double-digit leads among suburban women and white voters with college degrees. Biden also consistently leads Trump overwhelmingly among Black voters.
The tightening in Ohio is pronounced enough that Republicans know their candidates for local office are also at risk. Those in the crowd applauded politely Monday when Pence promoted Trump's agenda and booed accordingly when he bemoaned cancel culture — on Columbus Day, in a namesake city where the removal of a Christopher Columbus statue over the summer reignited the tensions between those who view it as a symbol of genocide and those who hold onto it as a point of Italian pride. They saved their loudest cheers for when the vice president urged the reelection of Rep. Troy Balderson, who barely won his seat two years ago in what's become a competitive suburban district.
"I think a lot of people do not like the president," said Delbert, wrestling with the question of where Trump went wrong in Ohio. "That's what I'm finding — that, you know, a lot of people just don't like the way he acts."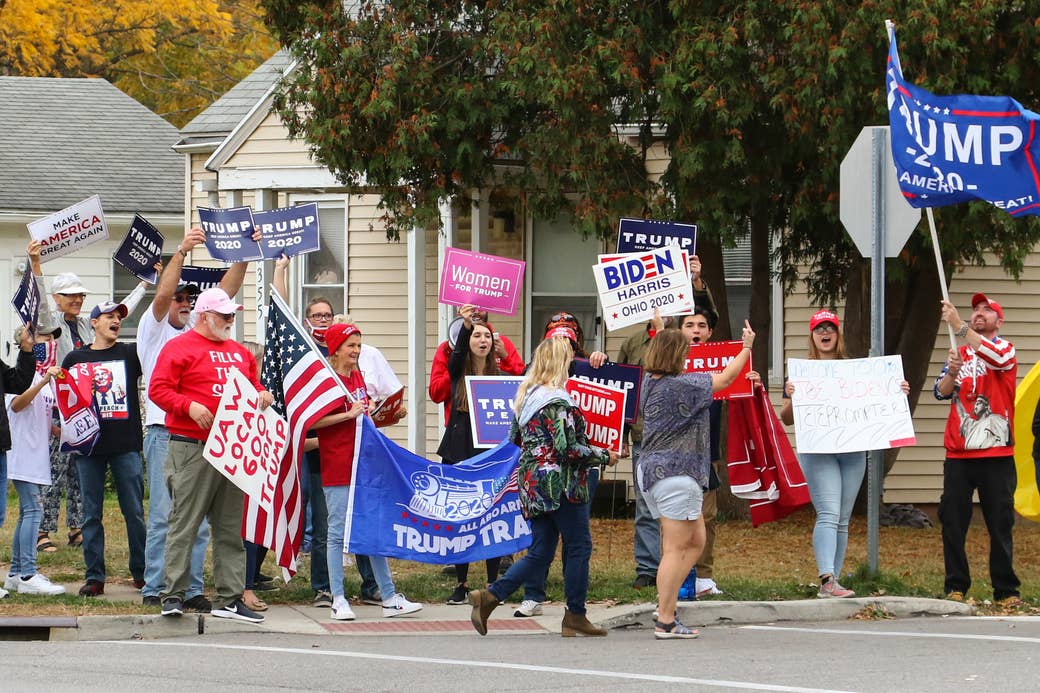 The changed political dynamic in Ohio is not solely attributable to Trump, nor is it only a reaction to his behavior. When others gave up on the state after 2018, true-believing Ohio Democrats such as Sen. Sherrod Brown — the party's only candidate to win statewide two years ago — focused on recruiting better candidates for local races and preparing for what they always thought could be a close 2020. Their efforts engaged activists during the off-year elections in 2019 and established footholds in key suburbs.
Brown contemplated running for president but instead launched a program to develop down-ballot prospects who embrace his "dignity of work" message. "We did it," Brown said by telephone last week, "because I was tired of losing in this state." Bhuwan Pyakurel, the country's first Nepali-Bhutanese elected official, credits Brown for helping him win a city council seat last year in the Columbus suburb of Reynoldsburg. Desiree Tims, a former Brown staffer trying to flip a congressional seat in Dayton, is among those he's backing this fall.
"One person after the other after the other would say, 'We can find our pathway to 270 [electoral votes] without Ohio,'" Emilia Sykes, the Democratic leader in the Ohio House, recalled in an interview. "The state party and all of us, including Sen. Brown, have worked very hard to continue to show we're still competitive."
Brown pushed Biden's campaign "for weeks and weeks and weeks," the senator told BuzzFeed News, about investing more in Ohio before the former vice president committed to holding more events — four since the Cleveland debate — and spending more money in the state.
"I think it's three things," Brown replied when asked about what has made the race close. "We're seeing a higher African American turnout. We're seeing suburban women that voted for Trump in 2016 — so many of them just can't stand him anymore. … They see his chaos, they see his incompetence in combating the coronavirus and managing the economy. And we're peeling off of a number of workers in the Mahoning Valley and places like that, where white working-class voters — Black working-class voters have been against Trump all along — are realizing he betrayed them."
The official word from the Ohio Republican Party, and from many of the party's 88 county chairs across the state, is that everything is fine: The polls are wrong, the 2016 magic never went away, and anyone who says otherwise is badly mistaken. Political professionals in the state still snicker about an early October 2016 poll — taken after the world heard Trump bragging to Access Hollywood about how he could sexually assault women — that showed Clinton leading by 9 points in the state.
"These polls all showed that Hillary would win in 2016, instead of relying on inaccurate polls, we utilize our internal modeling which shows that President Trump will win Ohio," Evan Machan, a spokesperson for the state party, told BuzzFeed News. "The fact of the matter is that while the Biden campaign can tout that Ohio is in play, the reality is that we have had paid staff on the ground since last year who have made over 10 million voter contacts, held hundreds of trainings, and registered thousands of new voters."
In Delaware County, home to some of Columbus's most affluent suburbs and historically a place where Republicans pad their vote totals, Trump's 16-point margin of victory was the lowest for a presidential candidate since Barry Goldwater in 1964. The county, which also includes a chunk of Balderson's district, has become a target for Democrats encouraged by a growing number of moderate college-educated voters. Steve Cuckler, the county party chair, nevertheless insisted that Trump "will exceed his performance" from 2016.
"The enthusiasm for him is even greater and the excitement for him is even greater," Cuckler said in a telephone interview.
Others are clearer-eyed. "I know there was a national narrative about Ohio being locked up, but it's always a swing state," said Niraj Antani, a Republican state representative from the Dayton suburbs who's running for an Ohio Senate seat this fall.
Even a slim Trump win in Ohio could be a harbinger for deeper troubles in Pennsylvania and the Midwest states he won by much narrower margins four years ago. "I think Ohio is kind of the head and neck of the Midwest," Michael Hartley, a Republican strategist in the state, told BuzzFeed News last week.
There's a reason why most Republican leaders are reluctant to share their doubts about Trump on the record. The former state party chair — Matt Borges, an ally of Kasich, a Trump adversary — spent much of the final weeks of the last election complaining about Trump. He shared details of his private conversations with Trump with one reporter and invited another to watch the second presidential debate with him at his home, where his dog dutifully vomited after Trump explained his vulgar Access Hollywood remarks. Trump loyalists circulated copies of both stories in their successful campaign to replace Borges with one of their own. Borges was charged over the summer in a bribery investigation focused on the former Ohio House speaker, a case that's become another liability for Republicans here. And Trump now holds commanding influence over the state party and its affiliates, a bulwark against dissent. Cuckler sees this as a strength. "The state and the county parties," he said, "are 100% behind the president, where that didn't exist in '16."
A few Republican insiders requested anonymity to speak candidly about the challenges that Trump faces — and poses to the rest of the ticket. "It just depends on where you're at," one veteran operative told BuzzFeed News. "That suburb thing is real. The move away from Republicans, the move away from Trump is real."
"It's cut and dry," the strategist added. "They're scrambling to maintain these suburban seats that they somehow held on to in '18. The presidential race is just an absolute weight upon them in the suburbs."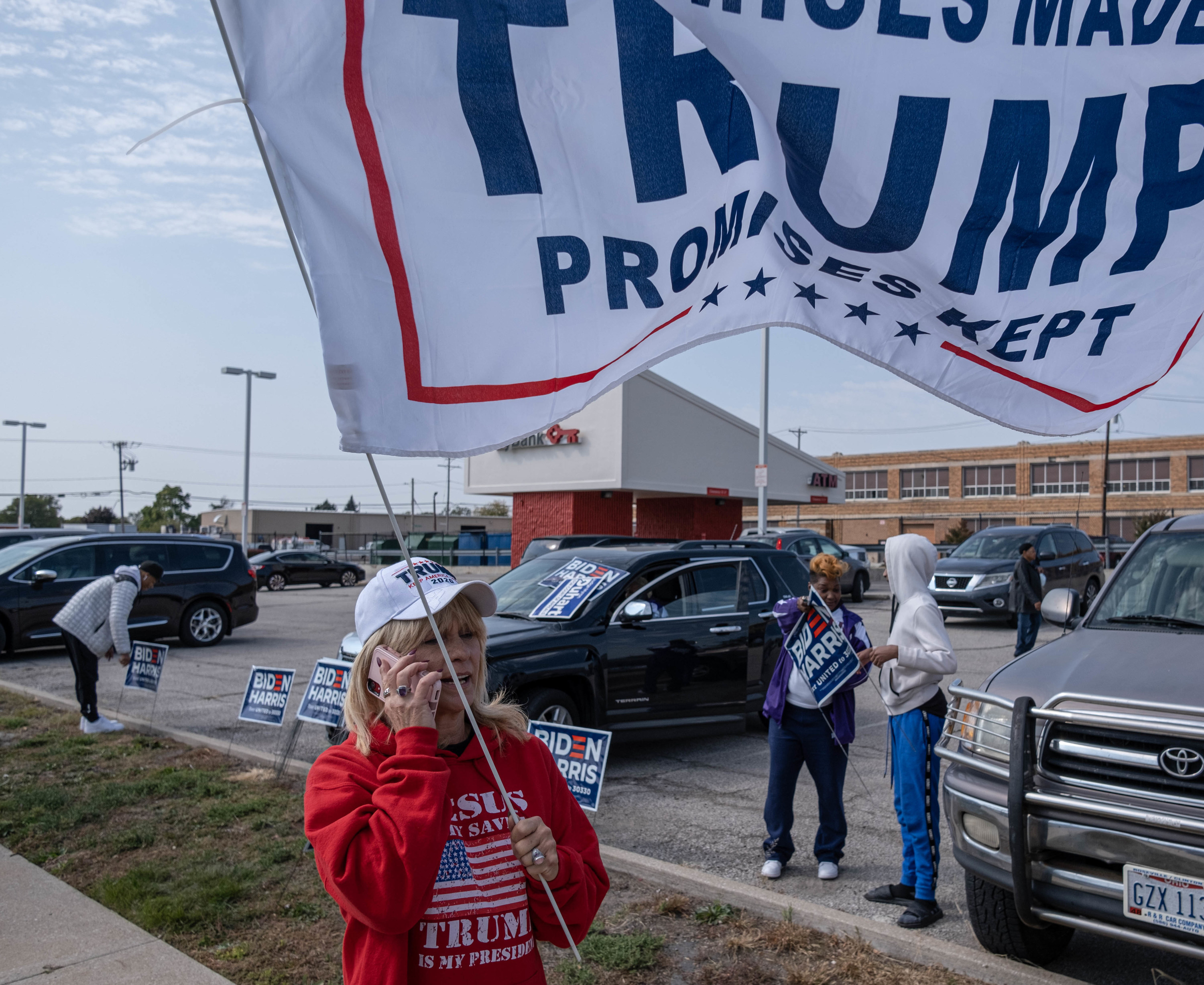 For all the importance assigned to the white working-class voters of Ohio, Trump can't afford to lose too many from the other demographic groups that formed his coalition in 2016. The president knows this, even if he lacks a substantively appealing and positive message to win them back.
"Suburban women: Will you please like me?" Trump asked at a campaign event this week in neighboring Pennsylvania. "Please. Please. I saved your damn neighborhood, OK?"
Across Ohio there are, literally, signs that this rhetoric — and Trump's indulgence of racist fears about violent crime and low-income housing matriculating from the cities to the suburbs — isn't working with suburban women. Or men. Their damn neighborhoods, from the mansions along Lake Erie to the most conservative enclaves of exurbia, are filling up with Biden signs and Black Lives Matter signs and Hate Has No Home Here signs. In Medina County, which favored Trump over Clinton by nearly 25 points in 2016, local Democrats gather in the town square at 5 p.m. every Friday to wave Biden signs at honking cars.
These are the voters Katie Paris had in mind last year when she launched Red Wine & Blue, a grassroots organization to mobilize suburban women in Ohio. Paris, a veteran of national Democratic politics who lives in the Cleveland suburb of Shaker Heights, told BuzzFeed News that many of the voters her volunteers have reached through a friend-to-friend texting program were persuadable independents and moderate Republicans. She also said she's been in contact with anti-Trump Republican groups, including the Lincoln Project.
"We've been trying to set our own narrative," Paris said. "Trump has given us a huge opportunity to do that with his tone-deaf, racist dog whistles to suburban housewives."
Trump's baggage could be especially heavy in Cleveland's western lakeshore suburbs. Republicans have represented the area in the Ohio House since 2008, outperforming national candidates in presidential years. State Rep. Dave Greenspan, seeking a third term this fall, is in a tough race where not even the local newspaper's report revealing him as an early FBI tipster in the corruption scandal that brought down the House speaker could spare him from a misleading guilt-by-association attack from the Ohio Democratic Party.
Seventy percent of the voters in the district list the coronavirus as their top concern, Greenspan said in an interview. He has opted mostly for socially distant literature drops over face-to-face conversations at voters' doors and hopes his years of familiarity and service — he previously represented the same area on the Cuyahoga County Council — will help him overcome any notion voters might have to punish down-ballot Republicans for Trump's management of the crisis.
"I've never seen a political environment like this," Greenspan said. "But I don't know how that breaks on the ballots." ●