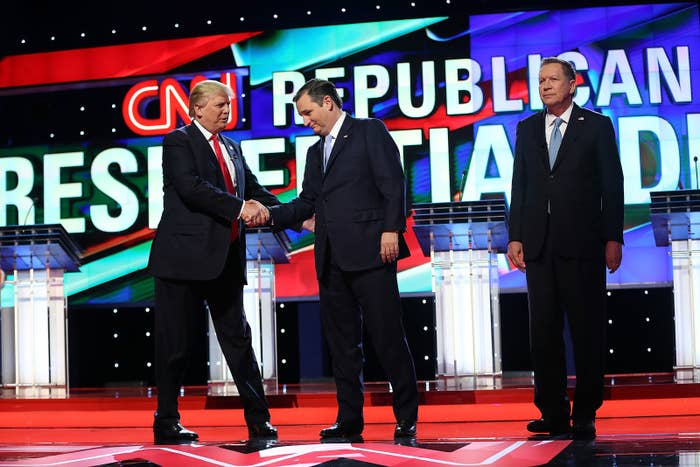 President Trump would probably win the New Hampshire primary if it were held today. But at least one Republican who is considering running against Trump in 2020 could make it a close call, according to new polling data shared Monday with BuzzFeed News.
American Research Group found Gov. John Kasich of Ohio trailing Trump in a two-way race, 42% to 48%, among likely Republican primary voters, with 9% undecided. Trump leads another possible rival, Sen. Jeff Flake of Arizona, 49% to 33%, with 18% undecided.
The results come ahead of Kasich's third visit to the nation's first primary state since ending his 2016 bid for president. He will speak Tuesday evening at New England College in Henniker. Flake, who is retiring from the Senate this year, made a trip to the state last month.
In 2016, polling analysts at FiveThirtyEight graded the New Hampshire–based ARG a C+, based on accuracy and methodology. But the firm correctly forecast Trump, Kasich, and Texas Sen. Ted Cruz as the first-, second-, and third-place finishers in that year's New Hampshire primary, respectively, missing Trump's and Cruz's vote shares by roughly 2 percentage points and Kasich's by 1.
ARG interviewed 1,365 likely voters — 420 Republicans, 400 Democrats, and 545 undeclared — on landlines and cell phones March 21–27. The Democratic sampling, like the GOP results, has a 5-point margin of error. The general election sampling has a 3-point margin of error.

While the primary is nearly two years away, Flake and Kasich already are showing New Hampshire the kind of attention typical from someone weighing a White House run. Both are frequent Trump critics, and neither has ruled out challenging Trump for the nomination.
Trump's lead over Kasich in the ARG poll is just outside the 5-point margin of error, but such a showing could be tight enough to weaken his reelection bid. Pat Buchanan's relatively strong second-place finish in the 1992 New Hampshire GOP primary was an early sign of trouble for then-president George H.W. Bush, who won the nomination but lost in the fall.
"At the moment, Trump has not won over the hearts and minds of enough Republicans (who say they will vote in the primary) to have a large enough lead to scare away any serious contenders," ARG's Dick Bennett told BuzzFeed News in an email. "Trump is doing better than when he called New Hampshire a 'drug-infested den,' but not much better."
The more anti-Trump challengers in New Hampshire, the easier the path for Trump. In a hypothetical primary where Flake and Kasich both run, Trumps leads the three-way field with 51%, followed by Kasich at 34%, and Flake at 4%, with 11% undecided.
"Some of the Flake and Kasich vote is solely anti-Trump, which is not surprising," Bennett said.
Trump has signaled plans to seek a second term, which he's been raising money for since his inauguration last year. He tapped a reelection campaign manager last month, and he and Vice President Mike Pence have made separate appearances in New Hampshire in recent weeks. But ARG also tested a GOP primary without Trump: a four-way field led by Kasich at 36%, followed by Flake (11%), Cruz (7%) and Arkansas Sen. Tom Cotton (5%). Without Trump as a choice in this scenario, a plurality of voters surveyed — 41% — were undecided. (It's hard to predict what a Trump-free Republican primary would look like in 2020, but it would likely be crowded.)

ARG also polled on several Democratic presidential prospects, but rather than sift through a huge and undetermined field of potential hopefuls, the firm looked at two one-on-one races involving former vice president Joe Biden. In these matchups, Biden leads Massachusetts Sen. Elizabeth Warren, 58% to 33%, and edges Vermont Sen. Bernie Sanders, 47% to 45%.
In a general election, Trump leads Warren (50% to 42%) and Sanders (49% to 45%), while Biden leads Trump (53% to 39%). Kasich, the only other hypothetical GOP nominee measured against a Democrat, leads Warren (52% to 37%) and slightly trails Biden (45% to 46%).
"The Kasich ballot against Biden confirms Trump's weakness not only against Biden in the general but also in the primary," Bennett said. "Trump has to hope for an opponent who is disliked more than he is disliked — this holds as well in the primary."