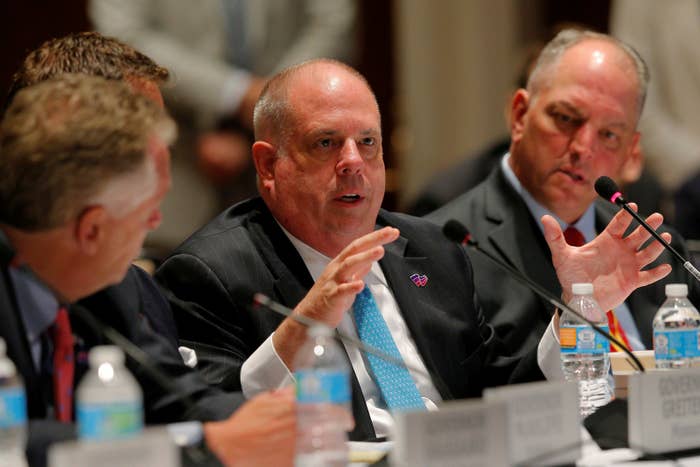 Three of the nation's most popular governors are Republicans who didn't vote for Donald Trump. They run blue states that Hillary Clinton won in last year's presidential race. And all three of them are in a strong position to be re-elected in 2018.

It's a reality that defies the anger of the moment.
Trump has thrived, especially with the GOP base, by turning politics and governing into a never-ending brawl. Anger also is fueling the opposition to Trump, and Democrats are counting on it to be a key ingredient in next year's midterms. But it's not guaranteed to be part of the races in Massachusetts, Maryland, or Vermont.
Charlie Baker, Larry Hogan, and Phil Scott, the respective leaders of those states, were among the more than 30 governors here this week for the National Governors Association's summer meeting. It was hard to miss Baker, who at 6-foot-6 towers over others, or Hogan, who rolled down hotel and convention center corridors like a bowling ball, followed by his small entourage.
Pragmatic governors hold a lot of power in a setting like the nonpartisan NGA: The White House sent Vice President Mike Pence and Health and Human Services Secretary Tom Price to lean on governors — especially Nevada Gov. Brian Sandoval — opposed to a health care bill that has become an ongoing and deep challenge for Republicans in Washington. And with term-limits hanging over Sandoval and Ohio Gov. John Kasich, two leading GOP centrists, it soon could fall to Baker, Hogan, and Scott to represent a slice of pro-business, soft-touch Republicanism that Trumpism has endangered.
In state-by-state polling last spring, Morning Consult measured Baker's approval rating among Massachusetts voters at 75%, making him the nation's most popular governor.
"If you're not sitting here you must be [looking at the polls and] thinking, 'My god, he must be killing it,'" Scott Ferson, a Democratic consultant in Massachusetts, told BuzzFeed News in a telephone interview. "But I tend to read them a little differently. If you're in Massachusetts, what's not to like? The economy is booming … most people are very happy, and doing quite well.
"There's no reason to be angry."
Massachusetts is known for electing Republican governors as a check and balance on liberal state legislatures. To win statewide — like in Maryland or Vermont — a candidate needs crossover appeal; while Trump ran the table with Republican voters during the presidential primary last year in liberal Northeastern states like Massachusetts and New York, Clinton blew him out in them come November. Notably, though, Trump largely ran on positions less conservative than his peers, despite his anger and populism. The Republicans who actually get elected to statewide office in these places tend to be sunnier centrists. Democrats in Massachusetts were shut out of the governor's office completely during one 16-year stretch that began in 1991 with William Weld, who ran for vice president last year on the Libertarian ticket as part of a stop-Trump effort, and ended in 2007 with Mitt Romney, another centrist and vehement Trump opponent.
Baker has built useful working relationships with the Democratic speaker and the Democratic mayor of Boston, Ferson said. The governor also has emphasized his work to fight the opioid crisis, a policy issue that some Republicans have approached as a major health problem to be met with compassion. It's also an area where Baker hasn't had to keep his distance from Trump: The president appointed him to a federal commission to address the epidemic. This week at NGA, Baker emceed a panel discussion on opioids. He sat, coincidentally, to the left of two Democratic governors on stage, his tall frame folded into a red chair.
But Baker, who has been critical of the Republican proposals to overhaul Obamacare, also was notably absent from NGA proceedings Friday, when Pence flew in to make his health care pitch. A spokesman told BuzzFeed News that Baker had business to tend to next-door in Massachusetts. His team declined requests to interview the governor.
Democrats believe Baker has vulnerabilities, such as recent budget woes. But they have yet to recruit a top-flight challenger. Jay Gonzalez, who served in former Gov. Deval Patrick's administration, and Setti Warren, the mayor of Newton, are among the early candidates. But big-name prospects such as Attorney General Maura Healey and Congressmen Joseph P. Kennedy III and Seth Moulton so far seem content to stay on the sidelines. Any of those three would be "instant rock stars" if they ran, said Ferson, who advises Moulton.
Some Democrats concede that somehow tying Baker to Trump is their only option.
"Generally speaking, the economy is in pretty good shape and looks good," Connecticut Gov. Dan Malloy, chairman of the Democratic Governors Association and, according to the Morning Consult poll, one of the nation's most unpopular governors, told reporters here Friday. "Certainly he will be a tough person to defeat. On the other hand, if you want to know the real reason he might go down? Donald J. Trump. So who's to say what will happen in that election?"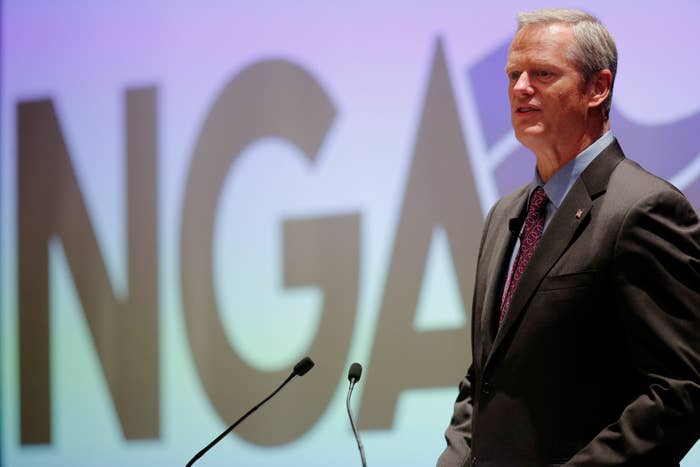 Democrats are more optimistic about Maryland, where a Republican hasn't won a second term as governor since the 1950s. Hogan scored a 73% approval rating in the Morning Consult survey, placing him second behind Baker. But a March poll by the Washington Post suggested that Hogan's numbers could be soft. A majority of registered voters surveyed (53%) said they had an unfavorable opinion of the Republican Party in Maryland. And when voters were asked who they would support in 2018 — Hogan or a Democratic candidate for governor — Hogan bested the generic Democrat by only 4 points, 41% to 37%, with 20% undecided.
Since Trump's election, Hogan has taken great pains to project independence while at the same time sidestepping policy debates that probably would put him at odds with the White House.
"As a Republican in Maryland you're always playing an away game," Russ Schriefer, a national political strategist who is advising Hogan, said in a telephone interview. "You're always going to worry, whether Donald Trump is president or Hillary Clinton is president. It's a very, very difficult state to win. That said, Hogan now for three years has been consistently popular. And the reason he's been popular is that he's worked in a bipartisan way, trying to do things in the best interest of Maryland people and staying away from the national dialogue."
In a sign that Democrats might be willing to sacrifice Massachusetts to win back Maryland, some told BuzzFeed News that they could target Hogan by contrasting him with Baker — in other words: Why can't Larry Hogan be more like Charlie Baker and stand up to the president? Democrats also have a deeper bench than they do in Massachusetts. High-profile gubernatorial prospects include former NAACP chief Ben Jealous; Prince George's County Executive Rushern Baker; state Sen. Richard Madaleno Jr.; and Alec Ross, a former tech adviser to Clinton. Other contenders could include US Rep. John Delaney and Baltimore County Executive Kevin Kamenetz.
"Our message," said Maryland Democratic Party communications director Bryan Lesswing, "is going to be that Gov. Hogan is an out of touch politician who sides against families and stands with Trump."
Hogan worked the NGA this week like a politician in peak county fair form. He bounced from station to station, checking out a House of Cards-themed video slot machine at one booth and playfully threatening to down an Erlenmeyer flask filled with M&Ms while visiting a Mars candy table.
"We decided to govern from the middle and do everything we can to reach across the aisle to come up with common sense, bipartisan solutions," he told BuzzFeed News in a brief interview after the M&Ms gag. "I think it's what people really want. It's what they feel is lacking in Washington and what they haven't seen in our state or anywhere else for a long time. We're just going to keep focused on what we have been doing. Of course it's going to be a tough campaign, I'm sure, next year. But right now we couldn't be in a better position."
So what does it mean to be a Republican right now? "Right now," Hogan replied, "I'm not really focused on being a Republican, or a Democrat, or an independent. I'm just focused on trying to be the best governor I can be."
In Vermont, the answer to that question is — and long has been — to be independent-minded. It's a state, after all, that sent democratic socialist Bernie Sanders to the Senate. It's also a state where governors are elected to two-year terms, and none has been denied a second since 1962. Scott is only six months into his first, but national Democrats quietly acknowledge that, barring a scandal, his re-election race in 2018 won't be worth the effort for them.
Scott, who placed fourth in the Morning Consult polling with a 68% approval rating, declined BuzzFeed News' interview requests while at NGA. Jim Douglas, a Republican and former four-term Vermont governor who also attended the meeting, said Scott, like Baker and Hogan, succeeds by playing to the middle. "Vermonters, and I think Marylanders and probably Bay Staters, are able to segmentize their feelings about individuals regardless of party label."
Douglas recalled how in 2004, in the midst of President George W. Bush's re-election campaign, his opponent "made these signs that said 'Jim equals George.' I was worried when I first saw them sprouting up, but my media folks said it wasn't going to hurt, and it didn't."
Trump, though, is a far more unpredictable political quantity.
"I think there's no analogy," Robert Ehrlich, the last Republican to serve as governor of Maryland, told BuzzFeed News in a telephone interview. "The Trump phenomenon and the Trump presence are so unusual. Past analogies are just irrelevant."