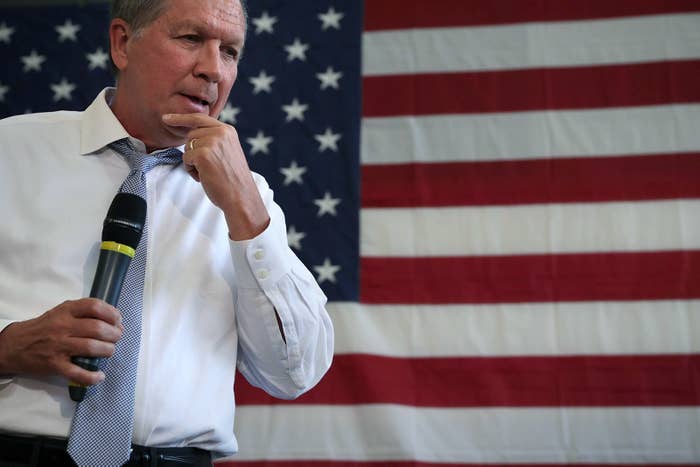 John Kasich doesn't recognize Fox News anymore.
The right-leaning cable network, where Kasich once had his own show and occasionally filled in for prime-time star Bill O'Reilly, has become too one-sided, the Republican governor of Ohio said during an interview for AM to DM, BuzzFeed News' new morning show.
"When I was at Fox, it was both sides," said Kasich, who emphasized that his criticism includes other media outlets, including CNN, MSNBC, Drudge Report, and the Huffington Post.
"I can look at all this stuff, and I can point a finger at one group?" Kasich replied when BuzzFeed News editor-in-chief Ben Smith asked specifically about his former employer. "I think it's a collective question that the media has to consider about what they're contributing."
"So everybody wants to point to Fox or whatever," Kasich continued. "And, look, when I was there it wasn't like … I've seen it lately, where, you know, it's sort of like double down. It just wasn't that way. And I don't know how it got that way. And I wasn't there."
Kasich ran unsuccessfully for president in last year's Republican primaries and very publicly refused to support Donald Trump. His subsequent book, Two Paths: America Divided or United, and his persistent criticism of the president, has fueled speculation that he might challenge Trump in 2020, either in a primary or as part of an independent or third-party ticket.

"You know, I'm done talking about Trump," Kasich said when asked about Trump's recent comments and tweets blasting NFL players for kneeling in protest during the national anthem. "I talked about him for eight months. What you see is what you get, OK?"

But Kasich did not completely shut down talk of a 2020 bid. When asked if he had any plans to return to New Hampshire, the key primary state where he finished second last year, Kasich said that he "might … if I have some reason to be there and something to say." He cannot seek a third consecutive term as governor next year and is pondering his next move.
"Honestly, I don't know what's going to come," Kasich said. "I want to have a voice. I might have a future in something with television, I don't know. ... In terms of politics, I really don't know, except I want to continue to have organizations that allow me to have an impact. And you know what? I want to have a bigger impact about what I'm for — not having an impact because I'm against something that Trump is doing. You know, it gets tiresome."