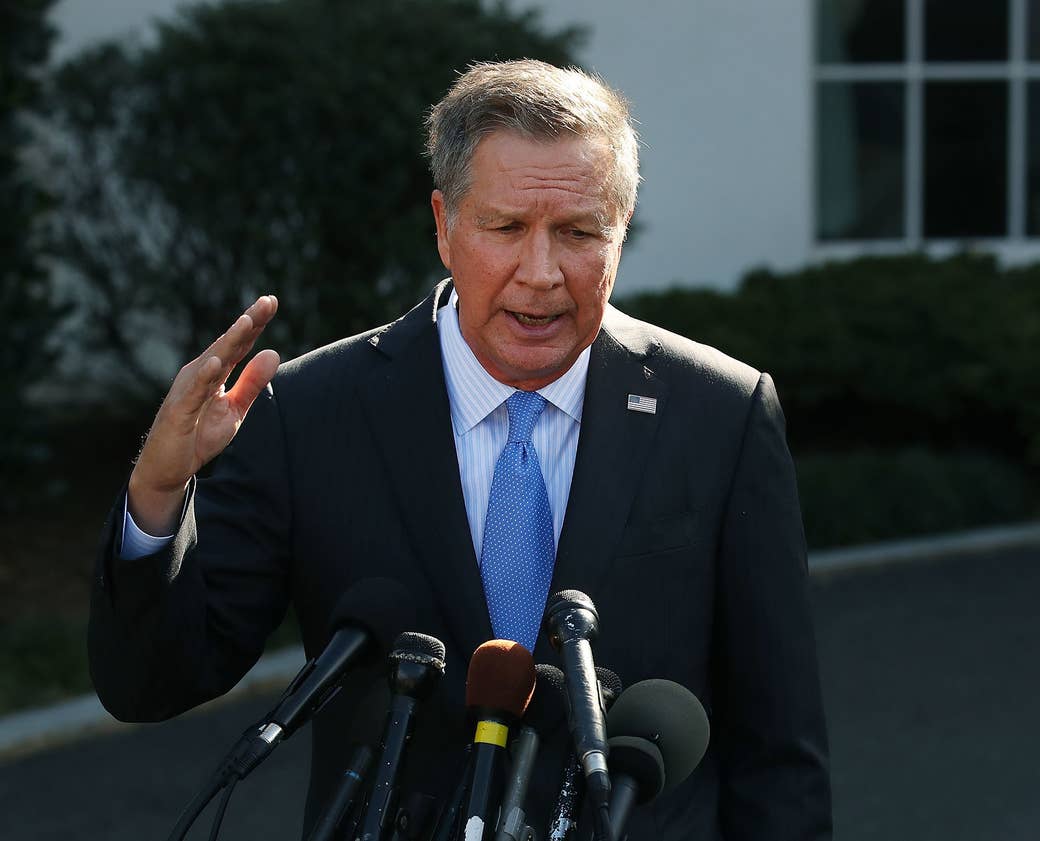 MANCHESTER, N.H. — Is John Kasich still a Republican?
The Ohio governor and mainstay of the party's mainstream is out this week with a book that at times reads like an angry breakup letter.
"Oh yeah, I'm a Repub… ," Kasich trailed off, conspicuously unable to finish the word in his rapid-fire stream of consciousness from the front seat of a big SUV barreling toward New Hampshire on Wednesday night. Kasich finished second in the state's hugely important presidential primary last year. That was enough to make it one of the few high points of his campaign and, also conspicuously, one of the first book-signing stops on his national tour.
"I'm pro-environment, I'm pro-trade, I'm anti-debt, I'm pro-immigration, I'm pro-NATO," Kasich continued. "And when I look at the party, I see it moving in a different direction. But I've always said I have the right to define what it means to be a Republican and a conservative."
At a time when he clearly wants to remain a player on the national stage, Kasich is struggling with his political identity — and so is his party. If and where he fits in a GOP led by Donald Trump will say a great deal about the kind of Republicans who can succeed in it, and whether there's still space for the open and internationalist values Kasich and other Republicans long have cherished.
Twice Wednesday — once during a forum at Harvard's John F. Kennedy School of Government, and later in the SUV — Kasich said the day is coming when a well-funded independent can win the White House.
"Both parties, I think, are missing it," Kasich said. "That's why I said tonight, and I'll say again in this car, that I think they're going to matter less and less unless they get their act together."
The big story of Kasich's big media week isn't the predictable swipes he takes at President Trump in the book. And it's not that he is refusing to rule out a Republican primary challenge to Trump in 2020, though his visit here Thursday raises such speculation.
It's that Kasich seems tempted by the idea of running for president as an independent.
The signs are there in Two Paths: America Divided or United, which recycles its title from an anti-Trump speech Kasich gave last year toward the end of his bid for the GOP nomination. The most consistent theme in the book, though, is not Kasich's disapproval of the new president but his disappointment with fellow Republicans who supported Trump's candidacy.
"What I found surprising was the way all these other Republican presidential candidates took turns shedding what I could only imagine were their own deeply held convictions and setting aside their very public differences with their party's presumptive nominee — some of them even angling for positions in a possible Trump administration," Kasich writes.
Kasich adds a few pages later: "Why didn't I endorse Donald Trump simply for the good of the Republican Party? Well, to paraphrase John F. Kennedy, sometimes your party asks too much of you. I am an American before I am a member of the Republican Party."
Not everyone is convinced that Kasich's words signal a 2020 independent run: "No, I don't see that," Kasich strategist John Weaver told BuzzFeed News. "It's a clarion call to fix your houses before someone else comes and does it for you in a more dramatic fashion."
Other Kasich aides acknowledge the governor sounds like he is threading a needle.
It wasn't long ago that Kasich had big ideas about reshaping his party nationally. On the night of his 2014 reelection as governor — a blowout that saw him win even in heavily Democratic Cuyahoga County, where his opponent was a sitting officeholder — Kasich spoke of a mandate for a "new Republican Party." He had won despite infuriating conservative purists with his expansion of Medicaid, and he earned the begrudging respect of open-minded Democrats.
Kasich believed this gave him a good story to tell in 2016, when Republicans were expected to rebrand and rebound with one of several establishment-friendly governors at their disposal.
He — and, to be fair, many others — misread the political climate. But during the hour-long drive Wednesday night from Harvard to Manchester, Kasich insisted that he maintains influence within the party, citing health care and the environment as two issues where he has moved the debate.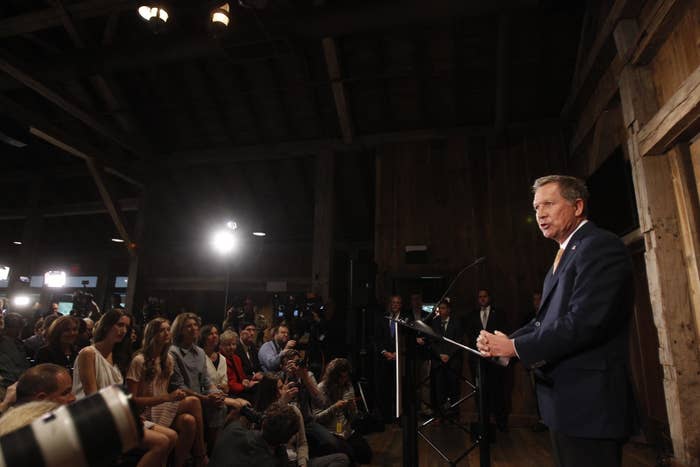 Kasich also is enjoying the attention his book is getting — attention that was elusive during his campaign last year. At one point during the ride into the Granite State he wagered that he is Ohio's biggest political celebrity since the late John Glenn, the former astronaut and senator who stumbled in a presidential bid of his own.
During his two-day swing through New England, Kasich encountered friendly audiences, posed for dozens of photos, and saw copies of his book sell out on site before his speech Thursday at Saint Anselm College near Manchester. During the speech, he jokingly pouted that he was not included among the school's vast collection of photos of past presidential candidates who descended on New Hampshire.
At least one prominent Republican is in Kasich's corner: Arnold Schwarzenegger. The action movie star and former California governor, who has been mentioned as a possible independent Senate candidate, has encouraged Kasich to run for president again in 2020.
"Kasich is an extraordinary guy," Schwarzenegger told the Los Angeles Times this month. "He's worked in Washington, he's worked in local government, he's worked in statewide government. He has the experience. He can see things. He has vision. He's also a moderate. He's a tough Republican and very fiscally conservative, but he also at the same time loves helping people."
Other leading Republicans are less charitable. And even some who dislike Trump harbor some resentment toward Kasich, who they believe siphoned votes last year from stronger primary candidates who might have been able to wrestle the nomination from him.
"Kasich's moderate brand is out of sync with where the Republican Party is right now," one GOP strategist who has worked on presidential campaigns told BuzzFeed News. "That could change depending on how Trump's presidency goes. But as of today, Kasich does not have an obvious role in the party. As for forging an independent coalition, I don't see much of an appetite for that. All of the political energy in America right now is with the extremes. This is a lonely time to be in the middle."
A lonely time, maybe. But 2020 also is probably Kasich's last chance to be president.
He turns 65 next month and is term-limited as governor. He's run two races for president and it sounds like a third is the only future campaign he'd contemplate. Some Republicans back home in Ohio would like to see him challenge Democratic Sen. Sherrod Brown in 2018, but Kasich repeatedly has ruled out the race. "Below zero interest in that!" he said Wednesday night.
As for the White House, "I got pretty close to a Shermanesque statement, and then I realized that's not where I need to be, and it's silly for me to say," Kasich said, referring to Civil War General William Tecumseh Sherman's famous refusal to run for president.
"I would only consider doing anything like that if I felt such a strong duty."
Polls show that Trump remains popular among Republican voters. If that holds, a primary challenge would be a fool's errand. And Trump's chances of winning a second term would be higher if Democrats, hampered by intramural squabbles of their own, remain fractured — unless someone can consolidate support from voters fed up with both parties. And, as the GOP strategist notes, Kasich might not be the candidate best equipped to do that.
But Kasich's book and remarks on his media tour suggest he is exploring ways to market himself to those who embrace Trump's politics, but not his tone. Kasich calls himself a "positive populist." (Trump is a "negative populist.") He's also railing against legislative gerrymandering and bemoaning a culture of "followship" in which news consumers only seek out opinions that match their own. These are views shared by many Democrats, including former President Obama, who touched on both this week in his first public appearance since leaving the White House.
"What's wrong with that? We're both looking at the country and drawing some of the same conclusions," Kasich said Wednesday when told of the similarities between him and Obama. "That doesn't bother me. In fact, I think it's really interesting point of discussion."
Kasich might have the message. The mechanics are a different story. An independent bid, with the right planning and financing, could be feasible. It's not clear Kasich would have that.
Weaver and several other advisers recently launched Two Paths America, a political nonprofit that can raise unlimited amounts of money to promote Kasich's political interests. But Kasich wasn't a prolific fundraiser last year.
Speaking with reporters Thursday at Saint Anselm, he talked of an independent campaign in the abstract and noted the past campaigns of Ross Perot and the past flirtations by former New York City Mayor Michael Bloomberg. Both are billionaire businessmen. Kasich is not — and he doesn't exactly have a bunch of them beating down his door to run for president.
"What I am going to try to do is to continue to raise money to support the operation that I have that allows me to be … out on the public stage," Kasich said Wednesday. "Where that's going to go, I have no idea."
Sam Nunberg, a former Trump adviser, doesn't see it going anywhere.
"He can't self-fund. He's not the type of person that's a natural iconic leader. He's not a military leader. He doesn't have an astonishing record in the private sector. And even though he was on Fox News, he's not really considered a TV personality," Nunberg told BuzzFeed News.
"I don't think Kasich is exploring a run as an independent," Nunberg added. "I think he's looking to raise his speaking fees."
Until last year, Kasich had a canny way of seeing the political future. He was an early adopter in the Reagan and Gingrich revolutions that previously reshaped the Republican Party. When Kasich first ran for president — in 2000, though he never made it past 1999 — he ran with a compassionate conservative message, but without George W. Bush's money or catchy sloganeering. When he ran for governor in 2010, Kasich tapped into the grassroots anger of the moment, bragging that he was Tea Party before it was cool.
As he made his way back to New Hampshire on Wednesday night, Kasich wrestled with the question of whether, after 2016, he still has the ability to anticipate what's next.
"What Trump did was he used negative populism to come up with a quick solution to all of these very complicated problems," Kasich said. "And I just didn't think the level of the discourse would allow him to win.
"I still don't understand that. I still can't figure that out. But I know that right now we have a very divided country, and I see these young people, and I don't see them getting excited or gravitating toward a political party. And I don't know what this means. And I don't know what the manifestation of it is going to be. But in my judgment, there's big change coming."
Outside Your Bubble is a BuzzFeed News effort to bring you a diversity of thought and opinion from around the internet. If you don't see your viewpoint represented, contact the curator at bubble@buzzfeed.com. Click here for more on Outside Your Bubble.