Jeff Flake Is The Latest Republican To Give Up A Steve Wynn Donation
Officials at the Republican National Committee, meanwhile, have not said what the party at large plans to do with contributions from its recently resigned finance chair.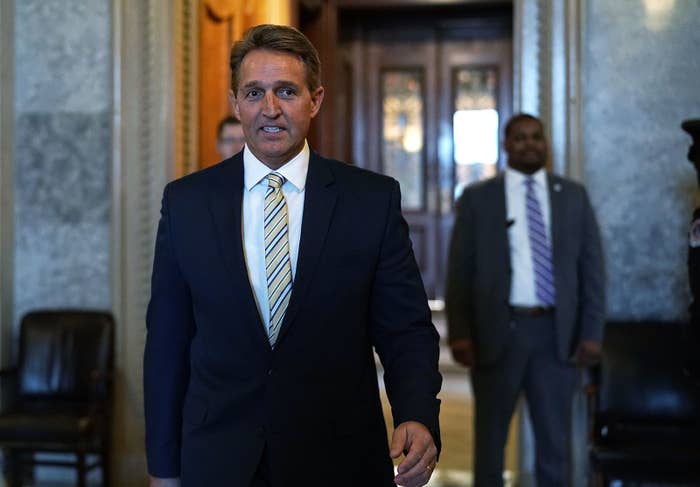 Arizona Sen. Jeff Flake has joined a growing list of Republicans disavowing donations from Steve Wynn, the casino magnate who resigned as the Republican National Committee's chief fundraiser amid accusations of sexual misconduct.
Flake's campaign will make a $2,700 contribution — the same amount it collected from Wynn last year — to a yet-to-be-determined charity, Flake spokesperson Jason Samuels told BuzzFeed News in a Monday afternoon email.
Wynn had given the maximum $5,400 to Flake in 2017: $2,700 each for the primary and general election. But the senator, who was facing a tough primary challenger from the right wing of the GOP, returned the general election donation after announcing in October that he would not seek reelection, Samuels said.
Other Republicans have said they plan to purge their campaign funds of Wynn's money. They include, according to the Associated Press and the Wall Street Journal, which broke the Wynn story, House Speaker Paul Ryan of Wisconsin; Sen. Dean Heller of Nevada; Sen. Ron Johnson of Wisconsin; Sen. Rob Portman of Ohio; Rep. Greg Gianforte of Montana; and Rep. Karen Handel of Georgia.
Also on Monday, the Republican Governors Association announced it would return a $100,000 contribution made last year by Wynn's Wynn Resorts. The RGA also canceled plans to host its 2020 conference at the Wynn Las Vegas — a decision that cost the organization a $10,000 deposit. An RGA official called the accusations against Wynn "extremely serious." Wynn has denied wrongdoing.
The RNC confirmed Wynn's resignation as finance chair Saturday, following a call between RNC Chair Ronna Romney McDaniel and President Trump. But officials with the RNC have yet to say what they plan to do with Wynn's contributions directly to the party — a total of about $69,000 last year. McDaniel had been among those pushing for Democrats to return contributions from Hollywood mogul Harvey Weinstein after sexual misconduct accusations surfaced against him last fall.
During a Monday appearance on MSNBC, former White House press secretary and RNC communications director Sean Spicer said the RNC should return "any money that happened this cycle, absolutely."
Spicer added that "the right thing to do for the Republican Party is to have the higher moral ground and say, 'We're going to return the money.'"