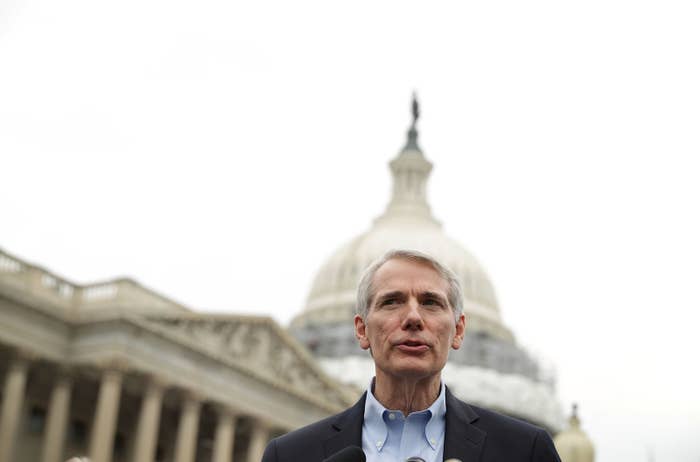 WASHINGTON, DC — Rob Portman is a serious senator. He's Midwest nice, a little old-fashioned, and in possession of deep wells of knowledge about taxes, trade, and health care. In some alternate universe, you could imagine him as Mitt Romney's vice president.
This week, in his quiet office on the opposite end of Pennsylvania Avenue, Portman shared one way a serious senator deals with this insane moment in politics. Asked how he learns about President Donald Trump's disruptive and frequently combative tweets, the Ohio Republican grinned.
"I get it two ways," he began, as he rose from a chair in his office.
He walked behind his desk and grabbed his iPhone.
"I can't follow everybody, right? But guess who I do follow? Donald Trump," Portman continued as he returned to his seat. "So every one of his tweets, I get on my phone.
"I have an alert," Portman confirmed as he tapped away at the screen. "You know why? Because when I didn't have an alert, I would be in the middle of an interview with someone like you, and they would ask me about something he tweeted, and I would be caught flat-footed."
And, just to be safe, Portman's deputy communications director sends him an email each morning with Trump's tweets, which more often than not jolt the day in different directions and into various diversions.
During a half-hour interview this week with BuzzFeed News, Portman offered a glimpse of how Republicans like him — a mild-mannered conservative who came of age in the Bush era but now seems moderate when compared to Trump's far-right champions — are trying to navigate the reality of Trumpism and a president who has taken their party down a more populist and unpredictable path. These days it's tougher to figure out where a Portman fits.
What does it mean to be a Republican right now? Portman, once an unabashed free-trader who served as George W. Bush's US trade representative, framed his answer around an issue that was central to Trump's "America First" message.
"I consider myself a good Republican, but I've also been willing to talk about fair trade," Portman said. "On something like that, I feel like, even though I was a little out of the mainstream of my party on some respects there, I'm not uncomfortable with where they're going, because I do think fairness and a level playing field is consistent with my principles and values as a Republican."
He also acknowledged his own shift, something that signals just how sharply the party's dynamics on trade have turned: Portman came out against the Trans-Pacific Partnership last year during his reelection campaign. And though he does not favor withdrawing from the North American Free Trade Agreement, Portman said he wants to see substantial changes to that pact.
Despite the changing political environment, Portman still views the GOP as, in his words, a team. And he doesn't appreciate it when the ostensible head of the party, Trump, or his allies do something that messes with the chemistry. Specifically, Portman called out Trump for his recent attacks on Senate Majority Leader Mitch McConnell: "Going to the team concept, McConnell's going to be the majority leader. You've got to figure out a way to work together as adults — we don't have to love each other."
Portman also isn't happy that Steve Bannon, the former White House chief strategist, is using his perch at Breitbart News to threaten primary challenges against sitting Republican senators perceived as unloyal to Trump. He wishes Bannon would use his influence to run a positive campaign to build support for GOP plans to rewrite tax code and overhaul Obamacare.
"I mean, people can do whatever they want," Portman said. "But do I like it? No. I think it's not team play. Here we are with 52 votes [in the Senate], trying to get tax reform done with only a two-vote margin. Health care reform, you saw, two-vote margin. It's hard enough as it is. … I think instead of having a circular firing squad, we have got to be focused on how to get things done."
A spokesperson for Bannon did not respond to a request for comment.
All of these — the tweets, the sniping at McConnell, Bannon's intraparty warfare — are things Portman sees as distractions from crafting and talking policy. And Portman really likes to craft and talk policy.
He gives the White House a pass, for example, on its slow implementation of recommendations from an opioid task force. Instead, he expresses frustration that his colleagues in Congress are not moving fast enough to pass legislation that would address the crisis. Portman also hopes the Trump administration will support his bill to restrict websites that promote sex trafficking with what he calls "a ruthless kind of efficiency."
Portman "met with a victim two weeks ago in Ohio … who started being trafficked at 9 years old. Her dad would take her to Super Bowls and traffick her online. She told me she was sold as many as 20 times in a day. … So, I'm the author or coauthor, I think, of four or five trafficking bills that I'm proud of, but frankly none of them are making as big of a difference as this would make. Because if we could shut down these online websites that facilitate sex trafficking knowingly — knowingly; I'm not talking about inadvertently — it would make a huge difference."
While Portman is diplomatic when discussing his relationship with Trump, he is not reverential. After the white supremacist demonstrations and violence in Charlottesville, Virginia, last month, Portman issued a rebuke of the president (if a relatively mild one) after Trump offered a "both sides" response that seemed to put the racists on the same moral plane as those who came to protest the racists.
"When I disagree with him on something, I make it clear," Portman said. "I'm very comfortable in that role. In some ways, it's easier, you know? Because with George Bush, I really felt such … loyalty to him — obviously I worked for him later, but even before I worked for him."
It wasn't all that long ago that Portman, given his extensive government experience and battleground state pedigree, was viewed as a future vice president, or even a future president. But now, after winning reelection by a margin much larger than Trump's over Hillary Clinton in Ohio, he said he sees himself more as a lawmaker who can swing bipartisan deals in the Senate. "I'm not here to give speeches and write red meat columns," he said.
So can he see himself ever running for president? "No. No," Portman replied, repeating himself. "I don't think so. I feel like my role is here in legislating, trying to get things done."
Does it bother Portman, then, that Trump's antics on Twitter — and the constant questions from reporters who expect senators like Portman to defend or disavow them — often overshadow these initiatives?
"I don't view it in personal terms like that, but I do view it in terms of policy," Portman replied. "In other words: When we're distracted by the shiny object over here, which is the latest tweet that offends people, then we're not making progress on the policy issues, because I'm not communicating that to my constituents. They aren't understanding and hearing about it, because instead, they're hearing about something that is not, frankly, what I should be focused on as part of my job."
Portman then reached for a positive. "I can't give you examples from the last 24 hours, because he's been pretty good on his tweets, focused on the hurricane," he said. "The hurricane has kind of centered the White House and centered him more. But some of the stuff is just not helpful, including attacking McConnell and things like that."
It was a minute or two later when Portman picked up his cell phone to demonstrate how he monitors Trump's tweets and read aloud the most recent: "Fascinating to watch people writing books and major articles about me and yet they know nothing about me & have zero access. #FAKE NEWS!"
The tweet was widely interpreted as a blast of Katy Tur, the reporter whose book about covering Trump's campaign had been released that day.