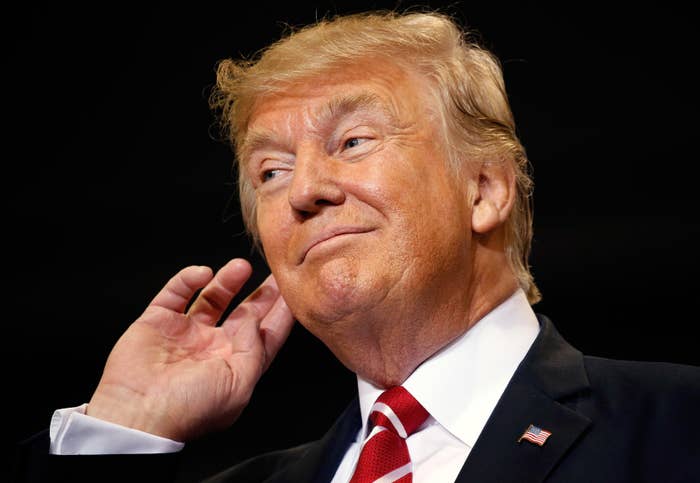 President Donald Trump is staging extraordinarily early re-election rallies, and his former pollster already is testing his strength against speculative primary challengers.

But the most tangible signs that Trump and his allies are dashing into 2020 mode are happening in a much quieter place: the Republican National Committee's summer meetings here in Nashville.
Brad Parscale, a trusted adviser, served as the Trump family's eyes and ears at a Wednesday budget session. He and Michael Glassner, the head of Trump's campaign committee, were among the key aides seen chatting up RNC members in the halls and at the bars and restaurants inside the Gaylord Opryland Resort and Convention Center.
Commerce Secretary Wilbur Ross spoke at a Thursday lunch. Eric Trump, the president's son, was scheduled to speak at a Thursday dinner.
In between, the new Presidential Nominating Process Committee convened for the first time — a committee led by RNC co-chair Bob Paduchik, who has a particularly adversarial relationship with potential Trump challenger John Kasich.
The panel can recommend changes to the primary calendar, delegate allocation formulas, and other rules. Many Republicans say Paduchik's role leading the committee is a message: Trump challengers won't have a sympathetic audience if they push for new rules. The inaugural meeting, like most events here, was closed to reporters. Attendees told BuzzFeed News that Paduchik outlined existing rules but that no proposals were heard.
"Nothing sexy," said one Republican who was in the room for the meeting and, like others, requested anonymity to share details about a private discussion.
The bulk of the committee's work is expected to happen during the RNC's winter meetings in early 2018, with recommendations due next spring. The committee will take its cues from Trump, but the White House has not yet asked for new rules, several RNC members told BuzzFeed News.
That the president would receive deference is not surprising — "the RNC is always the political arm of a Republican White House," one member said. But Trump's falling poll numbers, his administration's constant chaos, and his rejection of mainstream conservatism all have provoked early, unending talk of a contested primary.
"That talk is silly," Bill Palatucci, the RNC committeeman from New Jersey, told BuzzFeed News. "It'd be pretty hard for someone to take on a sitting president, particularly here at the RNC. We're in charge of the rules. The president is in real good standing with the members here."
Tony Fabrizio, a Republican pollster who worked for Trump last year, surveyed GOP voters this month on a hypothetical primary featuring Trump, Kasich, Texas Sen. Ted Cruz, Arkansas Sen. Tom Cotton, and Nebraska Sen. Ben Sasse. Half of the respondents backed Trump, half favored of one of the other four or were undecided. (Cruz and Kasich, the governor of Ohio, were Trump's last-standing rivals for the 2016 nomination. Kasich, Cotton, and Sasse were featured this month in a New York Times piece on those possibly angling for a 2020 bid.)
Kasich, who of the four represents a milder, moderate wing of the Republican Party, is seen by many as Trump's likeliest challenger. He has branded himself as the anti-Trump, is term-limited next year, and, at 65, might not have another opportunity to run for president. Kasich has not ruled out running again. And his moves — a book critical of Trump and his GOP enablers, and careful attention to the critical first primary state of New Hampshire — fuel speculation.
Paduchik ran Trump's winning campaign last year in Ohio, where Kasich refused to endorse Trump and publicly flaunted his decision to write in Sen. John McCain instead. After the election, Paduchik helped engineer a takeover of the Ohio Republican Party. The move served a dual purpose for Trump's team: It installed a loyal donor as party chairwoman in a key electoral state while embarrassing Kasich by pushing out one of his closest political allies.
There was no mention of this tidbit when RNC Chairwoman Ronna Romney McDaniel announced Paduchik's appointment to steer the process two weeks ago. ("Bob is a capable leader who will guide this critical committee heading into 2020," she said.) But several Republicans joked to BuzzFeed News that Paduchik probably volunteered for the job so he could be in position to carry the grudge further if need be.
Paduchik declined requests to comment for this story.
Trump had been slow to staff up in Ohio, partially because many Republicans there were reluctant to cross Kasich and his Ohio GOP allies. Paduchik's elevation to the RNC post was seen as a reward for breaking with the establishment and helping to deliver an important state. Before taking the Trump Ohio assignment, Paduchik already was known as one of Ohio's most talented GOP operatives. He managed Rob Portman's successful Senate run in 2010 and had high-level roles in both of George W. Bush's victorious campaigns there.
Being selected RNC co-chairman, with Trump's blessing, is "a testament to who Bob Paduchik is and what he's done in his career, particularly in the last two years," Jonathan Gormley, a GOP consultant and Paduchik admirer who has worked in Ohio, told BuzzFeed News.
Others who have worked with Paduchik point out that he is known for burning bridges.
"Basically, he's perfect for Trump," said one Republican, who requested anonymity to speak candidly. "But Trump will either be in a position to be reelected or he won't. And if he isn't, rigging the nomination process won't save him."
Republicans in the anti-Trump movement tried but failed to block his 2016 nomination and then failed to win rule changes that might have made it easier for Cruz or someone else from their faction to win the 2020 nomination. Instead, the Presidential Nominating Process Committee now chaired by Paduchik was among the changes ratified before last year's GOP convention in Cleveland.
"Of course Trump's enforcers will be out in strength to do his bidding on the committee prior to 2020, but it isn't deterring any planning," said one Republican who has ties to stop-Trump efforts. "Actually it underscores the need for Trump and his ilk to go."