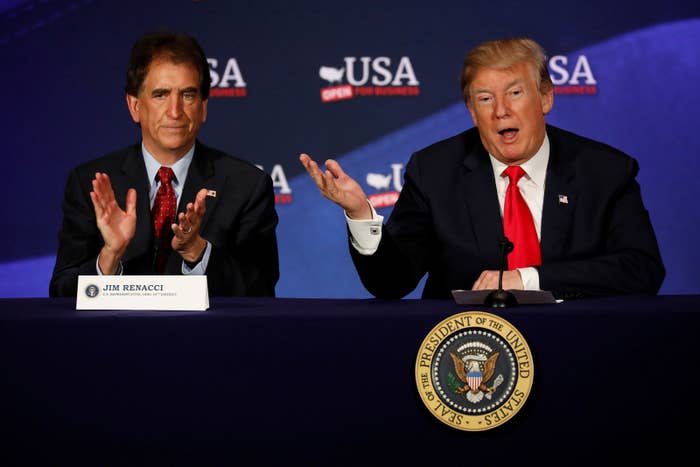 President Donald Trump describes Rep. Jim Renacci, whom he has endorsed this year in Ohio's Senate race, as being "behind me from day one."
And Renacci boasts that his support dates all the way back to the 2016 primaries, a notable claim given how many in his party — especially in Ohio, home of Gov. John Kasich, the last standing primary rival — were late to embrace Trump.
However, there does not appear to be any record of Renacci publicly backing Trump until after he clinched the nomination. To the contrary, there are examples of Renacci publicly professing his neutrality, while also suggesting that he'd prefer a governor and, at times, criticizing Trump's rhetoric.
"No, I actually stayed out of it," Renacci, when asked by Fox News commentator Juan Williams if he had supported Kasich during the primaries, responded during a July 2016 interview at the Republican National Convention in Cleveland. "I really am a believer that we needed to see the party make this decision. I was a business guy for 28 years. I've only been in Congress five and a half years. I started to realize that the people are frustrated — I'm frustrated, they're frustrated; let's see who they decide to pick. And clearly they wanted an outsider."
Renacci faces Democratic Sen. Sherrod Brown this fall. That he has been able to project such unflinching — and largely unquestioned — loyalty to Trump shows how carefully he has navigated a tricky path where others have stumbled. In Arizona, Rep. Martha McSally awkwardly has rebranded herself as a Trump ally as she tries to survive a Senate primary. In Florida, gubernatorial hopeful Adam Putnam, like McSally, has been dogged by his past criticism of Trump, who has endorsed Putnam's primary rival, Rep. Ron DeSantis. (The Arizona and Florida contests both will be decided Tuesday.)
Trump's support for Renacci, and vice versa, is not in doubt now. The president taped a robocall for him days before his May primary, helps raise money for his general election campaign, and praises him whenever he visits Ohio, as he did last week at a state party dinner.
"You're an incredible guy and a great inspiration, Jim," Trump told the audience. "And I really believe you are going to be victorious."
On Monday, Renacci's team disputed any suggestion that he hadn't endorsed Trump in the primaries. The Senate campaign asserted that Renacci offered the endorsement during a private meeting before Trump's Cleveland rally March 12, 2016 — three days before the Ohio primary. As evidence of the endorsement, the campaign cited a four-second clip from Trump's remarks, in which Trump doesn't mention Renacci's name.
"Except your congressman here is great, I have to tell you — and I think he endorsed me," Trump said in the midst of a tangent on a feud with a former congressman.
The rally was not in Renacci's district but, rather, a neighboring one represented by Democratic Rep. Marcy Kaptur.
Renacci's campaign also provided BuzzFeed News with a statement from Scott Mason, who served as the Trump campaign's director of congressional relations in 2016: "Jim endorsed the president when he was in Ohio before the primary and worked closely with our campaign as an active surrogate to help him win in November."
But Renacci never formally announced an endorsement. A local newspaper report about his appearance at a Republican function hours after Trump's Cleveland rally noted that Renacci "didn't surprise the audience with a presidential endorsement during his remarks."
Leslie Shedd, a senior communications adviser to Renacci's Senate campaign, responded at length when asked why Renacci's endorsement had never been publicized.
There are crackpots out there that say we never landed on the moon — but we all know we did because we have video proof. And this is no different. Jim Renacci endorsed Donald Trump and we all know this to be the case because minutes later Mr. Trump announced it — LIVE — on national television to a huge crowd of Ohioans and in front of members of Ohio and national media outlets.
After that very public, nationally televised endorsement, Jim worked closely with the Trump campaign, including attending weekly meetings beginning in May 2016. This is confirmed by the Trump campaign. In addition, in numerous public appearances over the last two and a half years, President Trump and Jim Renacci have both repeatedly reiterated the congressman's early endorsement of Mr. Trump and his efforts to help him get elected. This is not a fact that has ever been disputed by anyone involved in the endorsement meeting — both Congressman Renacci and President Trump said the endorsement happened. Yet Buzzfeed apparently feels that the word of a United States Congressman and the President of the United States are not enough proof.

This is a campaign to elect the next United States Senator for the seventh largest state in the union — and that is something Congressman Renacci takes very seriously. Ohioans want to know how candidates are going to lower their taxes, create a strong economy so their children and grandchildren can have a better life, protect us from threats against our country and take care of our nation's veterans. But I'm glad to see Buzzfeed is wasting time writing about an endorsement from two years ago that everyone involved said happened instead of covering the issues that really matter.
Renacci, in his speech at last week's Ohio Republican Party dinner, alluded to the pre-rally meeting.
"The first thing I thought about after sitting down that first time with him — and by the way, it was a long time ago, it was during the primary — he's a guy who really does care about our children and grandchildren," Renacci said. "That's what stuck with me."
The nuance to Trump and Renacci's relationship is instructive in a midterm cycle where loyalty to the president is a huge factor. Trump forgets no slight. And he views his endorsement as a reward for those who have been most faithful to him — or, in primaries like Rep. Mark Sanford's in South Carolina, as a punishment for those who have crossed him.
Renacci never crossed Trump. But comments he made in 2015 and early 2016 show he wasn't quite comfortable with the idea of Trump as the Republican presidential nominee.
"Donald Trump is actually saying what people want to hear," Renacci told a community newspaper in September 2015. "The problem is the message and the solution don't connect."
In January 2016, the Canton Repository reported that Renacci had told its editorial board that he had no immediate plans to endorse anyone but that his ideal candidate was someone with executive experience in government, like a governor. He also threw a jab at Trump.
"I'm a firm believer that we need to find a presidential candidate that wants to work with both sides," Renacci told the newspaper. "You can't start by calling people stupid, like Trump does. And you can't start by saying your biggest enemy is the Republican Party, like Hillary Clinton."
In March, two weeks before the Ohio primary — a major Trump vs. Kasich battle that Kasich won — Renacci was noncommittal: "As I've said before, I will support whoever comes through the nomination process," he told the Repository. And in May, after Kasich ended his campaign, Renacci issued this perfunctory statement to the Columbus Dispatch: "The electorate has spoken and Donald Trump is the presumptive nominee. I will support the Republican nominee."
It wasn't until the Cleveland convention, where Renacci had a visible role, that he emerged as a vocal Trump supporter. And in Ohio, where many Republicans kept their distance out of respect for Kasich, who never endorsed Trump, he was a significant asset on the trail. Renacci was one of the few elected officials in the state eager to appear with Trump down the stretch. Trump went on to win Ohio that fall by eight points.

One former Trump campaign official, who is not authorized to speak for the campaign and requested anonymity to offer thoughts about Renacci's late endorsement, said Trump measured loyalty based on who was with him from the convention through the election. Many supportive Republicans withdrew their endorsements in October, after the Access Hollywood tape of Trump bragging about grabbing women surfaced. Renacci remained a steadfast backer (though he had tweeted that Trump's comments were appalling).
"Anyone who wasn't on board before the convention got a pass as long as they got on board after," the former campaign official said. "My guess is that's kind of what he means."
As the fall campaign was unfolding, Renacci was preparing a run for statewide office in 2018. When he launched a bid for governor several months later, the wealthy former car dealer and arena football team owner positioned himself as Ohio's Donald Trump, right down to his "Ohio First" slogan. And when their top candidate to challenge Brown dropped out, Republicans asked Renacci, who was struggling to break through in a crowded gubernatorial field, to switch to the Senate race. He agreed to only after the Trump White House offered encouragement.
"It's clear Congressman Renacci has been a longtime supporter and staunch advocate for President Trump and his agenda," said Mandi Merritt, a Republican National Committee spokesperson in Ohio. "And it's clear that President Trump and his administration have long supported Congressman Renacci, as evidenced by a personal request from the president for Congressman Renacci to enter the US Senate race."