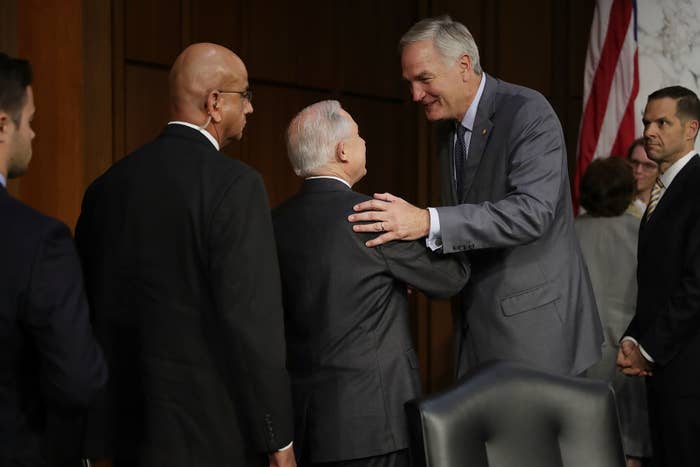 A political nonprofit loyal to President Donald Trump will spend nearly $500,000 to boost interim Alabama Sen. Luther Strange in a high-stakes Republican runoff election next week.
America First Policies will pay for pro-Strange digital ads, direct mail pieces, and get-out-the-vote phone calls between now and next week's vote, a spokesperson confirmed to BuzzFeed News.
"From repealing Obamacare to building the wall, Luther Strange is a proven ally in the U.S. Senate who's working with our president to make America great again," the spokesperson, Erin Montgomery, wrote in an email that referenced the Trump campaign slogan. "We at America First are proud to continue to support him ahead of the September 26 runoff."
The last-minute assistance comes as Strange, who was appointed earlier this year to the seat previously held by Attorney General Jeff Sessions, faces a tough fight from Roy Moore, the former chief justice of the Alabama Supreme Court. Moore finished first in last month's primary, has been leading in recent polls, and is presenting himself as the candidate friendliest to Trump and his agenda. He also has received help from a key Trump ally: former chief White House strategist Steve Bannon, who is using his perch at Breitbart to boost Moore.
But Trump announced on Twitter over the weekend that he planned to attend a Saturday rally for Strange in Huntsville. (The event actually is scheduled for Friday, according to an advisory the Strange campaign sent Monday.) And Politico, citing unidentified sources, reported that Vice President Mike Pence will hold a get-out-the-vote-rally for Strange next Monday in the state.
Trump's reinforcement of support — he endorsed Strange in last month's primary — has been a bit of a surprise, given the polling trends in the race. Trump had done little since the primary, and his silence was interpreted as a sign that he didn't want to tie himself too closely to Strange in the event of a loss. A week ago, those close to the White House spoke of the race pessimistically and doubted that Trump would do any more on Strange's behalf.
Aligning with Strange also puts Trump in a unique position: on the side of the GOP establishment. Senate Majority Leader Mitch McConnell and his allies are heavily invested in Strange's bid.
Now Trump and Pence, having agreed to spend more time on Strange, risk political embarrassment if Moore prevails. So it makes sense that America First, which exists in part to provide cover for the White House's political moves, is spending more money.
"I think they feel it's winnable," a source familiar with America First's plans told BuzzFeed News when asked what changed between last week and this week.