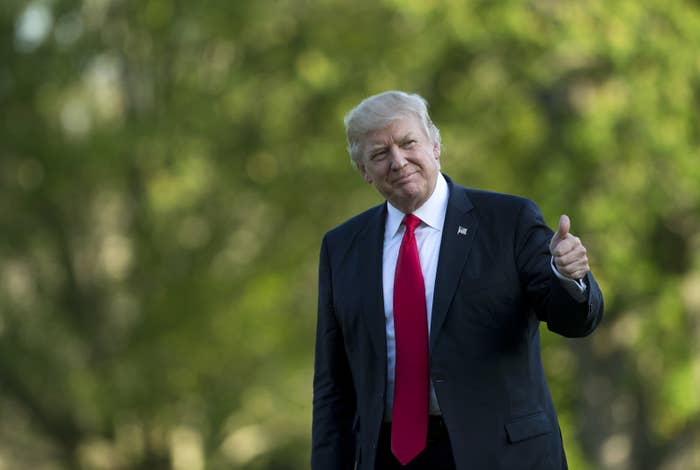 Political victory has eluded President Trump in his first three months.
The Obamacare repeal he promised on the campaign trail bombed on Capitol Hill. An infrastructure plan has yet to materialize. And a tax code overhaul, which Trump once thought could break him out of his slump, is now on hold as he takes another stab at health care.
All the while, a White House grasping for a political win received little in the way of paid advertising support from outside allies. That changed significantly this week, though, when America First Policies, a nonprofit run by several top aides from the presidential campaign, launched TV ads in 12 Republican congressional districts.
The 30-second spot and an accompanying social media push on Twitter portray all 12 lawmakers as steadfast supporters of a Trump-led effort to repeal and replace his predecessor's health care program.
It's a fairly traditional ad, but with a weird twist: Most of the 12 lawmakers were, at best, lukewarm on the health care bill that Trump and Speaker Paul Ryan scrapped last month. At least four were on record opposing the bill.
And yet the script for each ad is identical, with the exception of the House member's name.
"Congressman Joyce is taking on special interests and keeping his promise to the voters to repeal Obamacare," the narrator says in the ad aimed at constituents of David Joyce, who represents an Ohio district just east of Cleveland. "Call Congressman Joyce, thank him for his courage and for standing with President Trump to repeal Obamacare now."
It's an attaboy that Joyce hasn't quite earned. He's an Obamacare opponent, true. But he was among the moderate Republicans who were likely to vote against the bill. So were Rob Wittman of Virginia and Mike Turner, another Ohioan. The ad is airing in their districts, too. America First Policies also is targeting the Virginia district represented by Tom Garrett, a member of the conservative House Freedom Caucus who opposed the bill for different reasons. Colorado's Scott Tipton, who hadn't taken a public position when the bill was in the works, later told a local newspaper he'd have voted no.
The other House members included in the ad campaign: Gary Palmer of Alabama; Martha McSally and David Schweikert of Arizona; Brian Mast of Florida; Tom Graves of Georgia; Keith Rothfus of Pennsylvania; and Jeff Duncan of South Carolina.
Five (Palmer, McSally, Schweikert, Mast and Graves) sent signals that they could support the doomed bill. And Palmer and Schweikert subsequently co-authored an amendment aimed at reviving it. The intentions of Rothfus and Duncan were less certain.
Aides to many of the targeted House members declined to speak on the record for this story. It was clear, though, that the ads directed at opponents' districts came as a surprise.
"We aren't too hung up or focused on White House strategy," Wittman spokesman Gregory Lemon said. "Mr. Wittman is focused on serving and representing Virginia's First District."
Officials with America First Policies did not respond to BuzzFeed News' requests for comment.
The Washington Post, which first reported on the ad campaign after a telephone interview with the nonprofit's leaders, characterized it as as a friendly, $3 million "advocacy campaign."
The Trump allies spoke of a push "to bolster a dozen House Republicans who publicly backed the health-care proposal," according to the newspaper. They also "described the expenditure as a gesture of appreciation to Trump's friends in the chamber as well as a way to encourage other House Republicans to get behind the effort to revive health-care legislation."
Some Republicans see a carrot-and-stick approach. The carrot is a positive ad that ostensibly praises a House member for working with the president to repeal and replace Obamacare — a long-standing rallying cause for Republicans. And calls from approving constituents could motivate fence-sitters to give Trump what he wants. The stick would come if these targeted Republicans later appeared in ads that pronounce them uncooperative after all.
Put another way: The ad is being interpreted in several GOP corners as subtle pressure from the president's closest political allies — subtle for the moment, anyway.
One GOP congressional aide believes the ad is the opening gambit in a campaign seeking to influence those who for various reasons might be tempted to buck Trump. In McSally's district, for example, Democrat Hillary Clinton beat Trump by about five points. Mast and Turner come from districts where Trump's margin of victory was less than 10 points.
"My take, based on conversations around the Hill, is that what White House leadership and the president have been told is he can't move people," the aide, who requested anonymity to speak candidly about intra-party dynamics, told BuzzFeed News. "This is an attempt to energize their base. … I wouldn't put it past them to be more adversarial in the future, but who knows."
But the aide also wondered about the hodgepodge of target districts and whether there was some unseen rhyme or reason. "Are these guys that brilliant? Or are they just stupid?"