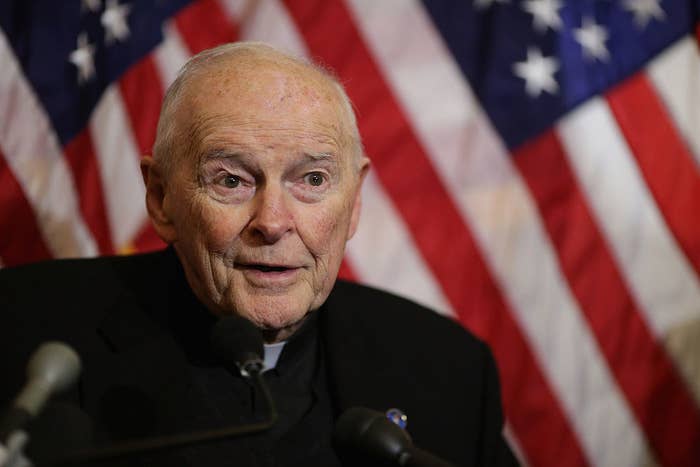 Theodore McCarrick, a former archbishop of Washington, DC, has resigned as a cardinal of the Catholic Church following numerous historical allegations of sexual assault.

McCarrick, 88, one of the most senior Catholic figures in the US, sent his resignation to the pope Friday night, which was accepted, the Vatican said in a statement.

He was removed from public ministry last month when the Archdiocese of New York found that allegations that he abused a 16-year-old altar boy in the early 1970s, while he was a priest in the city, were "credible and substantiated."
"Pope Francis accepted his resignation from the cardinalate and has ordered his suspension from the exercise of any public ministry, together with the obligation to remain in a house yet to be indicated to him, for a life of prayer and penance until the accusations made against him are examined in a regular canonical trial," a Vatican spokesperson said.

McCarrick, who was archbishop of Washington from 2001 until 2006, has said he has "absolutely no recollection" of the alleged abuse.
In a statement released in June, he said: "While I have absolutely no recollection of this reported abuse, and believe in my innocence, I am sorry for the pain the person who brought the charges has gone through, as well as for the scandal such charges cause our people."
McCarrick has also been accused of sexual misconduct with young adults who were studying to become priests while he was bishop of Metuchen, New Jersey, in the 1980s, the New York Times revealed this month.
In light of the accusations, the archbishop of Boston, Sean O'Malley, said this week he was "deeply troubled" by the case and called on the church to tighten its policy on sexual abuse allegations.

"The church needs a strong and comprehensive policy to address bishops' violations of the vows of celibacy in cases of the criminal abuse of minors and in cases involving adults," he said.

"The church needs to swiftly and decisively take action regarding these matters of critical importance."