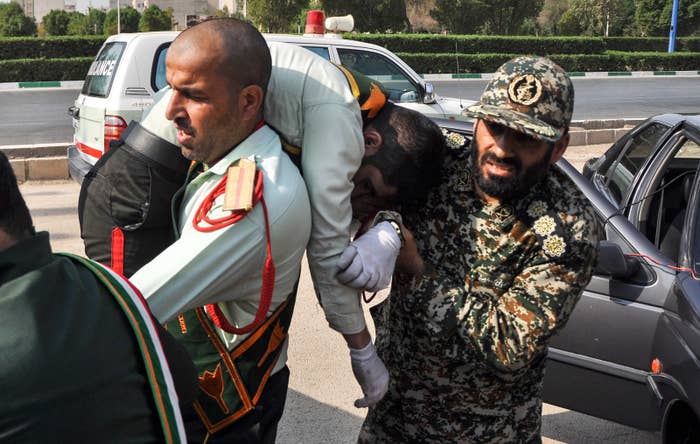 At least 24 people were killed and 53 injured when shooters opened fire on a military parade in Iran Saturday, state media reported.
The attack took place at 9 a.m. local time in the southwestern city of Ahvaz, where soldiers were taking part in a parade to mark the anniversary of the start of the 1980–88 war with Iraq.
Some of those killed were members of the elite Revolutionary Guard, but others are understood to have been civilians.
The shooters, wearing military uniforms, targeted a stand where officials had gathered to watch the event, according to the state-run IRNA news agency.

Brig. Gen. Abolfazl Shekarchi, a senior spokesperson for Iran's armed forces, told state television that three of the attackers were killed on the spot, and a fourth died in hospital.
The Ahvaz National Resistance, an anti-government Arab group, claimed responsibility for the attack, according to Reuters. It is an umbrella group comprising of multiple armed movements, but a spokesperson did not specify which one carried out the attack.
ISIS militants also claimed responsibility, according to the group's Amaq news agency. Neither group offered evidence of their accountability.

Iran's foreign minister blamed "regional terror sponsors" for the attack — a term used to describe rivals Saudi Arabia and Israel – and said their "US masters" were accountable.

Russian President Vladimir Putin offered his condolences to Iranian President Hassan Rouhani, and pledged to step up joint efforts to combat terrorism, according to the RIA news agency.
This is a developing story. Check back for updates.