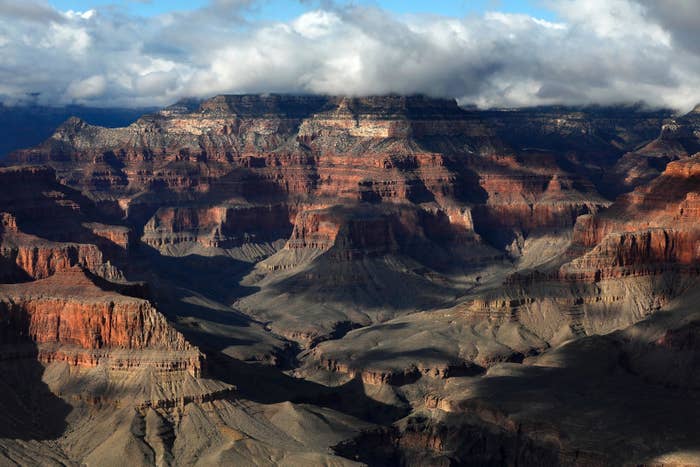 Three Britons were killed and four injured in a helicopter crash in the Grand Canyon on Saturday, according to police.
The crash took place around 5:20 p.m. local time, but rescue teams struggled to get to the four survivors — all with level 1 injuries, the most serious category — to safety. It is unclear what caused the crash.
The three victims were named as Becky Dobson, 27, Jason Hill, 32, and Stuart Hill, 30, Hualapai Nation Police Chief Francis Bradley told the Associated Press on Sunday.
The 42-year-old pilot Scott Booth, and three passengers, Ellie Milward, 29, Jonathan Udall, 32, and Jennifer Barham, 39, were eventually air-lifted to University Medical Center in Las Vegas, Nevada, at around 2 a.m local time.
On Saturday, wind gusts of 50 mph had made it difficult for helicopters to transport the survivors by air from Quartermaster Canyon near the Grand Canyon's West Rim.
"We are having difficulties getting the four people out of the crash site area to the hospital," Bradley told reporters. "It is too windy and it's dark and the area is very rugged."

Images emerged on Twitter of flames and thick black smoke rising among the layers of rock at the scene of the crash.
All passengers are believed to have been on a helicopter tour from Las Vegas with popular sightseeing company Papillon Airways when the EC-130 vessel came down about 60 miles northwest of Peach Springs, Arizona, according to local media.

"It is with extreme sadness we extend our heartfelt sympathy to the families involved in this accident," Papillon CEO Brenda Halvorson wrote in a statement Sunday. "Our top priority is the care and needs of our passengers and our staff. Family members seeking immediate assistance, please call 1-866-512-9121. We are cooperating fully with NTSB investigators and local authorities."
Papillon has been associated with at least three other fatal crashes in the last two decades, according to National Transportation Safety Board reports. Gary Robb, a helicopter crash lawyer who has written a book on the subject, represented a woman injured in a Papillion crash in the region in 2001. He told AP that the company has made improvements since then.

"They've improved their piloting qualifications as well as their maintenance over the last 10 years and as far as I know they've not had a crash since 2001," he said.
"This is not just the fact that a helicopter crashed, this is a human tragedy. People died and were horribly injured. It's a tragedy for human beings."
This is a developing story. Check back for updates and follow BuzzFeed News on Twitter.‏