U.S. Threatens To Call U.N. Security On North Korean Delegation
The North Korean diplomats were interrupting a panel of North Korean defectors speaking out about human rights abuses.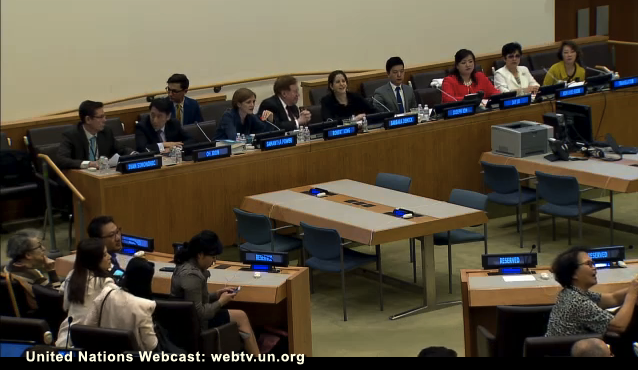 UNITED NATIONS — A panel of North Korean defectors speaking out on human rights abuses in their former country was interrupted by a small group of diplomats from North Korea's U.N. mission on Thursday, leading to the U.S. ambassador threatening to have the North Korean delegation forcibly removed.
The event — "Victims Voices: A Conversation on North Korean Human Rights," organized by the United States and South Korea — featured three former North Korean citizens recounting tales of abuses they and their family suffered while in the isolated country. Early on in their testimony, however, a delegation from North Korea began to speak, attempting to drown out the panel.
"I think the audience will agree that it's better to let the DPRK speak, since it is a self-discrediting exercise," panel moderator Barbara Demick said, noting that a microphone would not be necessary.
At one point, the North Korean's microphone was turned on, enabling the room to hear part of the speech. The diplomat noted the "racial discrimination and sexual abuse against women" in the United States, calling them just the "bit of iceberg of the human rights abuses committed in the U.S. everyday."
U.S. Ambassador to the United Nations Samantha Power ordered the delegation's microphone be shut off, but the North Koreans continued reading out their remarks. In response, several other North Korean defectors in the crowd began shouting in Korean, denouncing the officials.
"We are calling U.N. security, sir, you can either conclude your remarks or be removed from the room," Power informed the delegation over the din. Demick once again offered to allow the North Koreans to speak at the time that had previously been allotted to them following the panel's remarks. Instead, the North Korean diplomats simply finished their statement — which was inaudible due to the cut microphone — and walked out of the room. According to one report, the delegation was accompanied by U.N. security officers as they left.
"I thank the audience, particularly the Koreans among us here, the North Koreans among us, for your patience and your restraint in the face of the interruption that we experienced by the DPRK delegation," Power said at the end of the event, using the shortened version of North Korea's official name. She also told the assembled defectors that "it must be chilling for those of you who have been subjected to the terror of the regime to be confronted with bullying and disruption and the kind of behavior that we saw today."