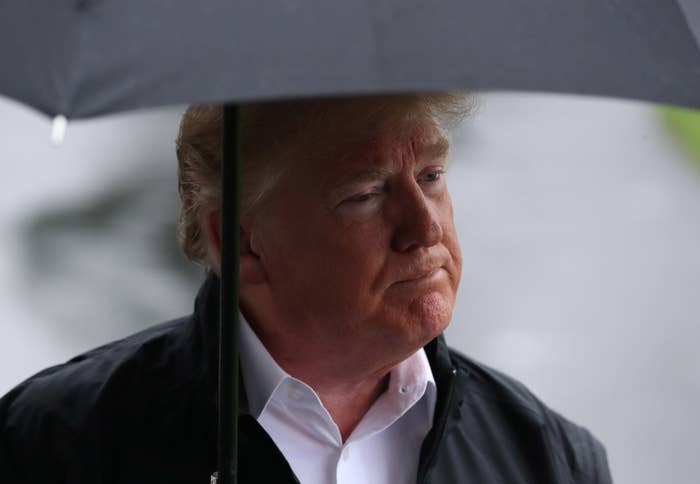 President Donald Trump on Monday speculated that "rogue killers" from inside Saudi Arabia could have been responsible for the disappearance of Saudi journalist Jamal Khashoggi.

"I just spoke with the King of Saudi Arabia, who denied any knowledge of what took place with, as he said, his Saudi Arabian citizen," Trump told reporters on the White House lawn while preparing to depart to view damage from Hurricane Michael. "I've asked — and he firmly denied that — I asked Secretary of State Mike Pompeo to immediately get on a plane, go to Saudi Arabia, go to other places if necessary, which he probably will, he'll go to Turkey if necessary."
Khashoggi has been missing for nearly two weeks, after entering the Saudi Consulate in Istanbul to obtain documents for his upcoming wedding. The journalist, a former insider with the royal family, had been living in the United States for the last year in a form of self-imposed exile, writing pieces critical of Saudi Crown Prince Mohammed bin Salman for the Washington Post's opinion section. Turkish officials and police have told reporters that they believe Khashoggi was killed inside the consulate by a hit squad sanctioned by bin Salman.
"We are going to leave nothing uncovered. With that being said, the king denied any knowledge of it. He didn't really know — I don't want to get into his mind, but it sounded like it might have been rogue killers, who knows, we're going to try getting to the bottom of it very soon, but his was a flat denial," Trump continued.

"The king told me Turkey and Saudi Arabia are working hand in hand very closely to get to the bottom of what happened," Trump also said.
Pompeo met with King Salman on Tuesday and is expected to meet the crown prince later.

King Salman and Turkish president Recep Tayyip Erdogan spoke on Sunday about the investigation, leaving the door open to the Saudi government placing the blame officially on "rogue elements," as Trump floated. But a group of cleaners spotted entering the Saudi consulate on Monday ahead of Turkish police gaining access raised eyebrows on Twitter.
The president's on-camera declaration came a little over an hour after he tweeted out the same.

In an interview with CBS's 60 Minutes that aired on Sunday, Trump said that there would be "severe punishment" for whoever was behind Khashoggi's disappearance. But he reiterated that he would not be in favor of limiting arms sales to Saudi Arabia.
"Well, I'll tell you what I don't want to do. Boeing, Lockheed, Raytheon, I don't want to hurt jobs," he said. "I don't want to lose an order like that. And you know what, there are other ways of punishing, to use a word that's a pretty harsh word, but it's true."
"All I can do is report what he told me, and he told me in a very firm way that he had no knowledge of it, he said it very strongly," Trump said of his call with King Salman.
The exchange immediately raised comparisons with Trump's previous meetings with Russian president Vladimir Putin, who has denied that Russia interfered in the 2016 presidential elections. Trump, despite a report from the US intelligence community that concluded otherwise, took Putin at his word.
"I have great confidence in my intelligence people, but I will tell you that President Putin was extremely strong and powerful in his denial today," Trump said in July at a press conference, standing alongside Putin.