There May Or May Not Have Just Been A Coup Attempt In The Gambia
Reports say that mutinous soldiers attempted to overthrow the government in the West African country while the president was abroad.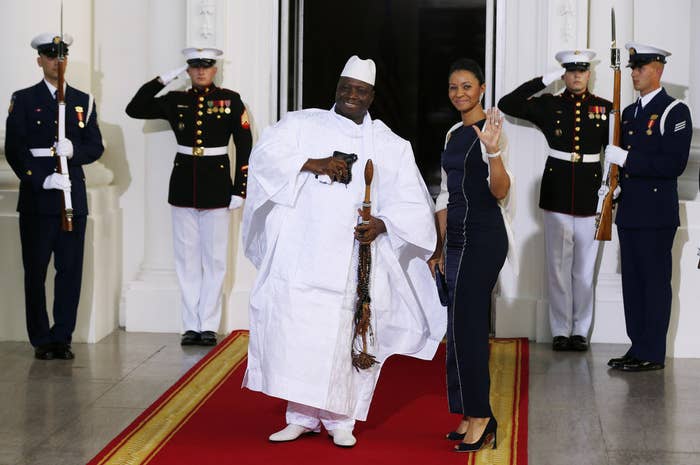 Gunfire reportedly rang out near the presidential palace in Banjul, the capital of The Gambia, last night in an attempt to overthrow the government while the president was out of the country.
An unnamed military officer told The Guardian a disaffected soldier "led a heavily-armed attack with six men on the presidential palace in the capital Banjul." "Police and the army are now entirely in control of the situation," the military officer continued.
A State Department official assured BuzzFeed News that the U.S. Embassy in Banjul was open and functioning but was unwilling to comment further on any potential coup attempt in the country. A later statement from State Department spokesman Jeff Rathke said merely that "[t]he United States is aware of reports of a coup attempt on December 30 in The Gambia. We strongly condemn any attempt to seize power through extra-constitutional means. We regret the loss of life and call on all parties to refrain from further violence."
An email from Dan Whitman, a spokesman for the United States Embassy in Banjul, to the New York Times revealed just as few details about what had occured. "It seems a coup attempt occurred last night," Whitman wrote, "There has been no sign of transfer of political or military power."
The Gambian government at first officially insisted that no coup attempt had even occurred. "Contrary to rumors being circulated, peace and calm continue to prevail in The Gambia," a statement read out on government-run radio said. "[The] government would like to urge the public and all businesses to continue with their normal activities."
But President Yahya Jammeh, who is in the midst of returning to his country from a stop-over in Chad, confirmed that an attempt to remove him from power had taken place. "Rest assured that the Enemies of the People have been defeated," the president said in a statement.
Jammeh added that he would be returning from France, though French officials have said there is no indication that he was present. Other reports have indicated that the president was in Dubai.
Jammeh, who seized power in a coup twenty years ago, and his government have been in the news recently for the country's renewed crackdown on LGBT people and activists.