The U.S. Paid 86 Times More For A Gas Station Than Needed And Nobody Knows Why
The compressed natural gas station in Afghanistan should have cost about $500,000. The U.S. government spent $43 million.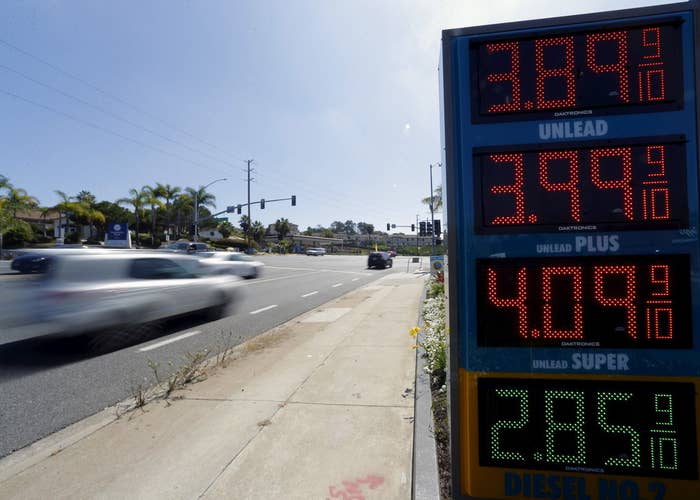 A new report from the watchdog appointed to oversee the United States' rebuilding efforts in Afghanistan says that a gas station constructed there managed to cost more than 80 times what it should have.
Comparable stations were constructed elsewhere for around $500,000, but the U.S. instead spent almost $43 million on the facility in northern Afghanistan.
The filling station was part of a project from the Task Force for Stability and Business Operations (TFBSO), a division of the Pentagon originally founded to help rebuild Iraq and expanded to include Afghanistan in 2010.
In theory, Special Inspector-General for Afghanistan Reconstruction (SIGAR) John F. Sopko wrote, the station was intended to show that compressed natural gas (CNG) could work as a fuel source for Afghan cars.
Again, in theory, this wasn't a terrible idea on paper because there have been some pretty significant deposits of natural gas found in Afghanistan. A large field of it was even found in Sheberghan, the city where the station was built.
Except it was a pretty dumb idea, really, since the security situation in Afghanistan meant that it would be very, very hard to transport the gas across the country, so a pilot station wasn't really needed. Plus, it would cost nearly a billion dollars to build a pipeline from the gas fields to the capital, Kabul, in the first place.
An investigation into comparable stations showed that one in Pakistan was built for about $500,000. The contract awarded to the firm Central Asian Engineering to build the thing was about $3 million.
When asked for an assessment of the cost though, this is what the TFSBO said:
The Task Force spent $42,718,739 between 2011 and 2014 to fund the construction and to supervise the initial operation of the CNG station (approximately $12.3 [million] in direct costs and $30.0 [million] in overhead costs).
So, that's problematic. But it gets worse.
"One of the most troubling aspects of this project is that the Department of Defense claims that it is unable to provide an explanation for the high cost of the project or to answer any other questions concerning its planning, implementation, or outcome," Sopko wrote.
When Sopko wrote to the Pentagon to ask about it, the Defense Department told him that since TFBSO closed in March, they "no longer have the personnel expertise" to go through the documents it left behind.
The SIGAR office has had concerns about the TFBSO program for awhile now: in December, Sopko sent a letter to then-Secretary of Defense Chuck Hagel listing his concerns. Among them were tales of "imprudent spending, profligate travel by employees and contractors, and possible mismanagement."
That spending included sending "Afghan jewelers to months-long gem training programs in India and [sending] other individuals to locations including Paris
and Milan," Sopko wrote.
"Despite these expenditures, it is not clear to me that the gem industry program produced any positive and lasting economic development or increased employment in Afghanistan," he concluded.