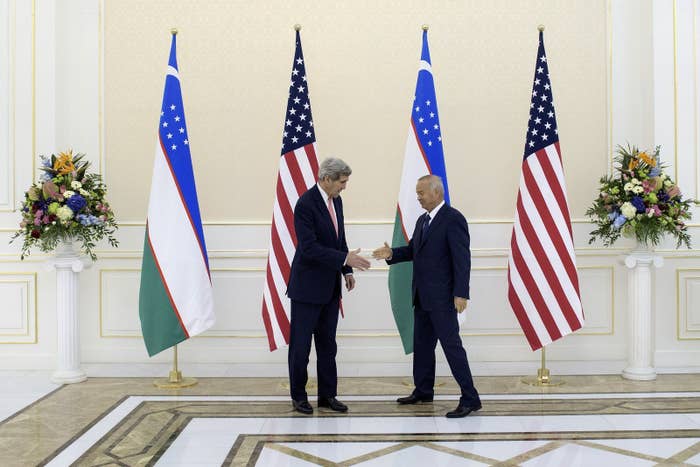 The State Department is "looking into" an incident in which a Washington Post reporter was removed from a meeting between Secretary of State John Kerry and the president of Uzbekistan, a spokesperson said on Monday.
The reporter was removed following the end of a photo spray on Sunday between Kerry and Uzbekistan President Islam Karimov.
"Our press support team and diplomatic security team ... work hard for access, however, we're not perfect," State Department spokesperson Elizabeth Trudeau said during a press briefing. "We're going to take a look at what happened and review and fix what we do in this process."
In the video of the incident in question, Washington Post reporter Carol Morello asks Karimov if he'll take a question from the American press.

"Secretary Kerry's own state department has criticized the human rights situation," she continues before the video cuts off.
"Take her— take her out," a voice can be heard saying in American-accented English as Morello attempts to ask her question while being escorted from the room by, as the Post reported, "an Uzbek official and an American wearing a 'diplomatic security' pin," who each took her by an arm.
"U.S. officials later said that the Uzbeks had banned the reporter from covering the opening statements at the six-nation meeting but then apparently relented and allowed the reporter to attend," Morello's report of the incident read. "A State Department official apologized for the diplomatic security officer's role in escorting the reporter out the door."
"I would say categorically that her removal had nothing to do with the question," Trudeau said on Monday, insisting that Kerry had raised human rights issues in all of his meetings with Karimov.
When pressed about the physical removal of Morello, Trudeau said that after reviewing the video of the confrontation, "what it looks like is this was part of a standard procedure, people were being ushered out of the room at the end of the spray. That said, we're looking at it."
In a particular bit of irony, the briefing began with a statement about the United States' calling for the rights of journalists around the world. An essay from Undersecretary of State for Public Diplomacy and Public Affairs Richard Stengal posted on Medium earlier today did much the same.

Among the human rights concerns the State Department has that Morello was asking about include — per the State Department's human rights report on Uzbekistan for last year — "torture and abuse of detainees by security forces; denial of due process and fair trial; an inability to change the government through elections; and widespread restrictions on religious freedom, including harassment of religious minority group members and continued imprisonment of believers of all faiths."