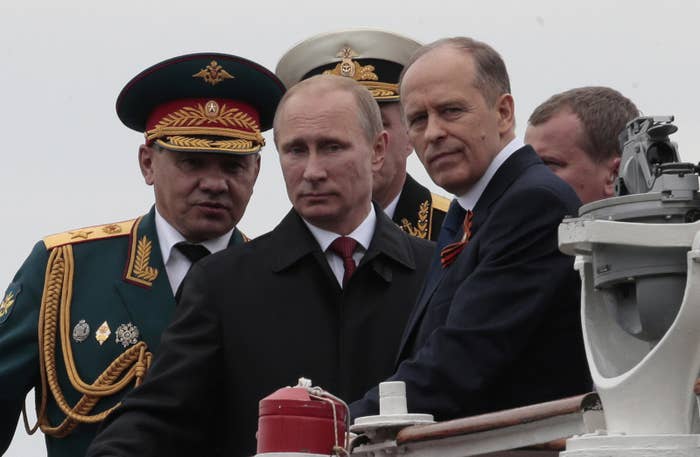 Russia shut down the internet in the annexed territory of Crimea almost entirely just days before Moscow announced that it had foiled an alleged terror attack that Ukraine had plotted in the region, a research firm has said.
The Russian government on Wednesday claimed that its security service, the FSB, had gotten into a shootout with a "group of diversionaries" that had crept across the border with Ukraine on Saturday night with a large amount of explosives. That incident and a second on Monday, according to the FSB, resulted in the death of two Russians, Russia said. Though Russia said the latter attempt was covered with massive shelling from the Ukrainian side of the border, no reports from the area at the time back up that claim.
Dyn Research, a firm that specializes in tracking outages, noted that two Crimean ISPs dropped off almost entirely in the early morning hours of Monday.
Soon after, Krymtelekom — a Crimean telecom company — blamed the outages in Crimea near the border with Ukraine on routine maintenance. The company even went so far as to promise that the work would be completed, and the internet restored, by Aug. 10.
But on Thursday, Olga Kovitidi, a Crimean representative in Russia's parliament, told an independent news station that the shutoff had happened on purpose "for security reasons." "This was to ensure that certain special forces… so there would be no infiltration," she said to Dozhd, an independent TV station. "For security reasons, these measures were necessary, and people understand why."
Ukraine for its part has denied all of Russia's claims, which come just weeks ahead of the first nationwide parliamentary elections that Crimea will be able to take part in after its 2014 annexation.
"Russian security services are trying to distract the population of Crimea and the international community from its criminal actions, turning the peninsula into an isolated military base," the Ukrainian defense ministry said in a statement on Wednesday.