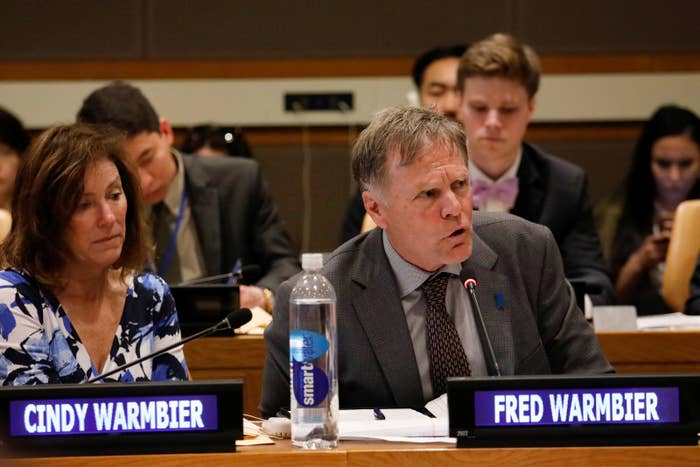 NEW YORK — The parents of Otto Warmbier, a 22-year-old US citizen who died soon after his release from North Korean captivity, say that they are refusing to be silent after living in fear of North Korea for too long.
North Korea "used him as a political pawn, and when they no longer could, when he was no longer of use to them, they sent him home in a body bag," Fred Warmbier, Otto's father, said in an emotional appearance at the United Nations on Thursday. He and Cindy Warmbier, Otto's mother, were at the UN to take part in a symposium organized by the government of Japan on how to address the North Korean government's human rights violations.
North Korean officials said that Warmbier, who was detained in 2016 for taking a poster from his hotel room while visiting the country with a tour group, fell into a coma after contracting botulism and taking a sleeping pill. He died days after he was returned to the United States.
In reality, Cindy said, Otto was likely brain-dead just four months into his 17-month-long stint in captivity.
"[The North Koreans] didn't do what someone with a heart would do, which is say, 'We screwed up; let's give him some medical care,'" she said. Instead, she said North Korea decided "that's not possible, let's leave him in this shithole, where he has no care, let him vegetate and then act like we're doing the world a favor by releasing him."

"It's been important for us to know the methods North Korea used to destroy our son," Fred Warmbier said.

The parents filed suit against North Korea in a US federal court earlier this week, seeking damages for how the government "brutally tortured and murdered" their son.

Their appearance at the UN comes as reports say that three US detainees still in captivity may be released ahead of North Korean leader Kim Jong Un's pending meeting with US President Donald Trump. But the Warmbiers were outraged that there were detainees who still need to be released at all, recalling the fear they felt while Otto was in captivity.
"So now here we are, and I guess the hostages will be released, and that's good," Fred said. "But our family had to wake up and say, 'What really happened to us?' So we realized what they did are the methods they've been using for the last 30 to 40 years. North Korea hasn't changed."
"And that's what occurred with us while we lived in fear," he said. "They took more hostages after Otto, so the world was afraid of what they would do to those hostages."
The two were the last to speak among the first set of panelists at the event, following statements from representatives of people abducted by North Korea and of people suspected to have been abducted. And while they thanked their hosts and those who spoke before them, Warmbier's parents said they were still grappling with how to move forward after their son's death.
"Think of this: 10 months ago we buried our son. We had no idea we'd be speaking at the UN and countless other things, but then we realized North Korea wanted us to lock ourselves in a room and do nothing, and we think that's a bad idea," Fred said.
Cindy told the attendees that she'd booked Otto a room at New York University soon before he'd left for his trip to North Korea. Walking around NYU, she said, she was sure that Otto would have loved the energy of New York. That memory, passed on toward the end of her presentation, led her to apologize for getting emotional when talking about Otto.
"It's not getting any better," she said. "I don't know how long I'm going to feel like this."