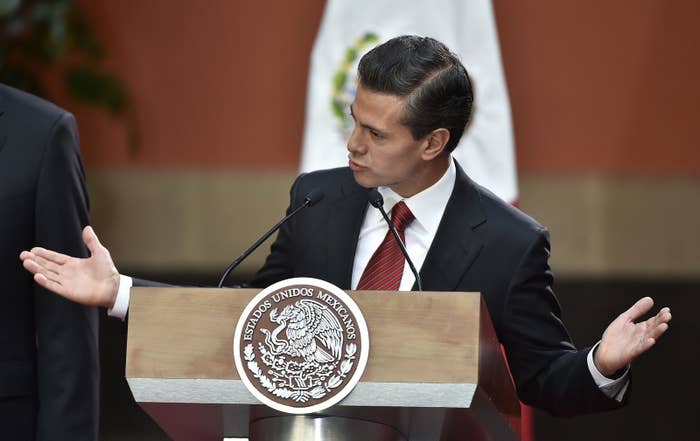 Mexican President Enrique Peña Nieto on Tuesday announced that he would be sending legislation to Congress to amend the constitution to allow marriage equality nationwide.
"Today, on the national day against homophobia, I met with representatives of LGBTI groups," Peña Nieto posted on his Twitter account, his avatar layered with the rainbow flag. "I listened to their ideas and proposals."
The proposed change would amend Article 4 of Mexico's Constitution to "incorporate clearly the judgment of the Supreme Court so that people can marry without discrimination on ethnic, national, disability, social status, religion, gender or sexual preference reasons," Peña Nieto said in a speech at a International Day Against Homophobia event.
Currently several Mexican states explicitly allow same-sex marriages, following a string of lawsuits from couples suing for their right to wed. Last June, the Mexican Supreme Court decided that laws banning marriage are "unconstitutional" but the ruling was only binding on judges. Registrars in states where marriage equality isn't in place are allowed to deny issuing marriage certificates, forcing couples to sue for the ability to marry in cases they will invariably win.

Despite the Supreme Court urging the recalcitrant states to change their own laws, the majority of Mexico's 31 states have not complied. The presidential Twitter account in response on Tuesday "announced the signing of a reform initiative that includes the recognition of the right to get married without any form of discrimination."
Though he thinks the initiative will be a success in the long run, Enrique Torre Molina, Campaigns Manager at All Out, told BuzzFeed News that proponents of marriage equality will need to rekindle the momentum once Congress returns from its current break.
"The announcement comes a bit late, because people have been expecting it for almost a year now since the Supreme Court made the announcement," he said, adding that the initiative was still exactly what advocates had been waiting for. "It's definitely a celebration."
Peña Nieto also proposed changes to Mexico's Federal Civil Code to allow marriage equality and allow members of the Civil Registry issue birth certificates that reflect the owner's preferred gender identity. Mexico will also join a group of 19 countries at the United Nations promoting LGBTI issues, he announced.