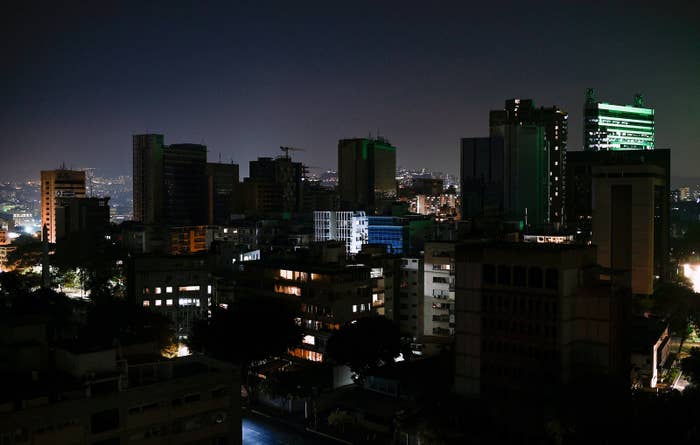 A journalist in Venezuela was reportedly detained on Tuesday on the heels of his critical reporting on the country's ongoing blackout.
For five days now, most of the country has been operating without electricity as a power outage roils a nation which is already in the midst of political, economic, and humanitarian crises. President Nicolás Maduro's government has blamed the perpetual darkness on "criminal minds" and said that the United States orchestrated an attack on the country's power grid. Outside experts believe the system's failure was due to lack of maintenance and years of corruption.
"They don't say it was an attack anymore," Luis Carlos Díaz tweeted on Monday in an example of his pushback on the regime's narrative. "Nor that there were two.

"No.

"The new figure is five (5) consecutive attacks against the electrical system, according to official spokespersons.

"It's the hyperinflation of excuses."
Soon after that tweet, his wife — fellow journalist Naky Soto — tweeted that she had not heard from Díaz and was getting concerned as he was no longer at the radio station where he had been working.
The hashtag she used — #DóndeEstáLuisCarlos, or #WhereIsLuisCarlos — soon went viral in both languages.
Early Tuesday, the question was answered when on Tuesday morning, local journalists reported that he had been taken by Sebin, the country's intelligence service, and had his personal computer seized during a raid on his home. The reporter is allegedly being held in El Helicoide, a notorious prison in Caracas.
Díaz has been in the regime's crosshairs for several days now. On Friday, he was the subject of a video published by prominent pro-Maduro politician Diosdado Cabello, accusing him of being part of a US-led plot called "Operation: Blackout."

"Venezuelan authorities should immediately release Luis Carlos Díaz, return his confiscated equipment, and stop this absurd campaign blaming their own failures on critical journalists," Natalie Southwick, the Committee to Protect Journalists' Central and South America program coordinator, said in an emailed statement. "Without electricity, much of the Venezuelan public is already deprived of access to information from TV, radio, and the internet in the midst of an emergency. Harassing and jailing journalists will only exacerbate the crisis."