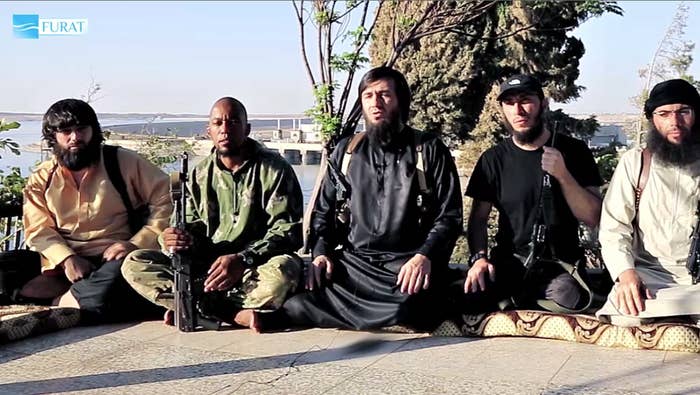 A German-born former rapper who joined ISIS was killed in a U.S. airstrike earlier this month, the Pentagon confirmed Thursday.
Denis Cuspert, 39, who as a rapper went by the name "Deso Dogg," was killed "while he was traveling in a vehicle in Syria," an unnamed U.S. official told CNN, who first reported the news.
"I can confirm that an Oct. 16 strike airstrike near Raqqah killed Denis Cuspert," Cmdr. Elissa Smith, a spokesperson with the Pentagon, confirmed to BuzzFeed News in an email. U.S. Central Command (CENTCOM) issued a report that day saying that a strike near Aleppo "struck an ISIL tactical unit and destroyed an [ISIS] vehicle."
"Cuspert was a foreign terrorist fighter and operative for ISIL who used social media to take advantage of disaffected youth and potential Western recruits," Smith continued. "He publicly threatened the President of the United States and German citizens; he also encouraged western Muslims to conduct attacks on behalf of ISIL."

Cuspert joined ISIS in 2012, preferring to be known from then on as "Abu Talha al-Almani." While with the militant group, Cuspert starred in several propaganda videos, including one released in April in which he called for attacks in Germany, the United Kingdom, and France.
The Daily Mail described the three-minute long video as being "filled with horrific footage of prisoners being beheaded and Jordanian pilot Moath al-Kasasbeh being burned alive."
"In France, deeds were done, in Germany the sleepers are waiting. We want your blood," Cuspert sang. "Even if you're in Europe, wage your jihad. Allah will reward you, put an end to the filthy ones. Oh Allah destroy them."
The U.S. named Cuspert a "Specially Designated Global Terrorist" in 2014. In its announcement, the State Department said the former rapper was "emblematic of the type of foreign recruit ISIL seeks for its ranks – individuals who have engaged in criminal activity in their home countries who then travel to Iraq and Syria to commit far worse crimes against the people of those countries."
Cuspert was not the only rapper to join with terrorist organizations over the years. Omar Hammami, an American also known as Abu Mansoor al-Amriki, recorded several videos for Somali jihadi group Al Shabaab before being killed in 2013.
Cherif Kouachi, who was described as a failed rapper-turned-jihadist, took part in the attack on French magazine Charlie Hebdo's headquarters earlier this year.

There have been mistakes made in the past, however, when naming those who died in U.S. air strikes. In November 2014, an unnamed official declared ISIS' second in command dead — a verdict that was reached again this August.