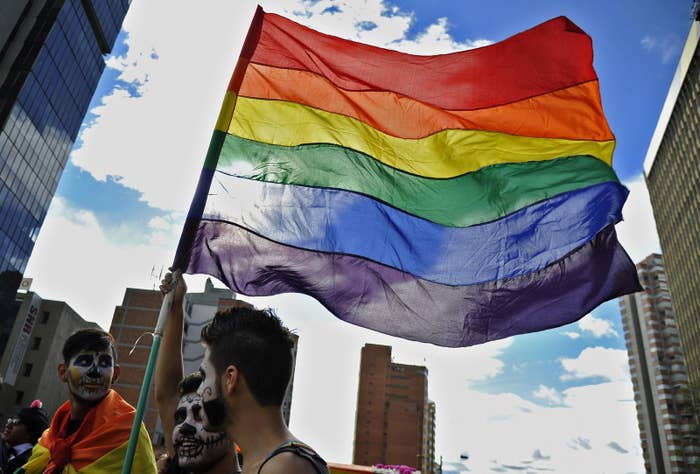 Colombia's Constitutional Court ruled Thursday that same-sex couples in the Latin American country have the right to marry.
The 6-3 ruling affirmed that no judge or notary could legally turn down a couple's marriage request due to their sexual orientation. The decision builds on a 2011 ruling that stated unions between same-sex couples were entitled to legal protections, but dodged the question of marriage.
Congress was ordered at the time to pass legislation to reflect the ruling by 2013, but that deadline passed without legislators taking action. Colombian couples began exchanging vows once the deadline passed, an act that Inspector General Alejandro Ordóñez Maldonado has challenged.
Last July, the Court held a day-long hearing on whether the Colombian constitution could be interpreted as allowing same-sex marriage, during which they discussed the then-recent U.S. Supreme Court decision granting marriage equality.
The debate split the Colombian government, with President Juan Manuel Santos' office supporting marriage equality, while the attorney general's office debated in favor of keeping the existing standard of "one man/one woman" on the books.
That debate was still on the minds of judges in November, when they lifted the country's limits on same-sex couples being able to adopt.
"A person's sexual orientation or gender are not in and of themselves indicative of a lack of moral, physical or mental suitability to adopt," Chief Justice Maria Victoria Calle Correa said at the time.
In response to the latest ruling, advocacy group Colombia Diversa has already released a video celebrating the decision.
"This decision by the constitutional court doesn't change our family," the lesbian couple in the video titled "Love Wins" say. "Nor does it transform our love. But it communicates to the world who we are: Wives."