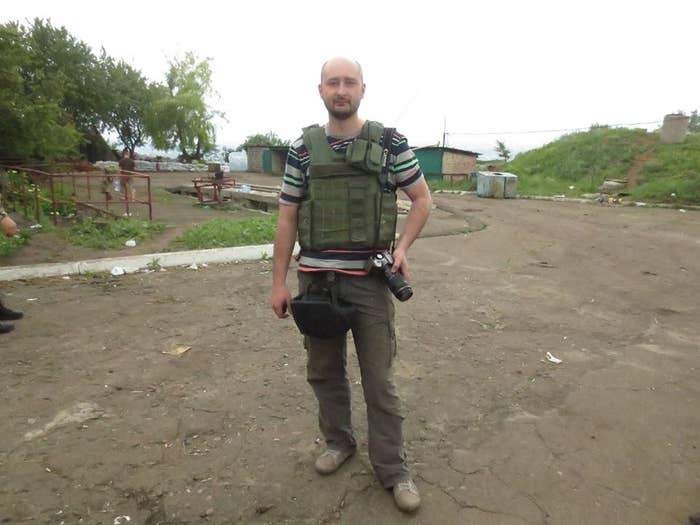 Reports that prominent Russian journalist Arkady Babchenko, a fierce critic of the Kremlin, was shot and killed Tuesday in Ukraine were actually part of an elaborate plot between the reporter and Ukrainian security services to catch a killer.
Initial reports indicated that Babchenko, 41, was shot in the back while in his home in Kiev, the capital of Ukraine. Kiev. Police said on Facebook that a journalist had been killed, saying that the man's wife had initially called after finding her husband covered in blood. Ayder Muzhdabaev, a fellow journalist, first reported the alleged shooting on Facebook.
On Tuesday, he appeared at a press conference with Ukrainian security services to explain that his death had been faked to uncover an assassination plot against him.
After serving in the Russian military, Babchenko, who fought in both of Russia's wars in the Chechnya region of the country, became a war correspondent and eventual government critic. His book on his time in the military, One Soldier's War, was translated into English in 2007.
"Writing was the only thing that helped," he told the Guardian at the time of his experience leaving the military. "If I hadn't started writing, I might have lost myself to drink. It was the only real cure. When a person comes back from war, from prison, from any extreme situation, he has to get it out from inside himself. The whole horrific experience — he needs to vent it."
"In Moscow, people didn't want to know. So I started to write."
Last year, he became the subject of a targeted harassment campaign after commenting on Facebook about a military plane crash en route to Syria; the campaign prompted him to flee the country for Ukraine after years of dealing with Kremlin pushback.

In his most recent posts on Facebook and Twitter before the story of his supposed death broke, Babchenko reflected on a general who refused to let him onto a helicopter four years ago while covering the war in Ukraine. The helicopter was shot down, leaving Babchenko to marvel on his luck and refer to that day as a "second birthday" in his posts.
The reaction among Babchenko's fellow journalists when they thought he was dead was swift, shifting between incredulity to dismay:
The murder of Pavel Sheremet, a Russian journalist caused by a bomb planted in his car in 2016, has meanwhile not been solved.

Babchenko's alleged killing came just two weeks before Russia is set to host the World Cup, an event that's due to bring greater attention — and scrutiny — to Russian President Vladimir Putin.
According to the Committee to Protect Journalists, 27 journalists have been murdered this year in connection with their work. In the last decade, of the more than 600 journalists worldwide confirmed killed for their work, 11 of them were murdered in Russia. That number grows much higher when taking into account Russian reporters killed outside of the country and how many of their deaths have been ruled "accidental" by the Russian government.
UPDATE
Arkady Babchenko is alive in Ukraine and has not been shot. A previous version of this post indicated he was dead when he is very much not.